What was billed as a town hall for the "State of Black America in Brooklyn" Friday night at Brownsville's P.S. 156 Waverly, morphed into a panel discussion about criminal justice reform featuring members of the Congressional Black Caucus, local legislators and community activists, including Assemblymember Latrice Walker and Brooklyn District Attorney Eric Gonzalez.
Led by Congressmembers Yvette D. Clarke and Stacey Plaskett, lawmakers discussed initiatives they'd put forth to make jail a last resort and ensure reentry through education and employment opportunities for those who have been incarcerated.
The event was hosted by the Congressional Black Caucus, which represents nearly all African-American members of the U.S. Congress; the caucus advocates on behalf of the black community on issues ranging from ending mass incarceration and combating voter suppression, to expanding access to education and healthcare.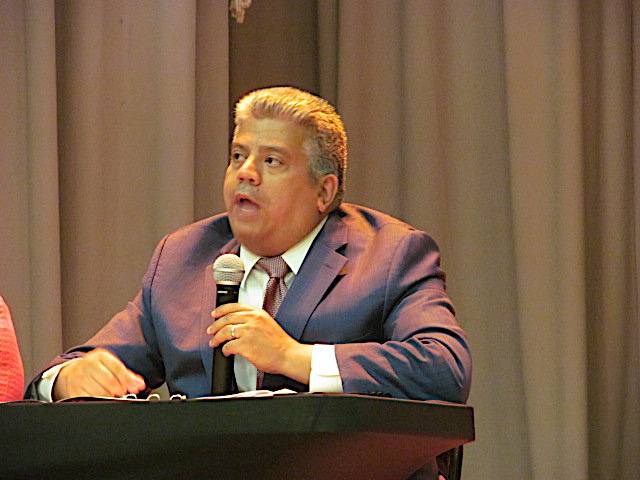 Brooklyn DA Eric Gonzalez spoke on his Justice 2020 initiative, a progressive plan that offers alternatives to incarceration, such as probation and parole outside of jail, and early release from prison as a default position in parole proceedings.
The DA has also moved to erase past marijuana convictions, which reduces sentences and keeps would-be offenders out of jail, and created a Law Enforcement Accountability Bureau to investigate and prosecute police misconduct.
"It's a key component that the community takes ownership of its own residents and not just turn them over to prisons," said Gonzalez. "That will free me up to focus on drivers of violent crime, the people who are really going to threaten our families."
In April, Assemblywoman Walker helped pass a sweeping reform to eliminate cash bail for misdemeanors, excluding sex crimes and incidents involving domestic violence, she explained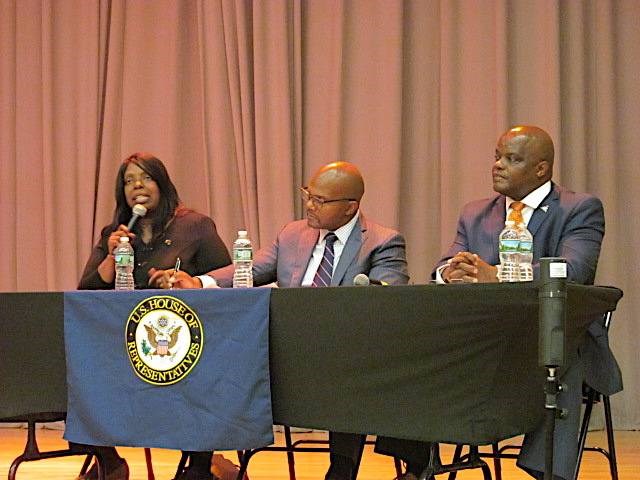 The former attorney also backed the the state's recent overhaul of the discovery process for criminal cases, where prosecutors must present the defense with information in advance of the trial.
"There are counties across our state where individuals get information -- that could make or break their defense -- on the eve of trial, knowing there will not be enough time for them to put up a defense," said Walker.
The panel turned to the vicious cycle of recidivism, often aggravated by employers who refuse to hire ex-convicts.
More than 60 percent of the previously incarcerated remain unemployed within their first year of release. This equates to 1.8 million workers being barred from entering the workforce, causing the U.S. economy to lose $78-$87 billion in potential revenue annually, said Ronald Simpson-Bey, director of outreach at decarceration advocacy group Just Leadership USA.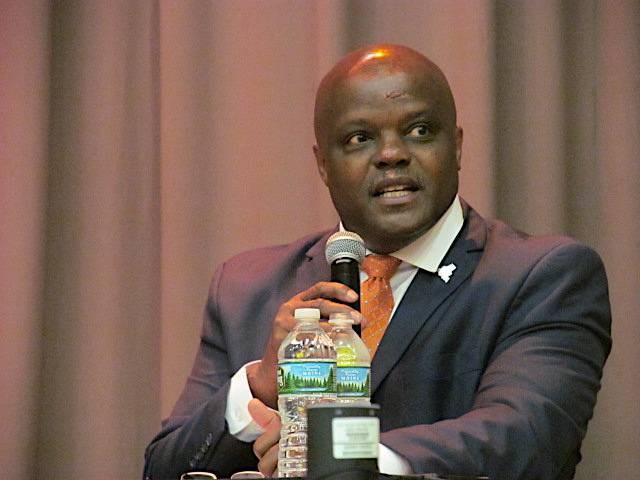 Removing the question Have you ever been convicted of a felony? from job applications should be a priority to help former felons secure jobs, he added. It was recently eliminated from SUNY applications, and Walker said her office wants to strike it from NYCHA applications, too.
"Congress should pass the Fair Chance Act, which codifies to ban the box on the federal level," said Simpson-Bey, who also advocates for reinstating the Pell Grant for ex-convicts, who are eight times less likely to complete college than the general public.
"We talk about keeping kids out of prison, [but we also need to] educate them," he added. "It costs a lot less to educate than to incarcerate."
In her closing remarks, Congresswoman Clarke reminded the audience that most important of all is where the black community will stand "when the era of Trump is over."
"Will we have been the lightning rod for social and criminal justice, only to see it morph into a whole other dynamic where we become the doormat for other folks' ambitions?" she asked. "The bottom line is: We've got to set our own chart and destiny."