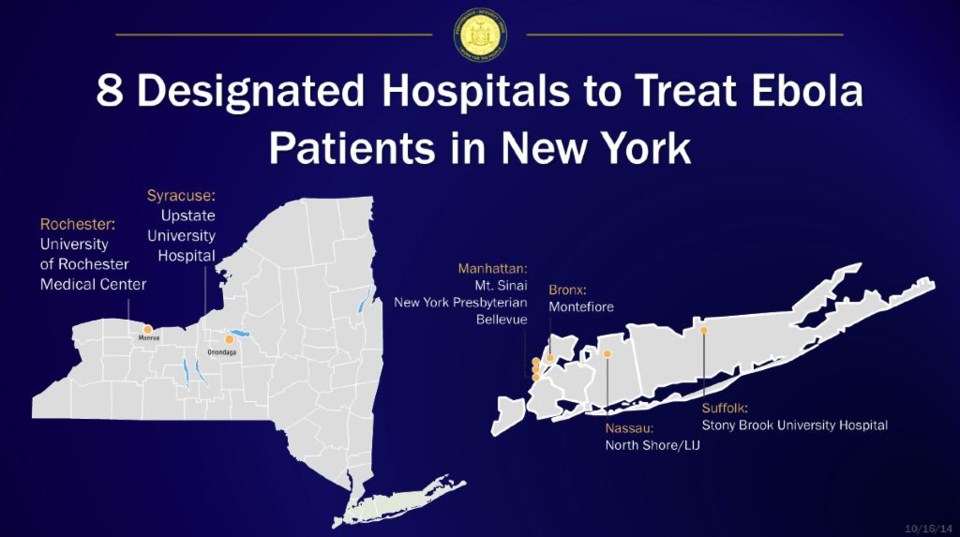 Gov. Andrew Cuomo said although there are no reported cases of the Ebola virus in New York, the state is prepared to deal with it, and he named eight hospitals to serve as first responders in the case of an Ebola outbreak in New York, reported Gannett Albany:
Upstate New York: University of Rochester Medical Center, Upstate University Hospital
Manhattan: Mt. Sinai, New York Presbyterian, Bellevue
Bronx: Montefiore
Long Island: North Shore, Stony Brook University
None have yet been designated in Brooklyn or Staten Island.
"We will use these eight hospitals as a matter of first response," Cuomo said at a briefing in Manhattan. "These eight hospitals will be going through training, drilling, with their personnel to make sure they are fully prepared to handle the case. There's regional distribution."
The state Health Department said earlier today that a health directive would guide hospitals on how to prepare and train staff if Ebola hits New York. Hospitals are also conducting drills and exercises "to ensure that health care workers do not contaminate themselves" and know how to correctly use the protective gear.