Starbucks' "community store" is a nationwide collaboration with local vendors, suppliers and nonprofits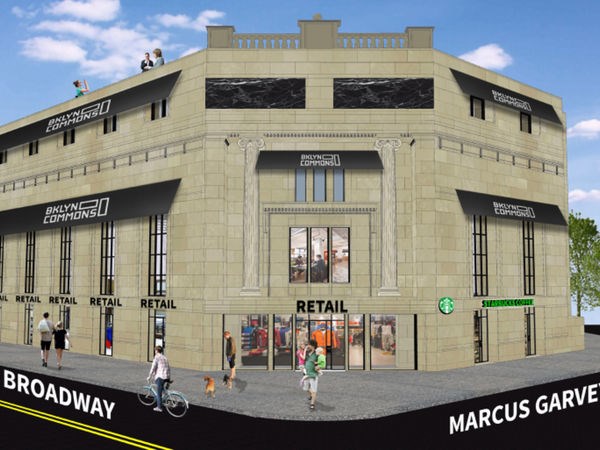 Starbucks plans to open its first Bed-Stuy branch, a "community store", in Spring 2018, reported the Commercial Observer. The coffee house chain, which has signed a 10-year lease, will occupy a 2,500-square-foot space at the corner of Marcus Garvey Boulevard.
"This is a strong market in Brooklyn," emailed a Starbuck's representative, who asked to remain anonymous. "It is a high-density area within the retail corridor for the Bed-Stuy market, adjacent to a regional hospital [Woodhull Hospital] and near the subway, all which help drive traffic for our stores. We are also expanding our presence in Brooklyn and this is a market not currently served by our brand."
The Starbucks representative referred to the Bed-Stuy branch as a "community store," similar to the one that opened in Jamaica, Queens, last March, which was the first in Starbucks' nationwide initiative "to deepen investments in at least 15 similar communities across the U.S." Starbucks community stores aim to work with local minority-owned vendors and suppliers and collaborate with local nonprofits by providing space for job trainings.
"Each location has a different, locally relevant nonprofit organization-partnership that provides job training and skills building programs for young people between the ages of 16 and 24 in the area who aren't in school or working," a company spokeswoman emailed. "The training covers the basics of customer service, barista skills and food-safety certifications, amongst other areas, to prepare local youth for jobs with Starbucks or other businesses."
The building at 774 Broadway is four stories tall and is comprised of 36,300 square feet; it currently houses the Fat Albert Warehouse, a 24,000-square-foot discount department store. The store's proprietor and building owner Albert Srour is ready to retire, according to a representative.
Parts of the building will remain within the family: Srours' son Jack, president of coworking company Bklyn Commons, has signed on for 30,000 square feet at the end of last year., after the first Bklyn Commons space opened last March at Albert Srour's 495 Flatbush Avenue in Prospect-Lefferts Gardens.