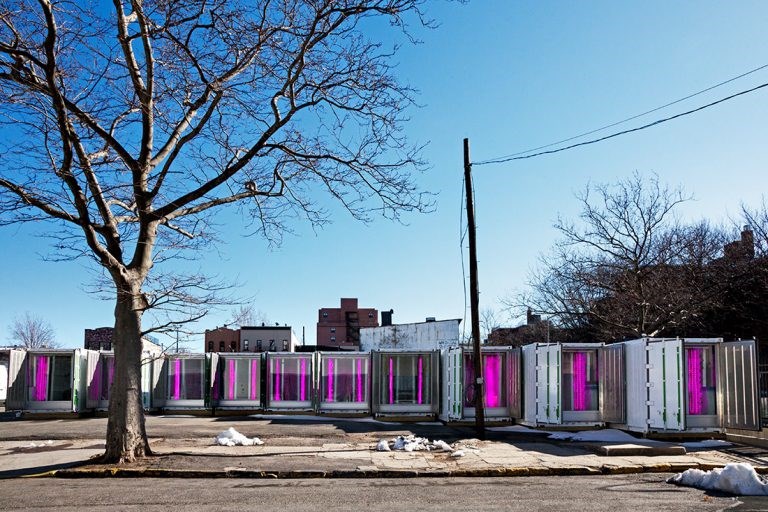 A Bed-Stuy parking lot has been transformed to an urban farming accelerator by the new agricultural enterprise Square Roots. The incubator project is a response by co-founders Kimbal Musk and Tobias Peggs as a way to bring local food to urban settings, reported 6sqft.com.
"What we saw was that millions of people, especially those in our biggest cities, were at the mercy of industrial food. This is high calorie, low nutrient food, shipped in from thousands of miles away," explains co-founder Tobias Peggs. "It leaves people disconnected from their food and the people who grow it. And the results are awful — from childhood obesity to adult diabetes, to a total loss of community around food."
Last November, ten shipping containers transformed to hydroponic, climate-controlled farms that grow GMO-free, spray-free, greens, were installed on a parking lot across from Marcy Houses.
Square Roots's business model is fairly simple: the company rents spaces in a parking lot and drops the farms in there. The farmland inside the climate-controlled containers grows greens year-round and produces the annual yield equivalent of two acres, while using 80 percent less water than outdoor farms. Square Roots farmers can grow, harvest and deliver within hours - in closest proximity to the people who are going to eat the food.
"The consumer wants local food where they know the farmer and the food tastes great. Whether that's grown on a no-till organic soil farm or in a container on a parking lot, if it's local food it's food you can trust, " Peggs emphasizes, and he adds, "we build campuses of urban farms located in the middle of our biggest cities."
The farm in Bedford-Stuyvesant is the first campus in Brooklyn on which Square Roots' entrepreneurs are coached and surrounded by a team of 120 mentors with expertise in farming, marketing, finance, and selling, thereby receiving everything they need to become real food entrepreneurs and to build a sustainable, thriving business.
"It presents an extraordinary opportunity for a new generation of entrepreneurs — those who understand urban agriculture, community, and the power of real, local food," says Peggs.