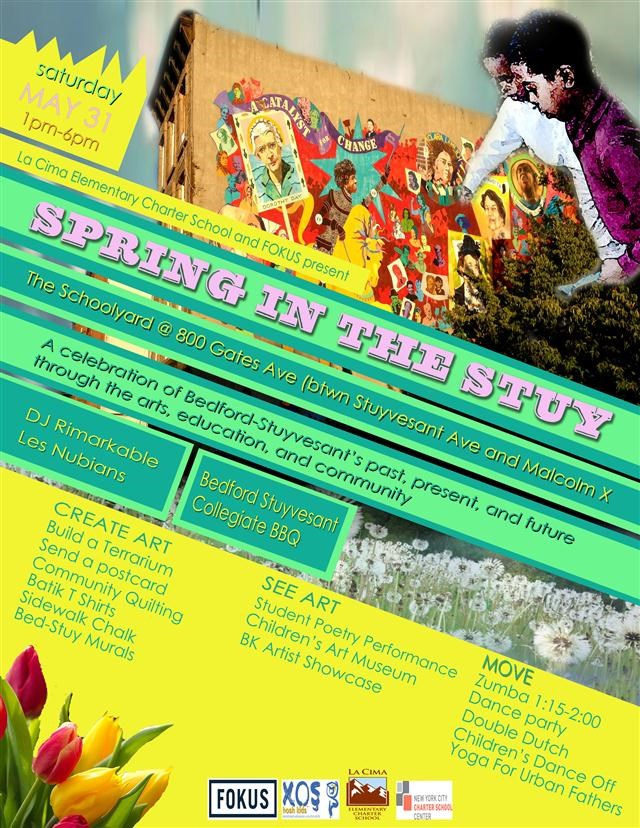 On Saturday, March 31, from 1:00pm - 6:00pm, at 800 Gates Avenue, FOKUS and La Cima Elementary Charter School will present "Spring in the Stuy," a day of free interactive arts and cultural programming to re-envision the relationship between schools, families and community through partnerships, organization and creative play.
Guests are invited view artwork featured in the event's outdoor pop-up museum, enjoy live musical performances and participate in creative workshops, such as terrarium building and community quilting.
DJ Rimarkable will provide the musical soundtrack for the event, in addition to a live performance by Les Nubians.
Spring in the Stuy || Saturday, May 31st || 1-6pm
800 Gates Avenue (between Stuyvesant Ave and Malcolm X)
Brooklyn, NY 11221
Create + See Art
Build a Terrarium
Send a postcard
Community Quilting
Batik T-shirts
Sidewalk Chalk
Bed-Stuy Murals
Student Poetry Performance
Music + Movement
DJ Rimarkable
Les Nubians
Zumba
Dance Party + Children¹s Dance Off
Double Dutch
Yoga for Urban Fathers