Marcus Garvey Village, the 10-city block complex in Brownsville, is NYC's first affordable housing development to operate its own solar-powered microgrid, reported Microgrid Knowledge. The installation was completed in June as part of a $190 million renovation project and is expected to enhance local and grid-wide energy efficiency and reliability while reducing greenhouse gas emissions, environmental pollution and energy costs for the residents.
Marcus Garvey Village, which consists of 32 low-rise buildings, is now equipped with a microgrid of solar panels, a 480-kW array, a 400-kW fuel cell and a 300-kW lithium battery; the lithium battery use marks another first in the city, which has been hesitant to allow their use because of fire concerns. In addition to the installment of the microgrid, the 625-unit apartment complex now features also new kitchens, bathrooms, insulation, lighting upgrades and heating.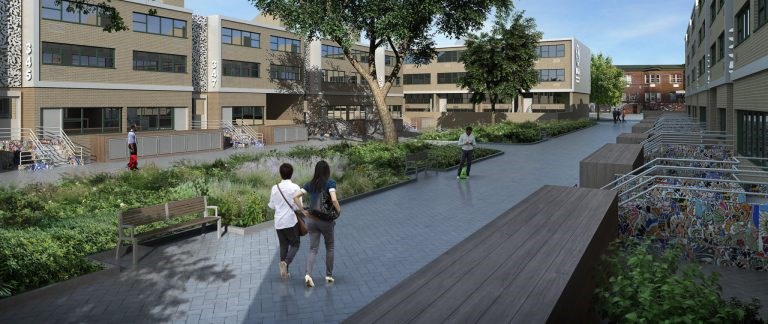 "The renovations have made a real difference in people's lives, and I am so proud to have the state's first microgrid in my district, ensuring that clean, renewable energy is within reach for everyone, regardless of income," said Assemblywoman Latrice Walker.
The solar-powered microgrid, installed and operated by Demand Energy, is expected to improve efficiency, energy surety and cost at the Brownsville complex. A software, the Distributed Energy Network Optimization System (DEN.OS), runs the system to optimize the way in which the various components of the grid interact and perform, to more efficiently manage energy generation, distribution and use. In the event of an outage, the microgrid will disconnect from the utility grid and continue to operate independently.
All solar power that is produced on-site is consumed on-site and any surplus will be fed into the distribution grid of Con Edison, which partly funded the project with its Brooklyn-Queens Neighborhood Program (BQNP).
***Correction: The article first incorrectly stated that Marcus Garvey Appartments were part of the New York City Housing Authority (NYCHA). The correction has been made to this article.