Senator Chuck Schumer has spoken out against National Grid's North Brooklyn Pipeline after months of conflict between National Grid and community leaders who have worked to stop the pipeline's construction.
The pipeline, which would carry fracked gas through the predominately Black and Brown neighborhoods of Brownsville, Bed-Stuy, Bushwick and Williamsburg, has been in the works since 2017 and has only one building phase left before completion.
National Grid is yet to start the fifth phase of construction, and, on top of numerous neighborhood and political protests, faced a recent setback to the project when a court order stopped the company from doing related construction work at a Brooklyn site that could be used to load and unload trucks containing liquefied natural gas, or LNG.
The neighborhoods under which the pipeline would run have dealt with dirty fuel and poor air quality for decades, and according to Schumer the pipeline would accentuate that rather than follow the City's goals set in the 2019 Climate Leadership and Community Protection Act.
"The facts are clear. This pipeline will undermine New York's climate goals while pumping carbon-based fuel through communities that already face high pollution."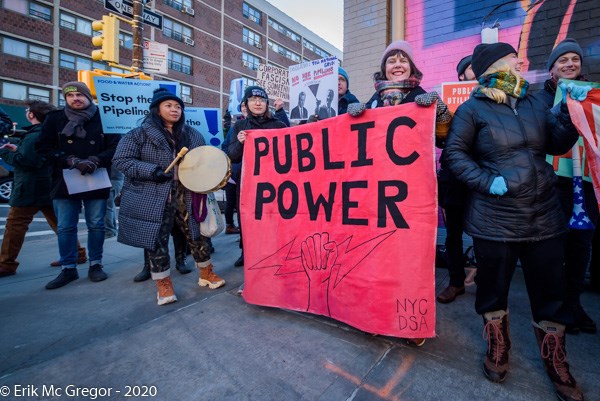 Schumer's opposition comes days before the Public Service Commission (PSC) will decide whether to approve National Grid's rate hike proposal. The proposal will raise resident gas bills to pay for the pipeline. The PSC is set to vote on Aug. 12.
More than 250 Brooklyn community members have joined a gas bill strike to oppose the rate hike proposal. Residents are withholding $66 from gas bills — the amount National Grid is estimated to charge ratepayers for the pipeline.
The No North Brooklyn Pipeline Coalition has made clear demands during the strike.
"We demand that the gas is shut off from phases 1-4 of the pipeline, that phase 5 is never built, the Greenpoint LNG expansion is halted, and that we don't pay a single cent for any new fracked gas projects," the coalition said in a statement.
The strike was reinforced at a rally on Aug. 8, when community members and elected officials came together in front of Brooklyn Borough Hall to protest the rate hike. Organizers emphasized, "We will not pay to poison NYC," encouraging more New Yorkers to join the gas bill strike. Democratic nominees for City Council, Jennifer Gutierrez, Chi Osse and Sandy Nurse, joined the rally, along with Senator Julia Salazar and local Brooklyn residents.
Nonprofit SANE Energy believes residents are rightfully worried about the potential buildup of radioactive material under their streets.
Lee Ziesche, community engagement coordinator at SANE, notes that National Grid's gas has the potential for high levels of radioactivity, but the corporation will not test it for radon. In addition, the gas from National Grid is mostly methane, said Ziesche, which is 86 times more potent than carbon dioxide.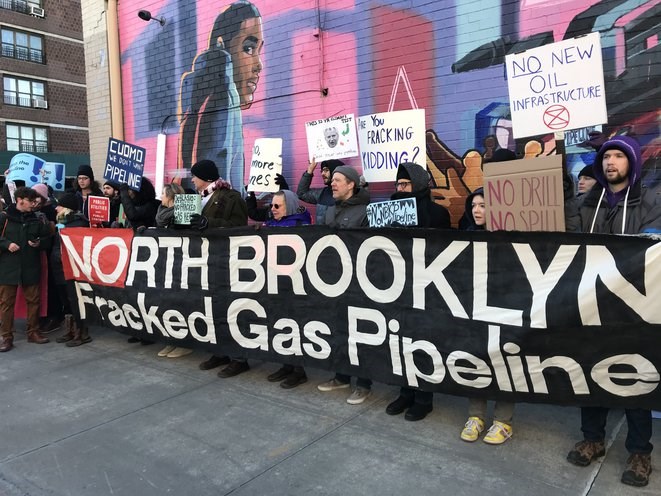 Still, the desire to shut down the pipeline is not just about climate safety. Brooklyn residents who are already struggling during the pandemic may be forced to dish out additional dollars to fund a pipeline they do not support.
"National Grid will be contributing to people's economic hardship by raising their bills and forcing them to [pay for the] pipeline," Ziesche said.
Community organizations have attempted to fight the pipeline on a legal forefront. The Cooper Park Resident Council — representing over 700 families in a NYCHA complex half a mile away from National Grid's facility — first took legal action alongside SANE Energy against the pipeline project in March.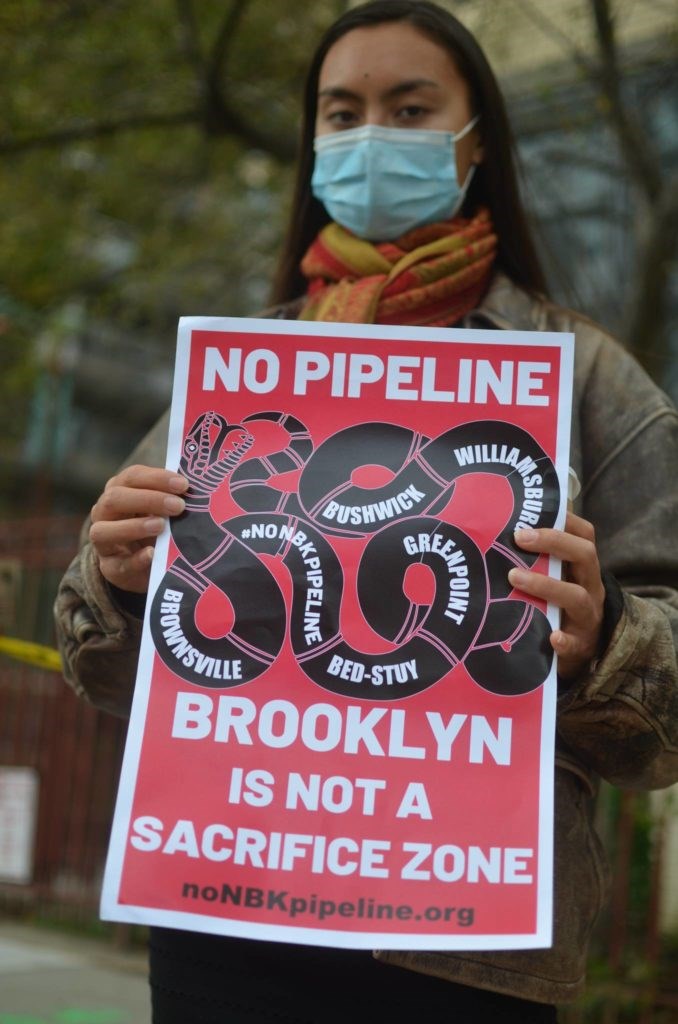 The lawsuit alleges that the Department of Conservation (DEC) and National Grid did not consider the environmental impact of adding Liquefied Natural Gas (LNG) vaporizers to the facility in Greenpoint.
The two new vaporizers would heat up liquid gas, allowing more gas to be added to the system. The DEC said the project would have no environmental impact, which the lawsuit -- which is ongoing -- says is incorrect.
Last week's court order for National Grid to stop construction at the Brooklyn facility followed a second lawsuit filed by the Cooper Park Resident Council and SANE Energy targeting the company's new trucking station.
Ziesche still believes the cause needs more support. While elected officials like Schumer have brought this issue to the forefront of public attention, Ziesche says others aren't doing enough.
"There's been a serious lack of climate leadership from Governor Cuomo and Mayor de Blasio. Both of them could have stopped pipeline construction in 2020 and neither did," Ziesche said.
Still, Ziesche and other community leaders are working hard to continue the fight.
"Long term, the community wants to see the Greenpoint LNG facility retired so people can finally start healing in that area."