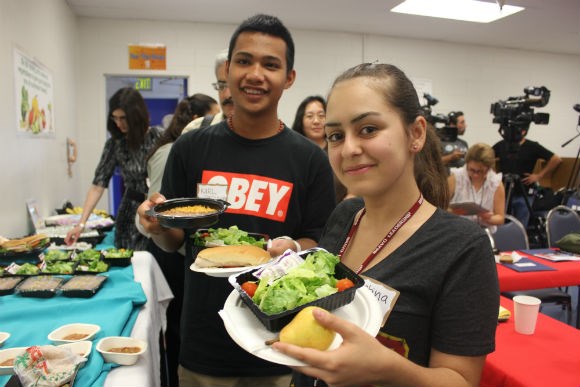 School Food and Student Activism in Brooklyn
Recently, I participated in a Brooklyn Movement Center teach-in on food co-ops and ran into Christine Johnson-Alexander, the brilliant student government president at Boys and Girls High.
We had a chance to catch up on the students' school food work, which I was pretty anxious to hear. Young people, the development of their analysis and their voices are critical. To the best of my ability, I'm committed to supporting their voices and work as much as possible.
So when they invited me to their meeting with DOE (Department of Education) school food staff a few months ago, I didn't hesitate to make the time to hear their concerns and support their work.
Prior to this meeting, they had been working diligently on identifying their priority areas for student government and also working with Brooklyn District Public Health Offices to create a wellness council.
Coming to the meeting, I could tell their engagement around school food and their fellow student concerns was clear. One of the most glaring concerns was low participation in school breakfast, lunch and afterschool programs.
The students reported 6% participation in school breakfast and clearly were concerned about the health and well-being of their student counterparts. The students had some very real concerns and presented some very insightful solutions.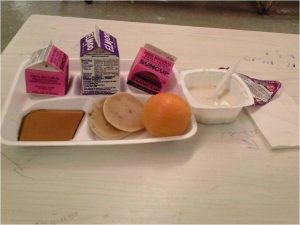 Student Concerns:
Low school food participation- as mentioned earlier, the students presented their concerns about the low school food participation rates (especially breakfast) and suggested Grab n' Go options, considering breakfast in the classroom, improving presentation, temperature and freshness of the food and more culturally relevant food options.
Taste and quality of meals- the students suggested that much of the food tasted "artificial" and tasteless and asked if real products are used (or can be) such as cheese and eggs.
Lack of culturally relevant food- the students presented the fact that many of the students were Caribbean and that culturally relevant food options might appeal to more students to increase uptake of meals.
Freshness and variety of the salad bar- one student who has lunch during the last period asked if the salad bar can be refreshed for the students eating lunch during the later period. We found out during the meeting that the salad bar is supposed to be refreshed after every period so that every student should receive a fresh salad bar option.
The students also recalled the "Make your own sandwich bar" and asked if this would be a possibility of reinstating. The students were told they were supposed to be having more than just the peanut butter and jelly they were receiving. They were entitled to cold cut sandwiches, as well.
Local and regional procurement of food and procuring from farmers of color- the students wanted to know where their produce was being sourced and if there was a way to source from local farmers and farmers of color.
We were told in the meeting that procurement is public and that the farmer had to supply the entire school district in order to be considered as a source.
This raised major concerns for those of us interested in directing school procurement funds towards more regional economic investment (via local farms) and those of us concerned with racial and economic equity in our food system.
Positive Results…
The meeting ended with school staff promising to follow up with the students. I was therefore anxious to here the results. Catching up with Christine, I discovered there was a great improvement to the meals, to my surprise.
"The food has improved so much. It has so much more flavor, the presentation is different… It just looks more like food, unlike what we were getting before."
One thing remained a very pressing concern for Christine, however— the food in the YABC (Young Adult Borough Centers) afterschool program. "We think there should be hot meals. At least not frozen or cold."
Apparently all of the meals are served cold and the students were told "since it was the first meal of the day for these students, they had to be cold." Christine is clear there is much more work to be done around school food and these YABC meals is next on their agenda to improve.
I'm very proud of these students. They were clear on studying the problems- as well as the solutions—and fighting to achieve what they know is right: that every student deserves a quality, identifiable, culturally relevant, sustainably sourced good meal.
We can learn a lot from the focus for which these students are fighting.