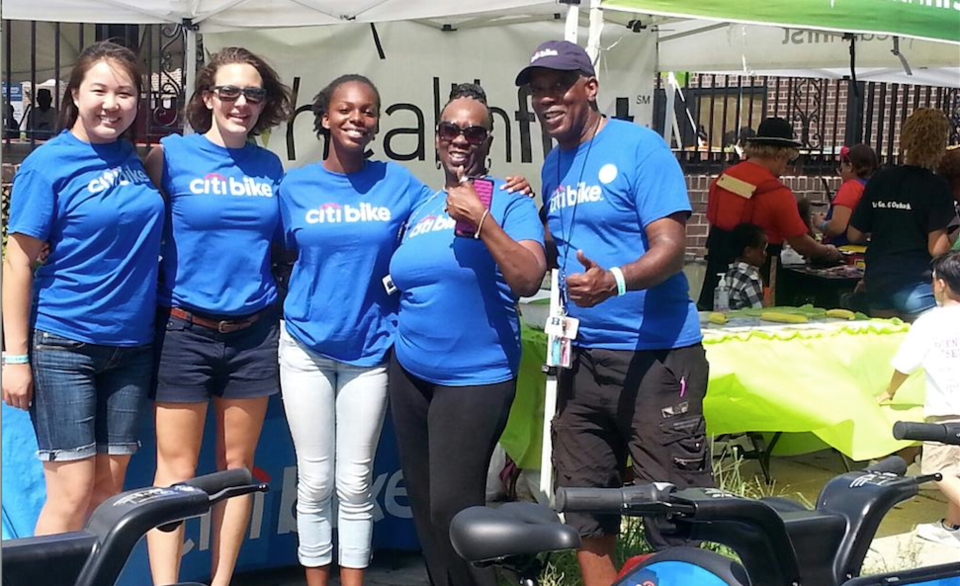 The summer season may be over, but that doesn't mean the outdoor fun has ended!
On Saturday, September 26, Bedford Stuyvesant Restoration Corporation, Citi Bike, Bike New York and New York City Department of Transportation (DOT) will celebrate Citi Bike's expansion of 26 new stations throughout Bed-Stuy with a family-friendly event at Marcy Playground.
Why so much hullabaloo lately about Citi Bike in Bed-Stuy? Well, for one, Bed-Stuy has over 155,000 residents within its 2.7 square miles. Subway lines are can be over 2 miles apart and the incidence of overweight and chronic disease in the community is disproportionately high compared to the rest of New York City.
Biking bridges this transportation gap by providing a low-cost, healthy and convenient transit option. So Restoration has been working with Citi Bike to identify new and innovative strategies to introduce and promote bike share as a community asset especially among lower income populations of color.
Saturday's event, "Bed-Stuy Bikes," is part of a larger campaign spearheaded by Restoration dubbed #FreshMovesBKNY, which promotes small steps toward healthy lifestyle. For this reason, Restoration has been gathering feedback information about the community's biking habits and needs through surveys, instituting community bike rides, while encouraging the use of the Citi Bike program.
Saturday's event will include a host of fun activities and helpful information for the entire family, including face painting, a bouncy ride, street safety classes with Bike New York, employment resources, health screenings and music by Impact Radio and more!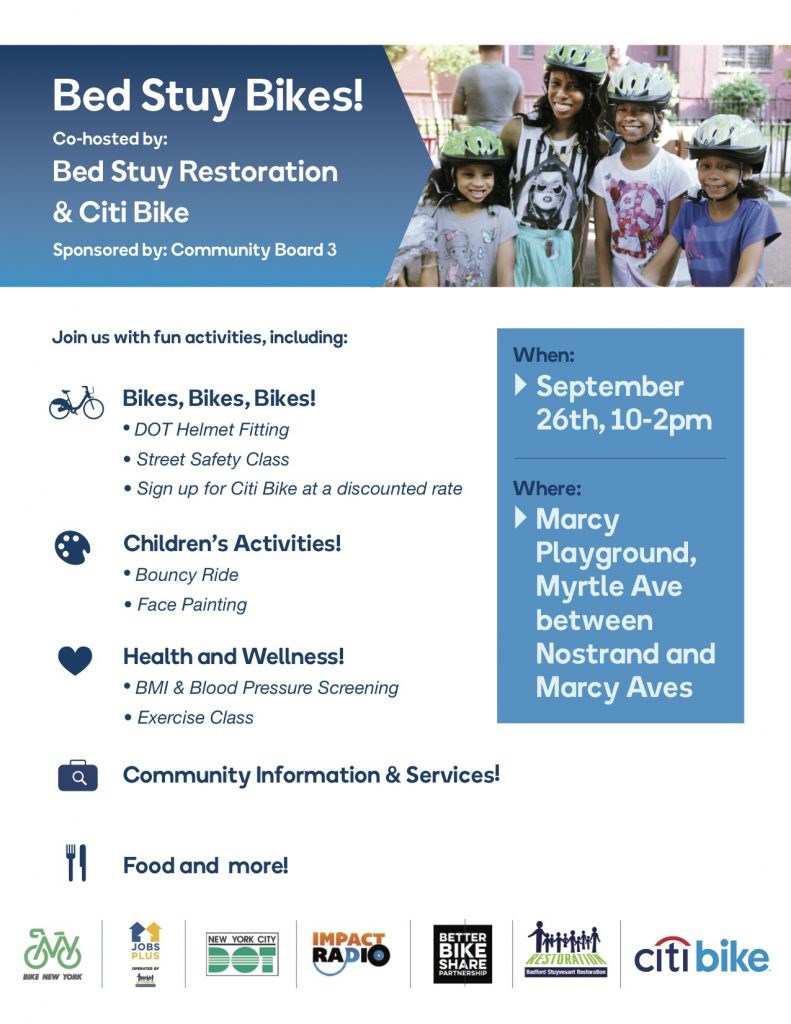 Additionally, there will be free helmet fittings and giveaways for adults and children, as well as exclusive offers, including $60 discounted membership options for NYCHA residents and members of a Community Development Credit Union.WHAT: "Bed-Stuy Bikes," A community celebration of Citi Bike's expansion of 26 new stations throughout Bed-Stuy! Family-friendly activities, including music, health screenings, free helmet fittings and giveaways, a bike ride of the neighborhood and more!
WHEN: Saturday, September 26, 2015 10:00am - 2:00pm
11am-12pm: Bike New York Street Safety Class
12pm-1pm: Alwayz Fit 4 Lyfe exercise class
1pm-2pm: Neighborhood bike ride "Tour de Stations"
WHERE: Marcy Playground, 753 Myrtle Avenue (between Marcy and Nostrand avenues)
HOW: G train to Myrtle-Willoughby | bike valet provided for Citi Bikes | B54 along Myrtle Avenue or B44 along Nostrand Avenue