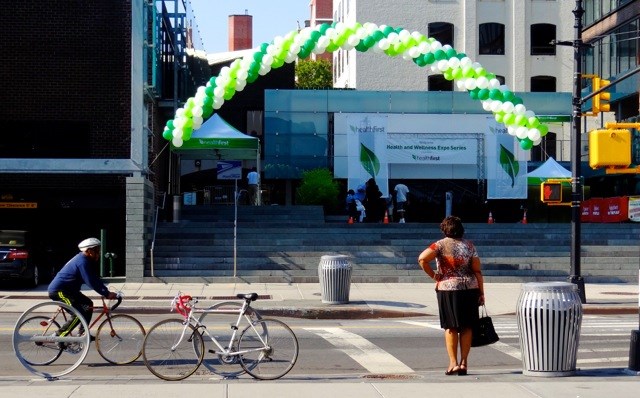 On Saturday, July 12, Healthfirst, in collaboration with Carib News, the Bedford-Stuyvesant Family Health Center and Bedford Stuyvesant Restoration Corporation, held a town hall breakfast meeting and health fair at Restoration Plaza.
A star-studded panel of who's-who in medicine and health, along with a long list of community health partners filled the room and presented in the outside plaza of Restoration to a packed house of local residents.
The event was kicked off with a breakfast led by keynote speaker Congressman Hakeem Jeffries who talked about the health disparities and the critical need to address them in the African-American community. He also extolled what he characterized as tremendous new opportunities for poor and middle-income Americans to greatly improve their health outcomes with the recent passage of the Affordable Care Act.
"In many of our communities, diets are poor largely because of habit and/or the lack of access to healthy fresh foods," said Jeffries. "We've got to change that. Diet is important; exercise is incredibly important for young people all the way up to our seniors. It's a habit that can have a dramatic impact on health outcomes.
"And also there's been tremendous progress made with respect to the Affordable Care Act-- a law that has insured that 10 million more Americans are insured; a law that closes the prescription drug doughnut hole for senior citizens..."
Jeffries also talked about threats to these new opportunities, referring to House Republicans' efforts to repeal the Affordable Care Act:
"There's a group in the House of Representatives that need to be put in 'time out...' adult supervision is needed," said Jeffries to laughter. "The house majority has since voted more than 50 times to repeal this law-- the law of the land. And yet the effort continues to stop what overwhelming Americans are saying they are enjoying.
"There are many challenges that we have to confront, and it's easy for people to be frustrated. But we as a community have known this type of frustration before, and we know that with time, we'll get past it."
Dr. Marcia Bayne-Smith, associate professor and associate chair of graduate programs in the Urban Studies Department at Queens College, served as moderator of the panels that followed the breakfast.
On the diabetes panel were Susan Bean, vice president and medical director at Healthfirst; Michelle S. Davis, regional health administrator with the U.S. Department of Health and Human Services' New York office; Yvonne Graham, associate commissioner and health director at the New York State Department of Health; Dr. Karen Aletha Maybank, assistant commission of health at the New York City Department of Health and Mental Hygiene; Dr. Marcia Bayne-Smith, associate professor and associate chair for graduate programs at Queens College; and Dr. Pascale Kersaint, chief medical officer of the Bedford-Stuyvesant Family Health Center.
Joining the panel on mental health were Prosperity Life Coach, Madeline McCray; Barbara Meth, family therapist and assistant vice president of behavioral health at Healthfirst; Kenneth Todd Nelson, an actor and founder of CARVE (Chosen Against Racism and Violence), whose mission is to eliminate racism, violence and to promote good will; and licensed and trained mental health specialist Asha Tarry.
In the courtyard outside was the Health and Wellness Pavilion, featuring a bevy of local healthcare services offering health screenings, massage therapists, manicures/pedicures, cooking demonstrations and fitness workshops, along with a Kids Zone.
The day was full of information, valuable resources and healthy networking opportunities at every turn.
It was certainly a good day to be healthy... and alive in Bed-Stuy.