This past summer, the blocks around Brownsville definitely were hot.
In late August, we reported a 19.7 percent increase in citywide shootings compared to last year, with the majority of them-- 70 percent-- driven by Brownsville's and East New York's 73rd and the 75th Precincts, NYPD noted at a monthly press conference.
Police promised to address the violence and increase in shootings through precision policing, additional officers and increased efforts to get guns off the streets.
Whether its effective policing or a change in weather -- or both-- we can't be sure. But over the past six weeks, things seemed to have cooled.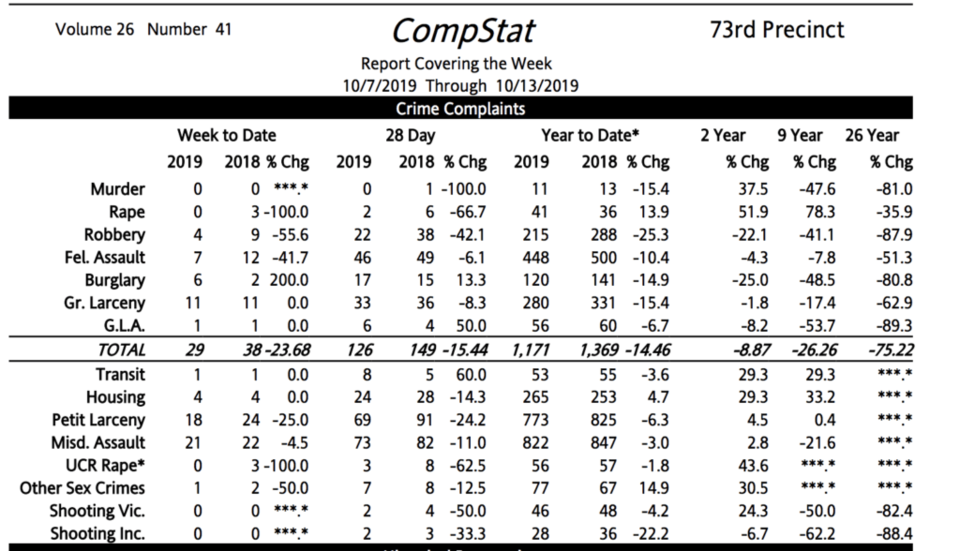 Brownsville's 73rd Precinct is reporting an overall 15 percent decrease in crime incidents in the last 28 days, compared to this same time last year; and a 33 percent decrease in shootings over the month, while the citywide number of shooting incidents fell only slightly, 4 percent.
Also, according to CompStat Brownsville experienced a drop in 80 percent of it crime profile (9 out of 15). There greatest decreases were in the numbers of rapes (67 percent decrease) and robberies (42 percent decrease) in the past 28 days, compared to last year.
However, burglaries, auto thefts and transit incidents all showed a slight increase.
To keep up to date on your precinct's most recent crime stats, go here.