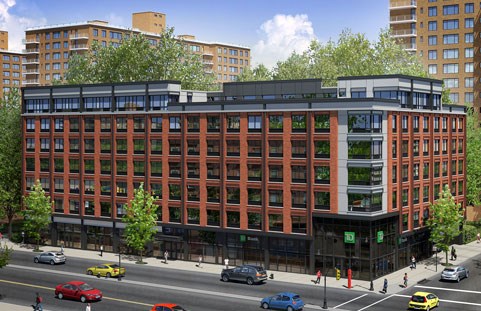 Madison Realty Capital has plans for a 141-unit Clinton Hill apartment building spanning 142,000 square feet at 490-504 Myrtle Avenue, the former site of the Pratt Station Post Office, The Real Deal has learned.
The property will rent studios, one-bedrooms and two-bedrooms and would also hold a 20,000-square-foot retail space and a 115-car parking lot.
However, the project is much larger than the permit shows: The filings were based on the as-of-right floor area ratio, so that demolition and foundation work could proceed.
Buildings on Myrtle Avenue are part of an inclusionary housing district. As such, they are eligible for an increase in zoning floor area of up to 35 percent in exchange for the developer allotting 20 percent of the units as affordable housing, TRD reported. A lottery will determine who will occupy those 48 units six months prior to opening.
TD Bank will occupy the other ground-floor commercial space. Construction on 490 Myrtle Ave. is expected to take one and a half years with a completion date of early 2015.