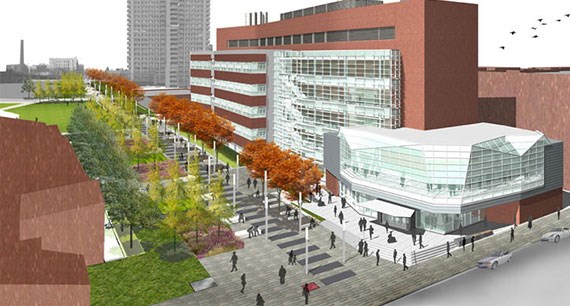 Medgar Evers College confirmed it will move ahead with a 20-year-old, $15 million plan to transform one of the key streets between two of its buildings into a green "campus quad," reported the Daily News.
The plan is to entirely revamp the area by narrowing Crown St. between Bedford and Franklin Aves. to create a campus quad, taking over the entire street and replacing it with three acres of trees and plants, nooks and classroom seating areas.
The new layout, dubbed "Crown Plaza," will have a central lawn area where students can lie on the grass and attend classes, lectures and concerts, officials said.
"We need more of a cohesive, student-friendly campus," said Jerry Posman, the CUNY school's vice president.
A single lane will be added for slow-moving traffic and emergency vehicles; speed bumps and stop signs may also be added. But the project first needs approval from the city Department of Transportation, and will likely take up to two years to complete.