Rat and litter mitigation. Car crashes. Dwindling free parking spaces. Gun violence.
These were just a few of the issues brought up by local constituents Wednesday night at the "Activate Weeksville" town hall hosted by Councilmember Chi Ossé and a number of city department representatives at the Weeksville Heritage Center.
The town hall, which began at 7:00pm and was catered by Lakou Café, was sparsely attended, with under 20 constituents showing up to ask questions. Nonetheless, the night was activating and many attendees brought up concerns universal to the neighborhood, Ossé said.
Ossé represents Brooklyn's 36th district, which covers Bed-Stuy and parts of Crown Heights. Weeksville, a historic neighborhood within Crown Heights, covers the Eastern-most part of the neighborhood.
"The most prevalent issues of our community relate to sanitation issues, transportation issues and housing," Ossé said to the BK Reader.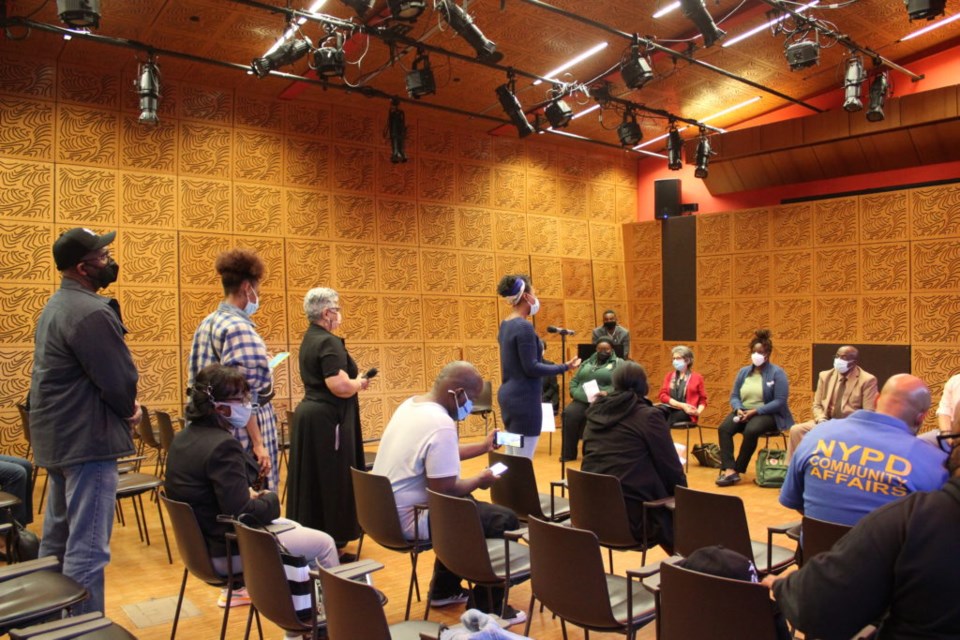 "Our city budget should reflect those same needs, and I don't think the mayor's executive budget reflects that. This continues to remind me where my advocacy lies—fighting for a budget that fights for the constituents and the issues they brought up here today."
Sanitation
"Rats are having a field day," Weeksville resident Kim Robinson said. "It seems there's more garbage outside now, and it's left out longer, and people are dumping everywhere."
The Department of Health and Mental Hygiene's representative Afia McClansky said that while they have to give property owners a chance to correct their behavior before issuing a citation, it does help if residents who submit a highly specific claim to 311 about the rat sightings.
"In the pest control division, they're really urging community members to containerize their trash and continue to file 311 reports and include detailed information," McClansky said.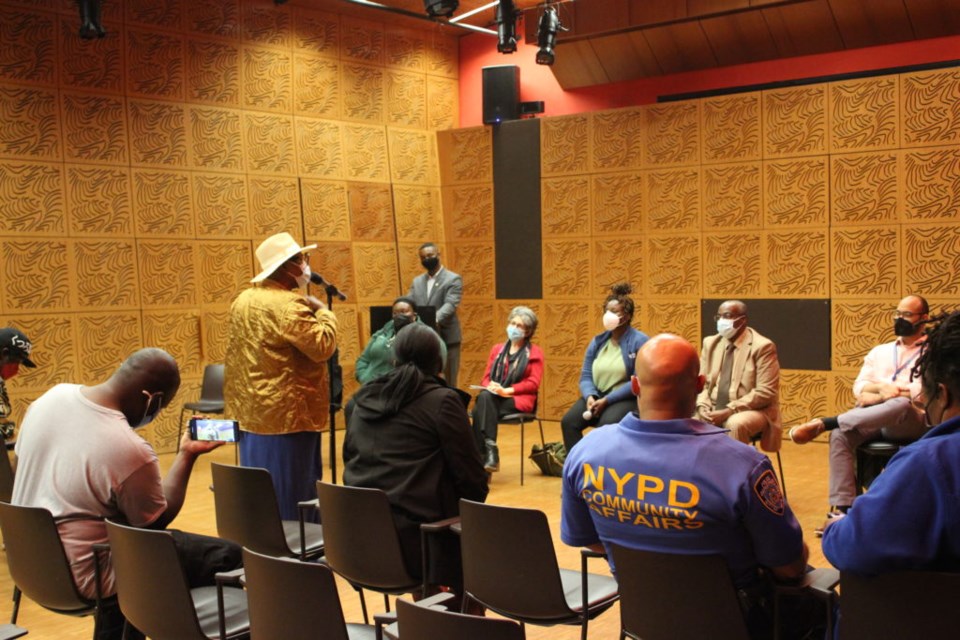 Crown Heights resident Kevin Byrdsong alleged that the rats are coming from the construction associated with new housing developments, not just the trash on the sidewalks and that the departments need to work with each other more.
"There should be a bridge between the Department of Health and the Department of Buildings—it's gotta be a joint effort or else everyone else is just passing the buck," Byrdsong said.
Ossé pointed to the 'See Something, Say Something: Sanitation Edition' form on his Instagram where constituents can report on public areas in need of cleaning.
Transit and Roads
"Transportation has become a big issue," Byrdsong said."I sold my truck because of it. What's going on with corporations like Citibike taking away parking spaces in this community? Now people have to pay for parking, which is close to rent numbers."
Branch responded, "Let's be real—all these years, cars were number one in our streets."
"We're not trying to give the streets over to bikers, that's not what we're trying to do, we're trying to make it so they can share it with cars."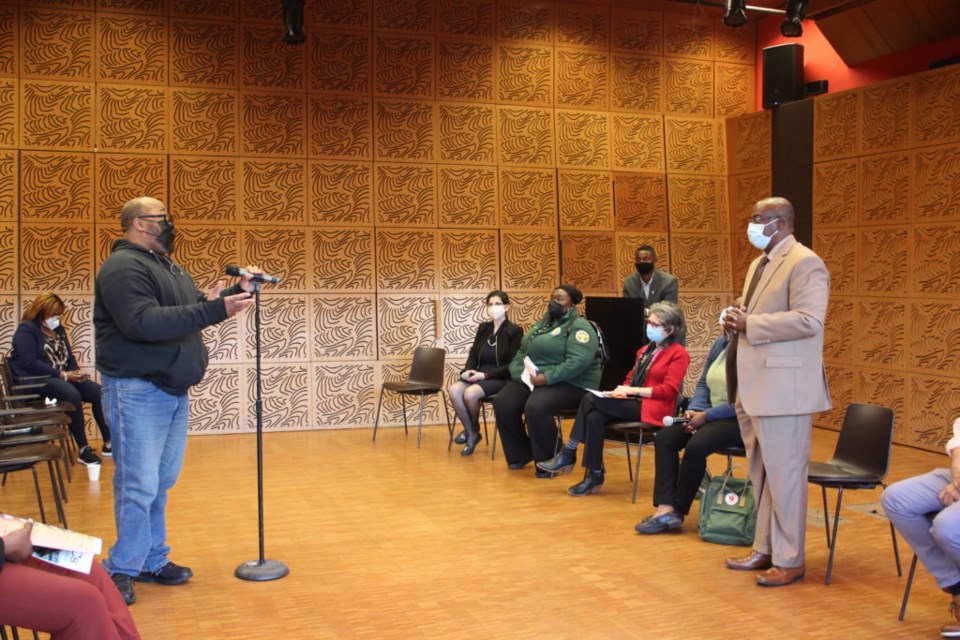 Branch also mentioned that the department is working to expand e-bike programs, car-share programs and electric scooter programs as well in order to create more convenient options for people.
One of the most frustrating things to Mark, a local constituent, is how dangerous some of the local intersections are for both drivers and pedestrians alike.
"Utica Avenue, Rochester Avenue are just not safe," Mark said. "We need the city to respond."
Branch said that DOT's study on street and traffic safety was delayed due to the pandemic but that the department hopes to get it done by the end of the calendar year, as part of the Vision Zero plan outlined by former Mayor Bill de Blasio.
Law Enforcement
"This particular area of Crown Heights has so many shootings," Weeksville resident, Cassandre Davilmar said. Davilmar is the owner of the Haitian-American cafe that catered the town hall.
"It feels like once a month someone gets shot on Rochester on Buffalo or on Sterling. I've contacted the NYPD about it and I don't see any change. It's been over a year now, and it just seems like it's been getting worse. I don't want my block to be a block where we're getting shot at."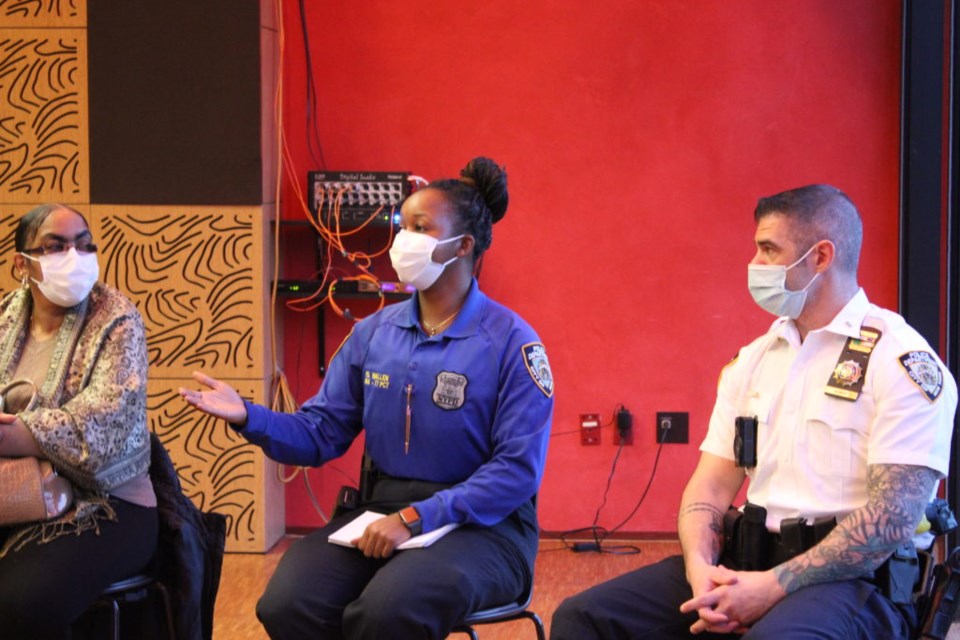 NYPD Officer Khalida Wallen, who responded to Davilmar, said that the precinct is aware of the hot spots in the neighborhood.
When it doesn't seem like NYPD is handling the drug or gang presence quickly enough, it's possible that the department is building an entire case against someone, "to put these people away for a longer period of time," Wallen said.
"You might not see us, but we are working," Wallen said.
For information on the next Activate Weeksville town hall, get Ossé's updates here.