City Councilmember Rafael Espinal on Sunday announced his resignation from office "effective immediately," two years before the end of his term.
Espinal said he's leaving the role to take a job as executive director of the Freelancers Union, the largest organization representing the country's 56.7 million independent workers. .
The 35-year-old councilmember, who represents Brooklyn's 37th District-- which includes portions of Bedford-Stuyvesant, Brownsville, Bushwick, Crown Heights, Cypress Hills and East New York-- announced the decision to his staff on Friday and made it "public" on Sunday, in a letter to Council Speaker Corey Johnson:
"Please take this letter as formal notice of resignation from the New York City Council as Council Member of the 37th Council District."
The announcement comes a little more than a week after announcing he would be dropping out of the race for Brooklyn Borough President.
Last February , following Letitia James's resignation from New York City Public advocate to become the new state attorney general, Espinal ran in the special election to replace James. Jamaane Williams won the seat.
But the councilmember clearly already has moved on and does not appear to be looking back:
It's been a love fest all day on Twitter between Espinal and the Freelancers Union. The Freelancers Union has been touting Espinal's legislative work and support of the "Right to Disconnect" bill for workers and the "Freelance Isn't Free Law."
"I'm excited to take on the role as Executive Director of Freeelancers Union and build on the innovated work of Sarah Horowitz and Caitlin Pearce," said Espinal in a Tweet on Monday. "I've always admired the union's mission and will focus on ensuring that freelancers can thrive in their cities."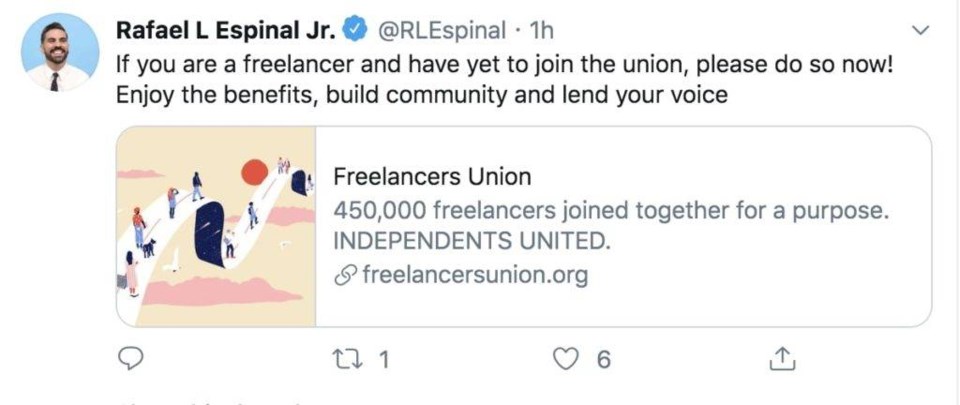 His departure from his seat was punctuated further Monday afternoon when he tweeted at around 4:15pm a pitch for freelancers to join the union.
A special election for Espinal's seat will be held within 80 days.