The NYC Racial Justice Commission's latest set of proposals include establishing a preamble to the city charter, a citywide equity plan and a new Office of Racial Equity, it was announced at a recent virtual public meeting.
Once finalized by the commission, those proposals may end up on the ballot in the 2022 general election.
Created in the aftermath of protests across the city in 2020 over police brutality, the commission's "mission is to root out systemic racism across New York City," Mayor Bill de Blasio stated in March.
The 11-person commission has a two-year mandate to propose amendments to the NYC Charter to remove barriers to equality, power and opportunity for people of color. 
Commission Chair Jennifer Jones Austin said the purpose of the Friday meeting was to move towards a resolution to vote on the proposals at the Dec. 9 meeting. They're expected to approve a final report on Dec. 16 that will incorporate the proposed ballot measures.
Austin is the CEO of the Federation of Protestant Welfare Agencies and the daughter of the late legendary Bed-Stuy preacher the Rev. William A. Jones, who worked with the Rev. Martin Luther King Jr.
She told the commissioners that recent racial equality protests opened a window of opportunity nationwide to dismantle structural racism.
"If we don't step into this moment and try to act, to at least begin to undo the structures that are in place, then we may lose the moment," she said with urgency in her voice, adding, "these windows don't stay open for long."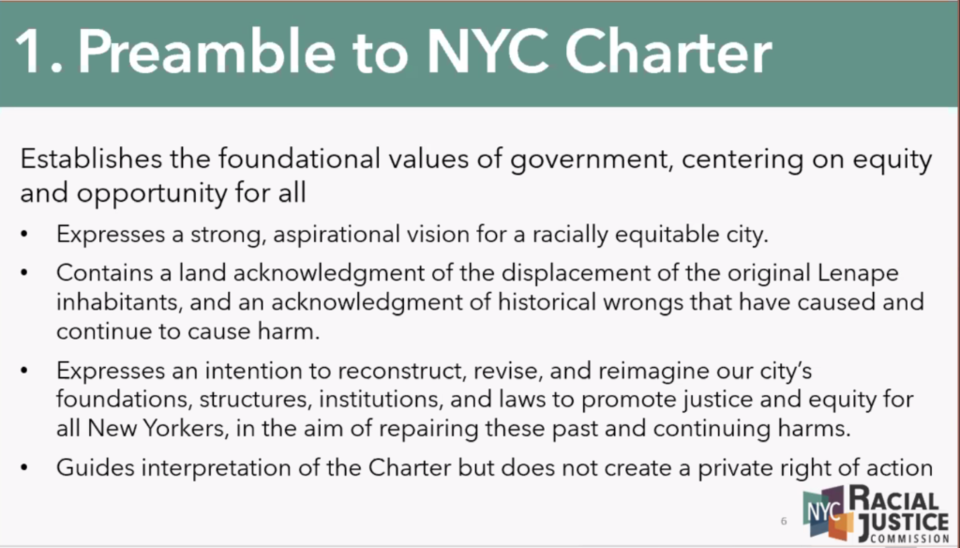 Preamble
The commissioners plan to propose a preamble to NYC's Charter, as an aspirational vision for the city.
It acknowledges the displacement of the indigenous Lenape people of New York and historical wrongs that have caused ongoing harm.
It calls for a reimagining of the city's "foundations, structures, institutions, and laws" to create equality for New Yorkers.
Commission Vice Chair Henry Garrido said he found it "incredible" that the city's constitution lacked a preamble.
"I think it's one of the most revealing things that I have ever seen," he stated, adding that constitutions typically have some guiding principles and a vision.
Office of Racial Equality
A second proposal would create a new Office of Racial Equity that would coordinate with all city agencies to create individual equity plans. The plans would be included in a biennial Citywide Equity Plan created by the mayor. 
The office would oversee a permanent interagency Task Force on Racial Inclusion and Equity, as well as build a Citywide Access Design program to improve access to city services and programs. It would also be tasked with collecting and publishing data on equity indicators.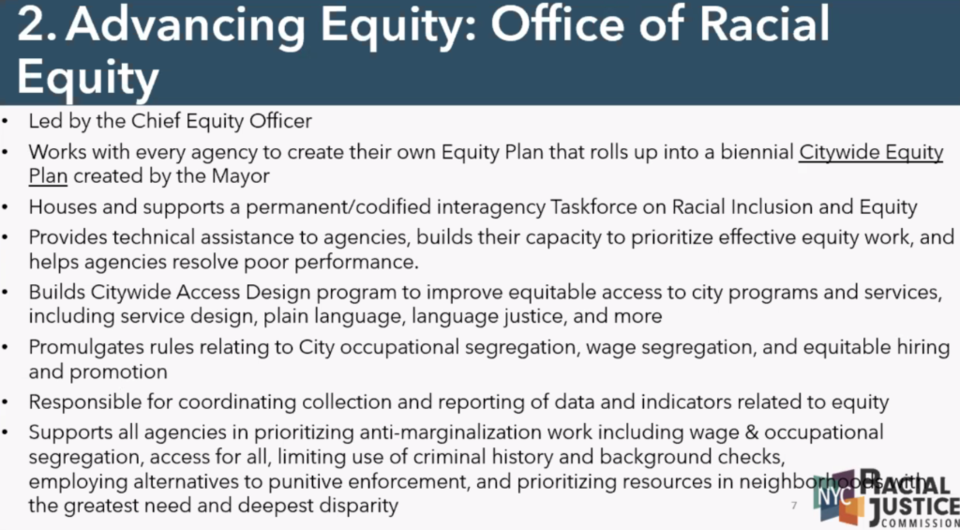 Citywide Equity Plan
Another proposal calls for a Citywide Equity Plan that reflects the Preamble's vision and values. It would outline specific goals, indicators and metrics to track disparities in outcomes. 
It would have several parts, including a True Cost of Living component that would institute a new measure for calculating the spending needs of New Yorkers.
The plan would have to be approved by the new Racial Equity Commission, a community-led body.
"This is critically important," Anusha Venkataraman, the Racial Justice Commission's executive director, stated. "This is where we're providing both outside insight and expertise, as well as community input."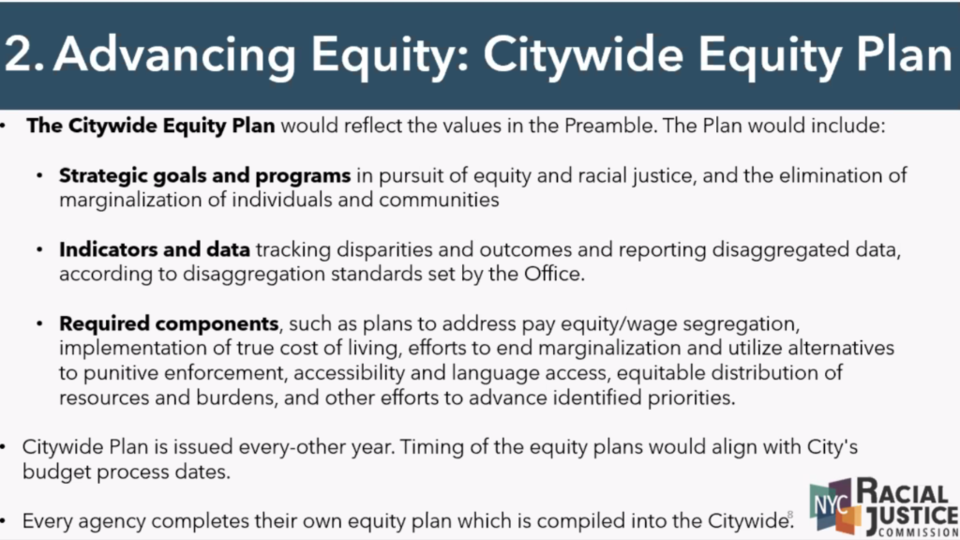 Voter participation needed
Commissioner Lurie Daniel Favors underscored that these proposals were only a first step toward change. 
"It's going to be vitally necessary that our fellow New Yorkers fight for these initiatives by coming out and voting for these proposals, said Favors, who is also the interim executive director of the Center for Law and Social Justice at Medgar Evers College.
"They do no one any good at all if they simply are not passed, or if even upon passage they are not vigorously defended and advocated and used as a point of expansion," she added.
Austin explained that the changes would come into effect in 2023 if voters approve the proposals on the November 2022 ballot.
"Rome wasn't built in a day, and we know that racism won't be overcome with one shot, with one aim. So more work has to be done, but this is a very good beginning," Austin said.