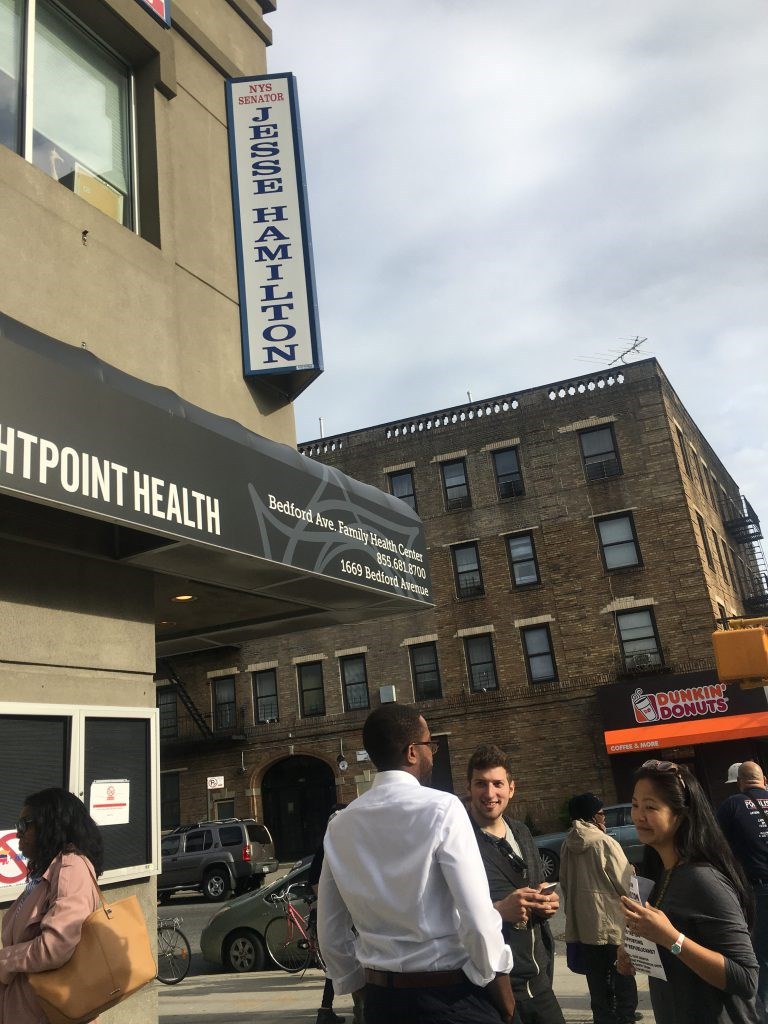 On Tuesday night, Democrat Brian Benjamin won a special election for the State Senate in Upper Manhattan, giving Democrats control over the New York State Senate and therefore a legislative edge.
However, not so fast: Republicans still may have the upper hand due to a breakaway faction from inside the party called the Independent Democratic Conference (IDC) which, at times, may vote with the Republicans, effectively preventing the Democrats from realizing its majority status.
State Senator Jesse Hamilton, who represents Central and East Brooklyn, is part of the IDC, and after the election of Benjamin a crowd of protesters showed up at Sen. Hamilton's office at 1660 Bedford Avenue in Crown Heights brandishing signs that voiced their displeasure.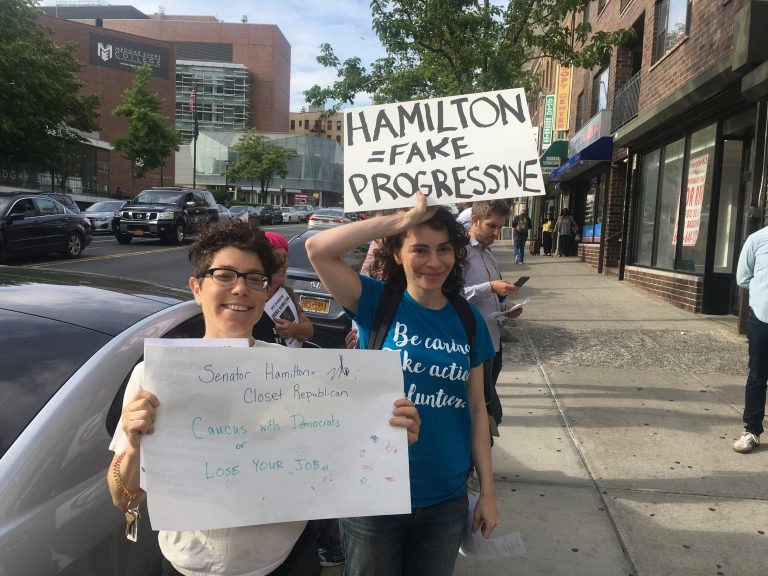 "Fake Progressive;" "Closet Republican;" and "Caucus with Democrats or Lose Your Job," were some of the signs' demands.
"I think it is absurd that a Senator from Central Brooklyn, from the community that I grew up in and I was raised and I went to elementary school right around the corner, that he sides with the same Republicans that support this current president," said Zellnor Myrie. " is outraged with the IDCthen he comes back to the district to say that he's fighting for us. I think is the height of hypocrisy," Myrie said.
Since the current the election of Donald Trump, tensions are raised around how an elected official votes and whether or not it supports or rejects the President's agenda.
"Until a few months ago I was pretty uneducated about state politics in general," said James Bruffe, an elementary school teacher. "As I plaid closer attention, I learned that despite the fact that Democrats make up just barely a majority in the Senate, very little progressive legislation can be even voted on because even though it passes the assembly which is heavily democratic, when it gets to the senate floor, it can't even get a vote. And the reason why that is because the IDC."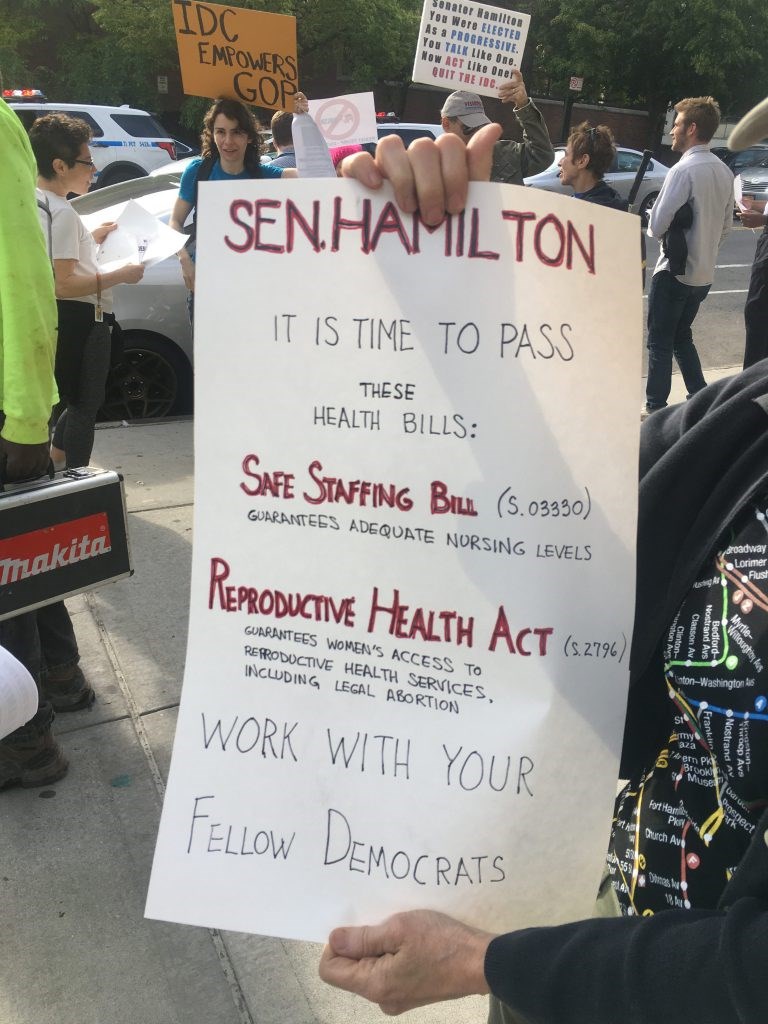 Another protestor, Joyce Gallagher, a retired Brooklyn resident, said she also is frustrated with her State Representative Simcha Felder-- also Democrat who caucuses with the Republicans: "He's not in the IDC, but he caucuses with the Republicans, so it's really the same thing.
"Just today he sent out a letter saying Democrats should vote like Democrats which is bizarre cause he doesn't vote like a Democrat. At least he hasn't since converting. But the problem is they vote with the Republicans, these bills that I'm talking about, they pass through the Assembly, and they don't even get to the floor. That's the problem," Gallagher said.
However, according to Sen. Hamilton, the work in his district and his voting record show a long history of getting behind the issues that routinely serve the needs of his constituents.
When reached for a comment, Hamilton's office sent a message of the list of causes advanced by his office: "I am a proud advocate for the legislation communities I represent care deeply about. I know my Independent Democratic Conference colleagues stand with me in advancing key measures such as the Reproductive Health Act, the DREAM Act, the Gender Expression Non-Discrimination Act (GENDA), protecting Title X funding, public campaign finance, single-payer health care, the Contraceptive Care Act, and more," Hamilton said in a statement.
"Whether upholding women's rights, immigrant rights, LGBTQ rights, voting rights, labor rights, civil rights — any human rights — both in Albany and on our streets, I will continue to advance legislation and on-the-ground action that makes a difference in the lives of our New York communities," Hamilton said.