A rally preceding a New York State Senate hearing on housing and rent regulation laws on Thursday in Crown Heights erupted into a clash of protests between tenant advocacy groups and building and maintenance workers.
"Tenants united, will never be divided!" chanted Iván Contreras, campaign coordinator for advocacy group No More MCIs, into a megaphone while facing demonstrators who waved signs and yelled slogans.
The Senate had organized the public hearing to give New Yorkers the opportunity to weigh in on the State's rent regulation laws, which will expire on June 15. Housing advocates have pushed a package of nine bills to establish universal rent control and eliminate "loopholes" in current rent laws, such as using major capital improvements (MCI) and individual apartment increases (IAI) to raise rents.
While the bill package is a boon for tenants in rent-stabilized and rent-controlled apartments, pro-landlord groups have voiced opposition.
At the rally, activists from the Housing Justice For All coalition were confronted by workers from Bear Construction, Real Deal Decoration and other companies on Montgomery St. in front of the Ebbets Field apartment complex. For those who find work through MCIs and IAIs, the nine bills are a source of contention.
Workers shouted "Save our jobs!" and carried signs that read "My job pays my rent" and "Save MCIs."
"Once they get rid of them [MCIs], it would leave a lot of construction workers out of jobs," said Peter Exarhouleas, a contractor from NJF Contracting Corp.
Among the contested bills is S2829A, sponsored by Senator Julia Salazar of the 18th District, representing Bushwick and Williamsburg, which would prohibit evictions "without good cause." Another bill, S185, would eliminate the "statuary vacancy bonus" that allows landlords to increase rent by 20 percent in rent-stabilized apartments that change tenants.
"There are rent-stabilized people here. They've lost their homes. They've lost their apartments," said Gloria Briggs, a member of the Crown Heights Tenant Union and Brooklyn resident for 52 years who attended the rally. "There is no consideration for them."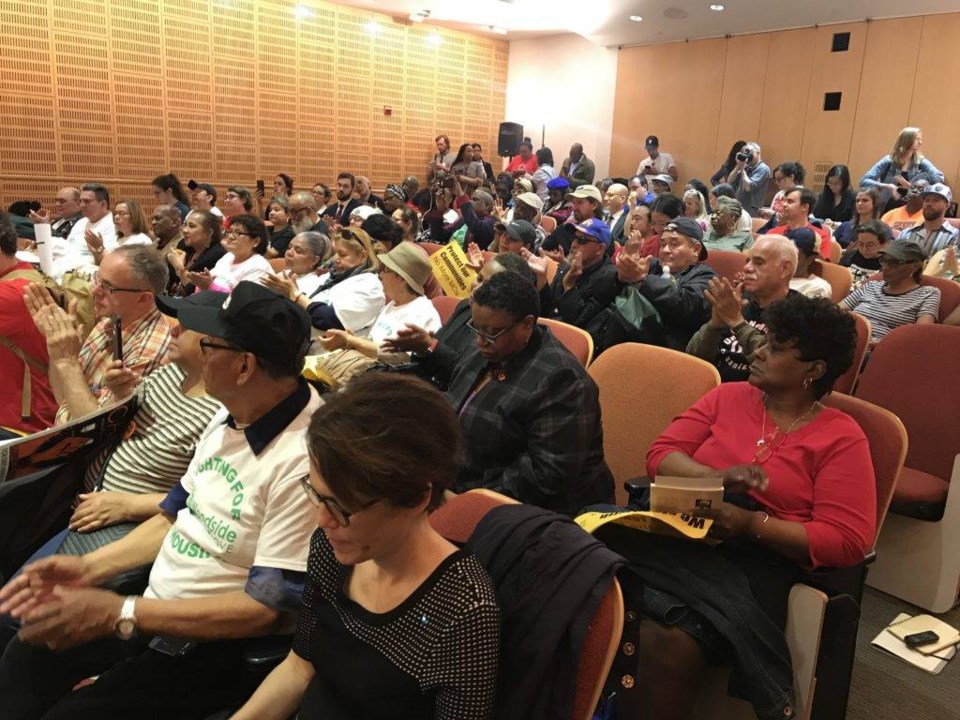 Both sides of the conflict marched down Bedford Avenue and faced each other on the front steps of Medgar Evers College, where the Senate hearing was scheduled to take place from 1:00pm to 8:00pm.
The college's auditorium quickly reached its maximum capacity of 140 people.
Senators Julia Salazar, Michael Gianaris, John Liu, Brian Kavanagh, Liz Krueger, Gustavo Rivera, Robert Jackson and Zellnor Myrie gave opening remarks, seated at a long table facing the public.
"It would not be a public hearing on housing in Brooklyn if the unofficial hearing didn't start outside on the corner," said Sen. Zellnor Myrie who represents the 20th District, including Crown Heights, Prospect Heights, Flatbush and Brownsville. Audience members laughed at the remark and clapped their hands.
"I would not be who I am today if it were not for the protections of rent regulation," said Myrie. "So this is an issue that is very, very personal to me."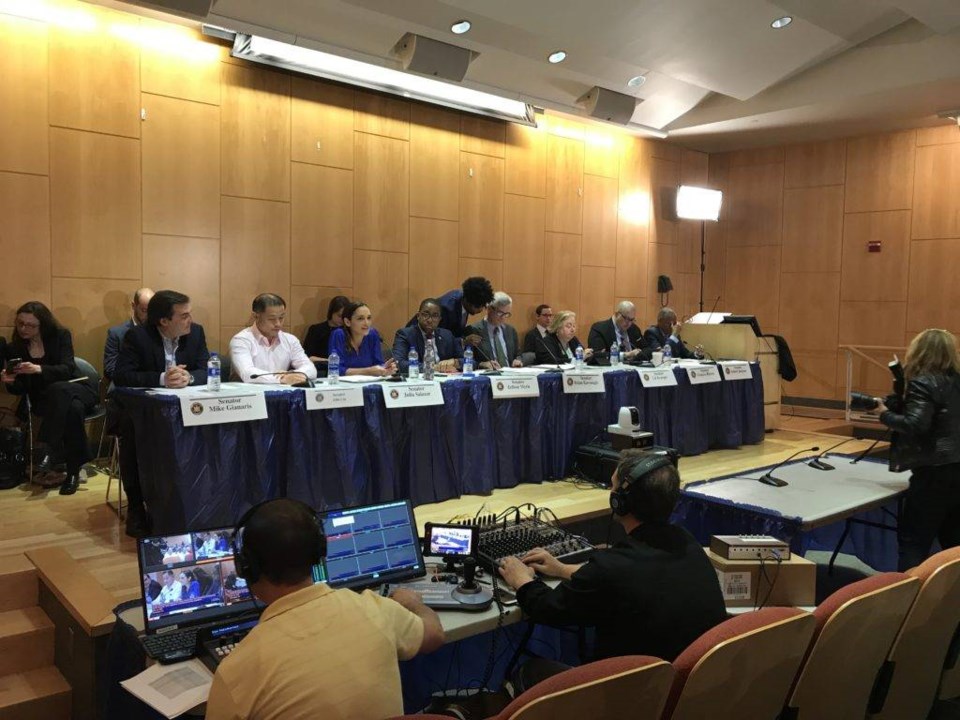 Members of the Ebbets Field Tenants Organization, Community Action for Safe Apartments and other groups took turns speaking to the Senate panel, urging them to pass all nine bills.
"This is our chance to act and preserve the New York that we all love," said Darryl Randall of the Crown Heights Tenant Union.
Thursday's hearing was the second in a series of four hearings on rent regulation and tenant protection issues organized by Sen. Kavanagh.
Two more hearings will convene in Albany and Newburgh in the coming weeks leading to June 15, and New York's State legislative session will end on June 19. When the State legislature will vote on the proposed bills is not clear yet.