Brooklynites now have one reason less to not get moving and break a sweat.
The Prospect Park Alliance and Flatbush Councilmember Mathieu Eugene celebrated on Friday the opening of a $750,000 adult recreation area at Prospect Park Parade Ground.
Quasi an outdoor gym, the fitness area contains 12 types of fitness equipment, accessible to people of all abilities. The area also includes a section for group classes and custom concrete "step-up" blocks.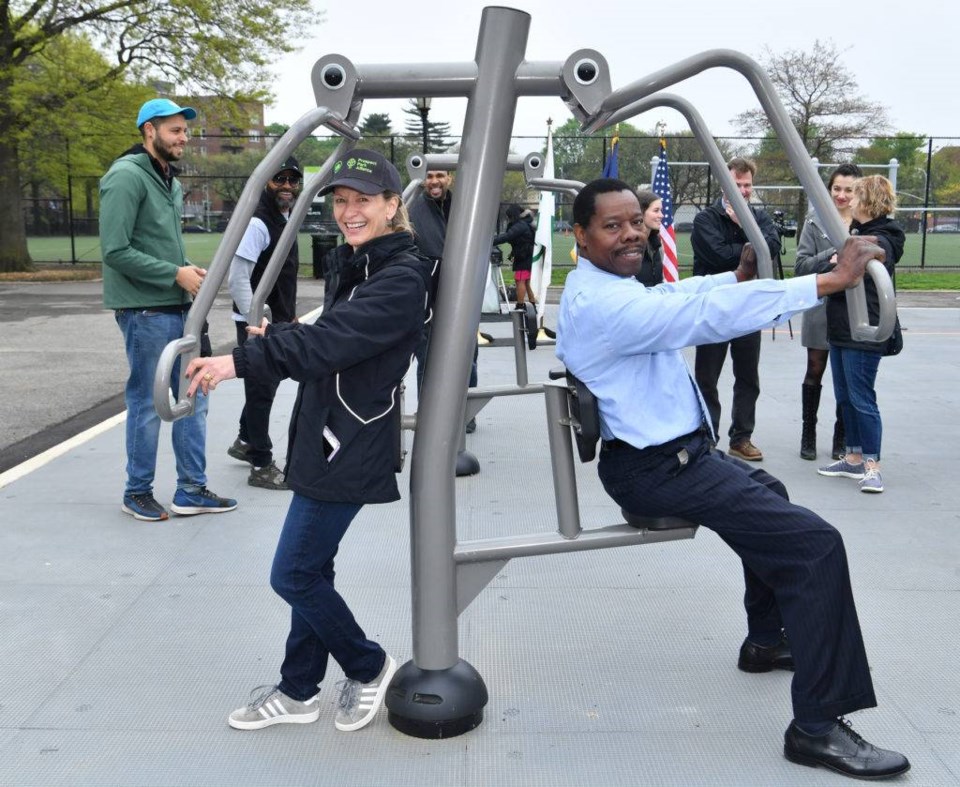 "Parks are essential to the health and wellbeing of our communities, and this new adult fitness area and other Parade Ground improvements will make a significant impact on our neighbors quality of life," said Sue Donoghue, president of Prospect Park Alliance. "We are deeply grateful to Councilmember Eugene for his long-standing support of Prospect Park Alliance and our work to keep the Park green and vibrant for the diverse communities that consider the park its backyard."
The construction of the recreation area was part of a major restoration that kicked off last spring and also included the installation of a new misting line along heavily used artificial turf soccer fields. The misting line, set on timers, provides a cooling screen of mist when the artificial turf fields are at their busiest and hottest. Additional improvements include fixing drainage problems at Baseball Field 7; reconstructing the volleyball court; and adding more shade trees and new seating.
"I want to commend the Prospect Park Alliance for the tremendous work they do to keep the Parade Ground a vibrant recreational area," said Councilmember Eugene. "This section of Prospect Park is so important for this neighborhood because it allows our residents to engage in outdoor activities that are beneficial to the health and wellbeing of the community."
The Alliance is currently designing a new plan for the southwest corner of Parade Ground that, in partnership with the councilmember, aims to bring more fitness amenities to the park. The project is expected to be completed by 2021, officials said.