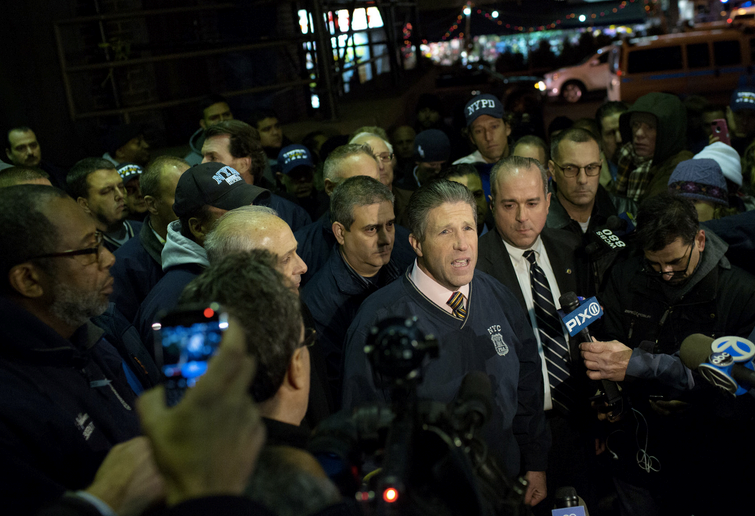 Pat Lynch, the president of t the Patrolmen's Benevolent Association, on Sunday at a press conference blamed protesters and Mayor Bill de Blasio for the ambush-style murder of two police officers in Bed-Stuy on Saturday.
Lynch said there was "blood on many hands tonight" including "those that incited violence on the street under the guise of protest" and starting with "the office of the mayor."
In fact, officers, led by union leaders, turned their backs on the mayor and NYPD Commissioner William J. Bratton on Saturday night as the two walked through a hospital to address the public about the deaths.
Patrick Lynch, blamed Mr. de Blasio for the tragedy. The officers' blood "starts on the steps of City Hall," he said, "in the office of the mayor."
Despite the fact that the mayor was lauded and it was widely reported that the protests in support of Eric Garner and Akai Gurley-- two unarmed men who were killed by police-- were largely peaceful, the police unions felt the mayor had failed to take a strong stance in support of NYPD's efforts.
In fact, even before the shooting, union leaders had circulated a letter allowing officers to request that the mayor not attend their funerals in the event of their death in the line of duty.
The assassination of the two cops on Saturday has only further widened that rift.
"This is a nightmare of the highest magnitude for everyone," said Michael Palladino, president of the Detectives' Endowment Association. Leaders at City Hall, he added, "need to dig down deep in their souls and understand that campaigning to be a leader is easier than being a leader."