The United Breast Cancer Foundation is bringing its annual Pink Bag breast health education event to the Barclays Center on Wednesday, April 3, from 8:00am to 3:00pm.
The event will offer cancer prevention information, a tutorial for breast self-exams, as well as live entertainment and delicious food. Additionally, UBCF will provide registered attendees Pink Bags full of goodies such as breast self-exam cards, educational brochures, beauty products and more.
"This is by far a special opportunity for UBCF to showcase our foundation's ability to serve and further our mission to the communities we hold dear in our backyard," said Stephanie Mastroianni, UBCF's executive director. "The Barclays Center is a phenomenal platform for us to showcase our special abilities to serve the public and highlight an alternative approach on the topic and the management of breast health and breast cancer."
One in eight women will develop breast cancer in their lifetime. And also men are affected: This year alone, an estimated 2,670 men will be diagnosed with the disease. New York State has one of the highest breast cancer rates in the country. In NYC alone, there are approximately 6,000 new breast cancer cases each year and more than 1,000 breast cancer-related deaths.
Early detection saves lives. UBCF encourages women and men to learn the breast self-exam to recognize any changes and get a "feel" for healthy and abnormal breast tissue. Those in need of a breast screening can find assistance through UBCF's Breast Screening Program — available to women and men of any age. The program covers all screening technologies including mammography, ultrasound, thermography and MRI.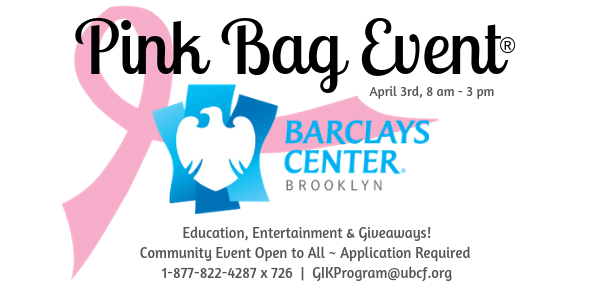 The event is free and open to women, men, children, breast cancer patients, survivors and those interested in learning about breast health and cancer prevention.
People interested in attending must submit an application and receive an appointment to attend the event. Please contact UBCF for more information: GIKprogram@ubcf.org or 1-877-822-4287, ext. 726.