The Greene Grape and FAB Fulton partnered to create a festive street fair featuring local vendors outside The Greene Grape's Fulton Street location.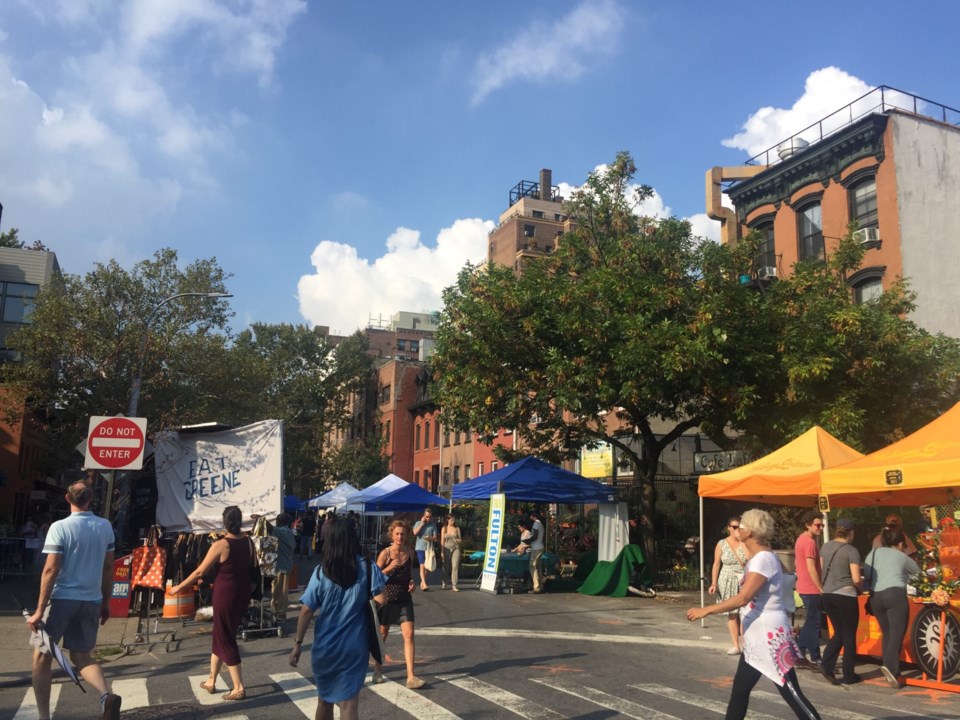 Residents from all over Brooklyn participated this past Saturday in the first annual "Eat Greene" street fair on Fulton Street in Fort Greene.
The inaugural event was hosted by The Greene Grape in partnership with FAB Fulton and included Electric Lotus, Brooklyn Public Library, Fort Greene Park Conservancy, Melt Massage, Pequena, Gardel's Garden, Urban Glass with performance by local non-profit Victory Music & Dance. In addition, the event hosted local food vendors from Foodworks Brooklyn's Incubator, Jalapa Jar, and Crown Finish Caves.
The street fair served as an invitation to the community to sample the vibe, the food, the retail and shopping along the Fulton Street corridor that runs through Fort Greene.
"I suppose this is the brainchild of our founder Amy Bennett," said marketing creative director Angela Gelso. "We couldn't have gotten this done without FAB Fulton, though. They really paved the way for us."
FAB Fulton (Fulton Area Businesses) is a coalition of small business owners, merchants, property owners, and community stakeholders. Together, FAB Fulton and The Greene Grape gathered local vendors who just started their businesses, as well as owners who have been selling their goods for years.
"It's a good mixture of new and old," Gelso added.
FAB Fulton's stall brought free arts and craft projects for kids and children at heart. Across the way, the music area provided loud and popular tunes with a DJ at the scene. Later, the DJ stopped playing and an acoustic medley took over.
Clearly, Eat Greene successfully exemplified the variety and spontaneity of Brooklyn.