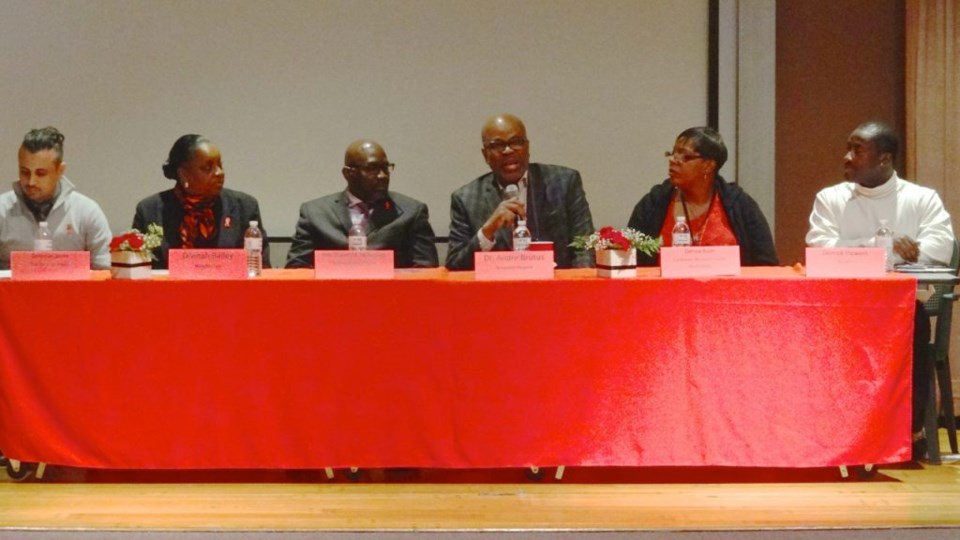 December 1 marked World AIDS Day and the kick-off of a month-long campaign devoted to raising awareness around the HIV/AIDS epidemic.
On Friday, the community was invited to Brookdale Hospital in Brownsville to take part in a frank panel discussion around the current state of affairs of HIV-- a deadly virus that has come a long way as far as treatment, yet still has no cure. It is a disease that very much continues to plague the country, particularly communities of color.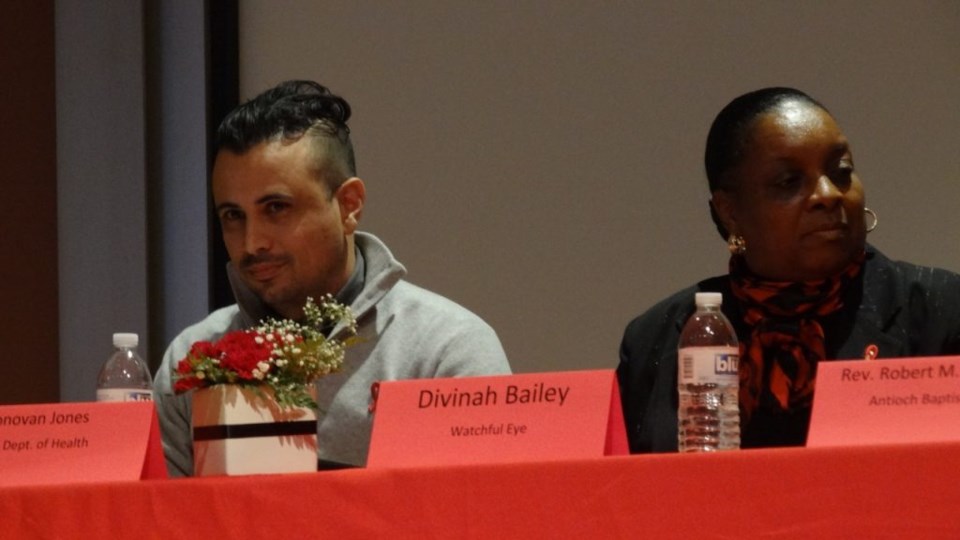 Panelists included Dr. Andre Brutus of Brookdale Hospital; Divinah Baile, founder of Watchful Eye; Rev. Robert M. Waterman of Antioch Baptist Church; Denise Bush of the Caribbean Women's Health Association; Donovan Jones of the NYC Dept. of Health; and Derrick Flowers of ASCNYC.
"We've made a lot of progress," said Dr. Andre Brutus, who specializes in treating AIDS patients at Brookdale Hopsital. "We've gone from a 30-pill regiment now down to one medication a day. But now, my patients are asking me, 'When are we going to get the cure.' I know the cure is coming soon. We are getting close."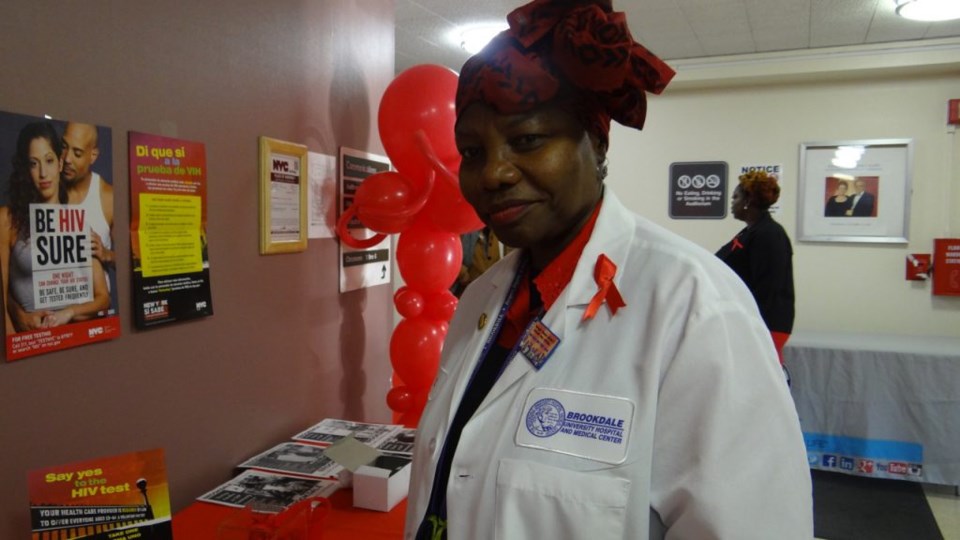 But Dr. Brutus emphasized that while no cure has not been found, the epidemic has continued to accelerate amongst African Americans whereby, now, communities of color have by far the highest rate of infection.
"We need to continue to encourage testing in the black community," said Dr. Brutus, "because many people who are positive don't know they are positive and they continue to spread the virus to the rest of community. They may not know for a long time even before they start having symptoms."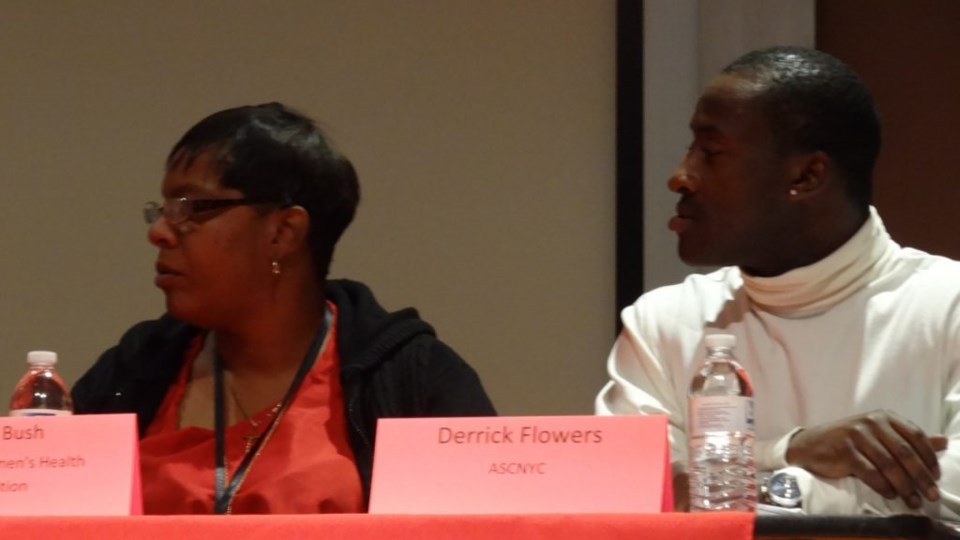 Marie Yolene-Jaques, who has served as coordinator of HIV/AIDS counseling at Brookdale for 15 years, said getting testing would do a great deal in helping to curb the spread of the disease. But the problem is, most people who engage in risky sexual behavior are still afraid of knowing their status, despite how easy it has become and that the stigma still exists around being HIV positive."It's become very easy to test and you can now get your results right away," said Yolene-Jaques. "There are other preventative measures you can take if you know you are at risk, such as the PrEP pill (it's a pre-exposure prophylaxis for people who are not positive but are at risk of contracting b/c of their behavior or the partner might be positive) that you can take before sexual intercourse and it allows you to decrease the chances of contracting it.
Divinah Bailey, founder of Watchful Eye, an HIV/AIDS awareness advocacy organization, said, as the noise around the HIV/AIDS epidemic has died down, so too has the overall tenor of the conversation.
"Unlike in the 80s when the virus first came to national attention, it's no longer just white lawyers on Wall Street who have to deal with the virus; now, it's a primarily a black problem," said Bailey. "So yes, the importance of this conversation has shifted to people of color, and so the national urgency around the virus has definitely changed."
Akeisha Knight, founder of Candace K. Events, said her agency wanted to work with Brookdale on the World AIDS Day event, because she felt the noise around AIDS was something that was fading off of people's radars, despite the growing crisis:
"We're championing awareness for causes like breast cancer, nutrition, diabetes and obesity. But HIV is something that is still very prevalent within our community," said Knight. "We're seeing increases in contraction rates amongst our senior citizens, amongst our young people. It's something that's not going away, and it's something we can't forget.
"There was an era where we were all about it. But the funding's not there the way it used to be from our elected officials in our community. But it's something that we really need to look at again. We should not take our focus off it."
Yolene-Jaques added, "Until there is a cure, getting tested regularly and knowing your status is the best way to prevent the spread of this disease. It is one disease that is 100 percent preventable."