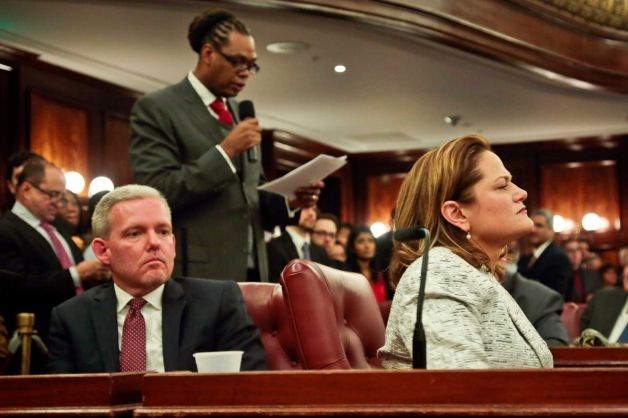 The City Council voted Wednesday 46-5 to pass The Earned Sick Time Expansion Bill, a paid sick leave bill expanded to include businesses with between five and 19 employees.
The previous paid sick leave bill applied only to businesses with 16 employees or more, while exempting a number of struggling industries like manufacturing. The new bill's mandate expands the number of workers covered citywide by 355,000, and will go into effect April 1.
"From waitresses and dish washers to store clerks and car wash workers, New Yorkers across the five boroughs will finally have legal protection to a basic right that so many of us take for granted each day," said Mayor Bill de Blasio, "and employers will benefit from a stronger and healthier workforce."
The Council's three Republicans voted against the bill, saying that moving the minimum number of those covered from 15 down to five will badly hurt small businesses that are struggling.
A handful of Democrats echoed the same concern, including Councilwoman Carmen Arroyo of the Bronx, and Councilmember Paul Vallone, a moderate Democrat from Queens.
Although he voted in favor of the bill, City Councilmember Robert Cornegy, chair of the council's Small Business Committee, said he too was worried about how the bill would impact small businesses.
He expressed concern that the bill was amended before the original version had been tested and regretted that the bill had not come first before his committee for discussion and review.
"Although I am a co-sponsor, I feel I would be remiss if I did not reference those concerns in explaining my vote," said Cornegy.
"The small businesses that have reached out to me, particularly those in my district, have legitimate complaints about the Department of Small Business' problematic track record with outreach to businesses generally, and to small businesses, in particular."
Cornegy said small business worried about the support they would receive from the city in setting up and maintaining the record keeping systems the new law would demand.
"They worry that this bill's inclusion of a proactive investigative power for the enforcing agency will lead to more aggressive and punitive enforcement, rather than education," said Cornegy. "I share this worry, as well."
However, said Cornegy, he was happy to see a few changes to the bill, including the addition of a six-month grace period before businesses (with less than 20 employees) would be subject to fines, and the reduction of the statute of limitations for filing complaints from three years to two.
"I believe there is much more that can and should be done to support small business success, particularly as they adjust to this new legal requirement," he said.
"Bringing those ideas forward is my highest priority as Small Business Chair. I look forward to the conversations with business owners, advocates and leaders that will inform those ideas."