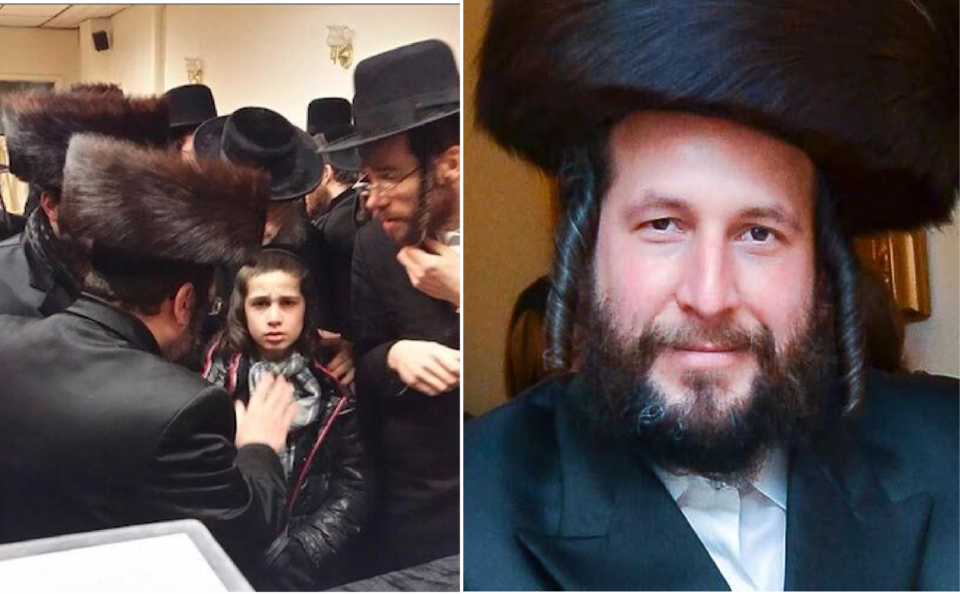 Brooklyn's two largest Orthodox Jewish communities, the Satmar and Lubavitch, may have their differences. But when it comes to the grisly murder of millionaire real estate developer Menachem Stark, the Jewish community stands together. And mourns together.
Stark, 39, a member of the Satmar Jewish community of Williamsburg, was found dead Friday evening in a garbage bin behind a Long Island gas station.
Stark was last seen on surveillance video leaving his office on Rutledge Street at 11:35pm Thursday when two men approached him, wrestled him into a car and drove away. His wife had reported him missing around midnight on Friday when he failed to arrive home.
But following a 16-hour search by police, Stark was discovered by a gas station attendant, his body burned, charred from the waist down. Police have not yet determined the exact cause of death, and as of Sunday evening, no arrests have been made.
Menachem Stark had eight children, ages one to 16.
"Eight young orphans watched their father buried last night," said Rabbi Yaacov Behrman of the Jewish Future Alliance and a member of the Lubavitch community from Crown Heights. "Young innocent children! They will surely hear the details of his death once they return to school."
Hundreds of neighbors, friends, relatives and Jewish residents from all over stood for hours in the frigid cold Saturday evening to mourn his death. They praised him as one of the kindest and most charitable individuals. Some even referred to him as a "Human ATM."
In fact, Stark recently was chosen as the guest of honor for one Jewish organization where he was a regular contributor, Bonei Olam, which helps couples that have reproductive problems, according to Gary Schlesinger, exec board chairman of United Jewish CARE.
"Every school, every organization, every not-for-profit in our community turned to Stark for help," he said. Schlesinger said that he and Stark were neighbors for many years.
"In our community, we don't have sections most refer to as 'ghettos.' So it's common to see a poor family who lives right next to a millionaire. But we help each other, because we all use the same schools, pray in the same synagogues, wear the same shoes. We all share."
But, while those who knew Stark praised his philanthropic ways, simultaneously, reports started flying across the Internet, in the media and on social networks that painted quite a different picture:
Some of Stark's tenants complained over Twitter that he managed his properties like a slumlord. Investigators also suggested the real estate mogul owed a lot of people a lot of money and was entangled in a slew of shady deals.
But Schlesinger said he was not fazed by the reports: "Any businessperson will tell you, when you have 27 buildings, of course you'll find disgruntled tenants here and there. For those tenants to go and post things anonymously and for the media to play that up and not consider his family is wrong."
Then, there was this: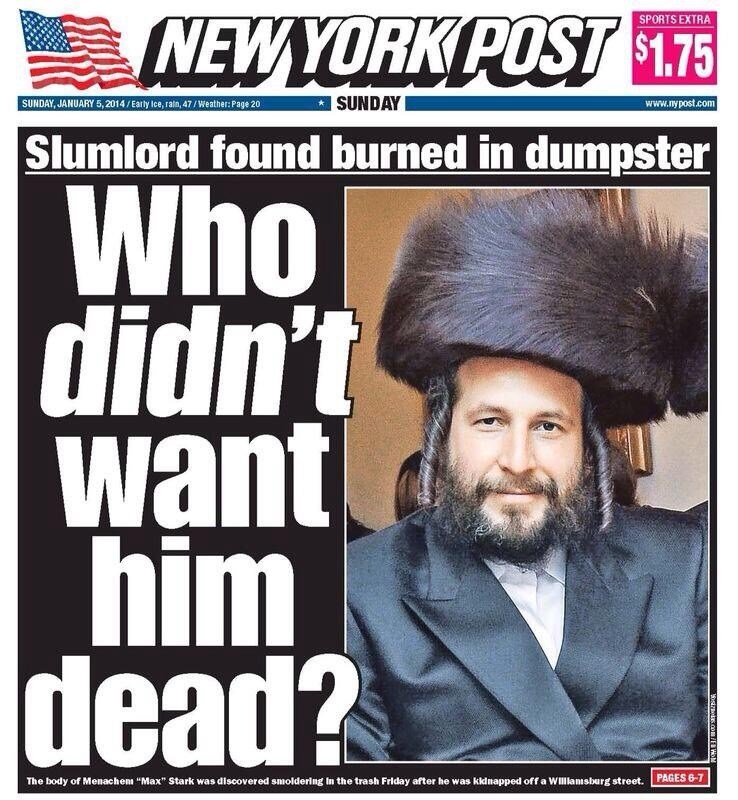 The New York Post ran a front-page headline on Sunday that asked, "Who Didn't Want Him Dead?"
Outraged, the Jewish community called for an apology, claiming the headline was insensitive and irresponsible. Then, Sunday afternoon, a group of elected officials, including Public Advocate Letitia James and Brooklyn Borough President Eric Adams, held a press conference at Brooklyn Borough Hall in honor of Stark. James called for a boycott of The Post.
"Not even 24 hours since the body was buried, and now everything is focused on the NY Post," Schlesinger said. "What about his grieving family?"
Behrman added, "The Crown Heights community stands with our murdered brother in Williamsburg. Our hearts go out to his family, and we hope the criminals are brought to justice immediately."
Schlesinger said Menachem was the type of person that everyone turned to, because he was successful, young and energetic.
"His father was not rich. He became successful through his own efforts. And so he was always generous. Sometimes I asked him for help and he was always there.
"He never, ever said 'no.'"