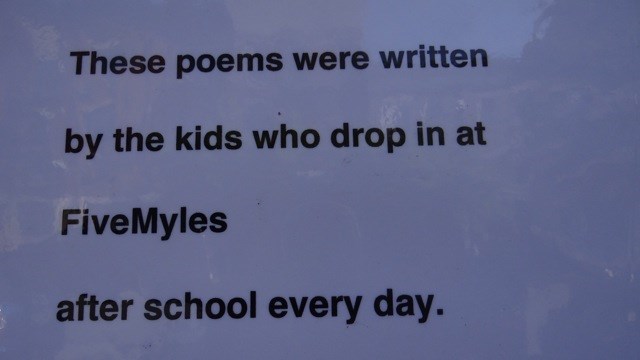 There's a dilapidated old garage on St. John's Place between Franklin and Classon avenues in Crown Heights that will be torn down and replaced with high-rise condos by the end of the summer.
Sure, it's a bit of an eyesore. And sure it's already seen its best days. But it has been in the community for generations and generations.
And well, quite frankly, it's a part of the block's unique fabric.
So as a final rites and to say goodbye to the crumbling structure, Hanne Tierney, who runs Five Myles Gallery next door, has invited the neighborhood's children to decorate the garage with a wall of poetry.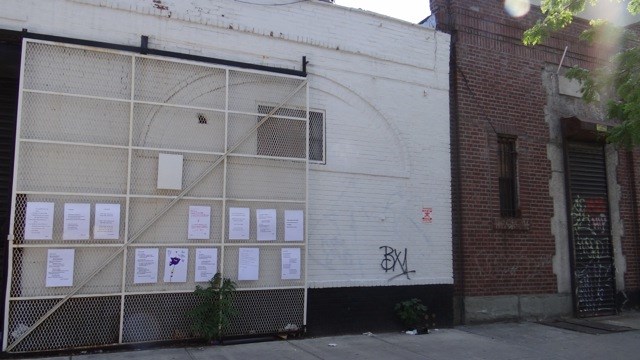 For years, Tierney's gallery has served as a welcoming place for kids to meet up after school to receive homework assistance or simply a listening ear.
A few weeks ago, Tierney put out a call to all of her young visitors to build the poetry wall as an homage to what will soon be a vestige of the past.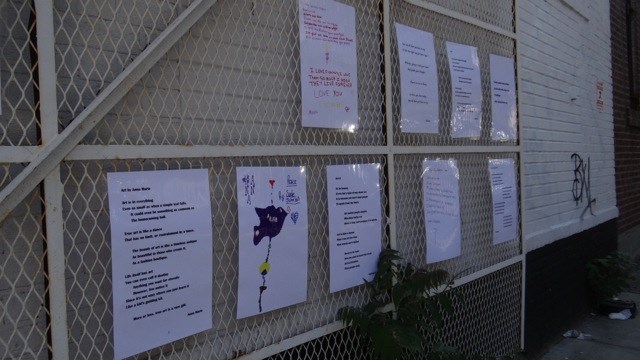 "For people to read these poems, walking by, it's a reminder that this is a real community where real people live together, go to work… where kids grow up, go to school," said Tierney.
"And I just thought it's a way of one more time putting this out there. Because when these big buildings go up, it's going to change. It won't be that warm human feeling that we had here until quite recently.
"Everyone's lived with that garage for a hundred years," she said, "and it's done the job it needed to do.
"So I thought it was a gentle way of respecting it…
"Although it is quite ugly," she said and then laughed. "Yes, it's time for it to go!"