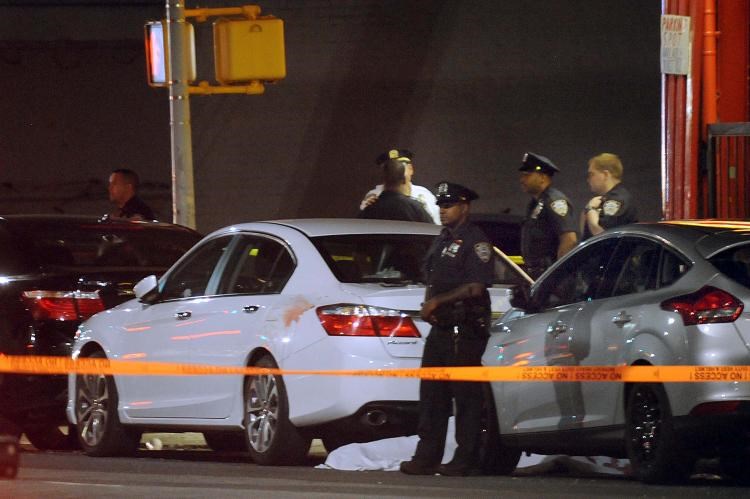 In the early hours of Monday July 4, an off-duty New York Police Department officer shot and killed an unarmed man in the East New York section of Brooklyn. According to a recent article, the incident stemmed from a road rage encounter where the three-year veteran officer Wayne Isaacs got into a disagreement with the victim, Delron "Smalls" Dempsey, a resident of Jersey City. After exchanging words from their respective vehicles about how they were driving, both men pulled over to the side of the road at 2736 Atlantic Avenue where the situation quickly escalated.
According to investigators, Dempsey got out of his car and approached the off-duty officer's car where they engaged in a physical altercation through the open car window. The investigators stated that during the fight, the off-duty officer discharged his weapon, fatally wounding Dempsey, who was pronounced dead at the scene. The officer was promptly taken to Jamaica Medical Center where he was treated for injuries to his head, according to the official police account of the events that evening.
As more and more witness accounts are being reported to local media outlets, key factors in the incident differ from that of the official police account that was given to local reporters. Though the investigation is still ongoing, concerned family members and friends are hoping that local businesses in the area may have captured the incident through their security cameras, a resource that may be unlikely due to the Independence Day holiday and the fact that most business were not in operation.
A witness account first reported by The New York Daily News credits a man named Lloyd Banks who explained that "Delron and the cop's car almost hit each other. And Delron got out of the car and the cop just jumped out and started screaming. He just shot him right there on the street,"
Dempsey's girlfriend, their 4-month-old son and her two daughters were in his vehicle at the time of the shooting. In a similar report by NBC, during an interview with Ali Dempsey, the victim's brother, he stated that "The only reason he got out of the car was because the family was in the car,"
While the East New York community contemplates the use of deadly force, NYPD's Force Investigation Division will assume the duties of uncovering the exact events that took place that night.