Senator Roxanne J. Persaud has partnered with the New York Legal Assistance Group and the New York State Courts Access to Justice Program to bring their Mobile Legal Help Center, the country's first-ever legal services office and courtroom on wheels, to East Brooklyn.
Residents of Persaud's 19th Senate District, which includes Brownsville, Canarsie, East New York, Flatlands, Ocean Hill and Starrett City, among others, can receive free legal services on Tuesday, February 26, from 10:00am to 3:00pm. The mobile center will be parked in front of the senator's district office, located at 1222 E. 96th Street.
Founded in 1990, NYLAG provides high quality, free civil legal services to low-income New Yorkers who cannot afford attorneys.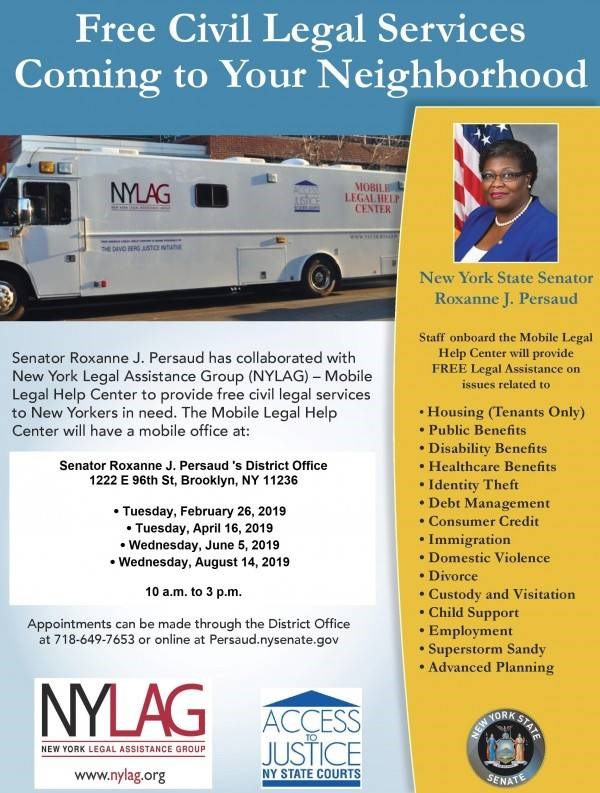 Attorneys will provide counseling and direct representation without leaving the vehicle, which contains four private meeting areas for attorneys and clients, and is equipped with high-speed Internet and state-of-the-art technology. A video link with the courts enables access to judges for emergency hearings, including domestic violence and eviction cases.
East Brooklyn residents in need of legal assistance are highly encouraged to take advantage of this service, which bypasses common obstacles many residents in search of legal assistance face such as geographic isolation, health and mobility issues and childcare concerns, Persaud emphasized.
After Tuesday, the center will return to Persaud's office for three more dates: Tuesday, April 16; Wednesday, June 5, and Wednesday, August. 14.
To make an appointment, call (718) 649-7653.