The city's street vendors are making their voices heard.
On Thursday morning, more than 400 street vendors were joined by elected officials and community leaders in a march from Herald Square to Times Square to demand the passage of state legislation S1175A, which will formalize and decriminalize street vending, ending crippling fines. The bill is sponsored by State Senator Jessica Ramos and is currently in committee.
For decades, street vendors have faced penalties for being unlicensed, despite the fact it is nearly impossible for them to obtain permits, since the wait list has been closed for more than 10 years.
Bushwick resident Sonia Perez, who has worked in the neighborhood as a street vendor for more than 20 years after immigrating from Mexico in 1994, described to BK Reader years of police harassment and heavy fines.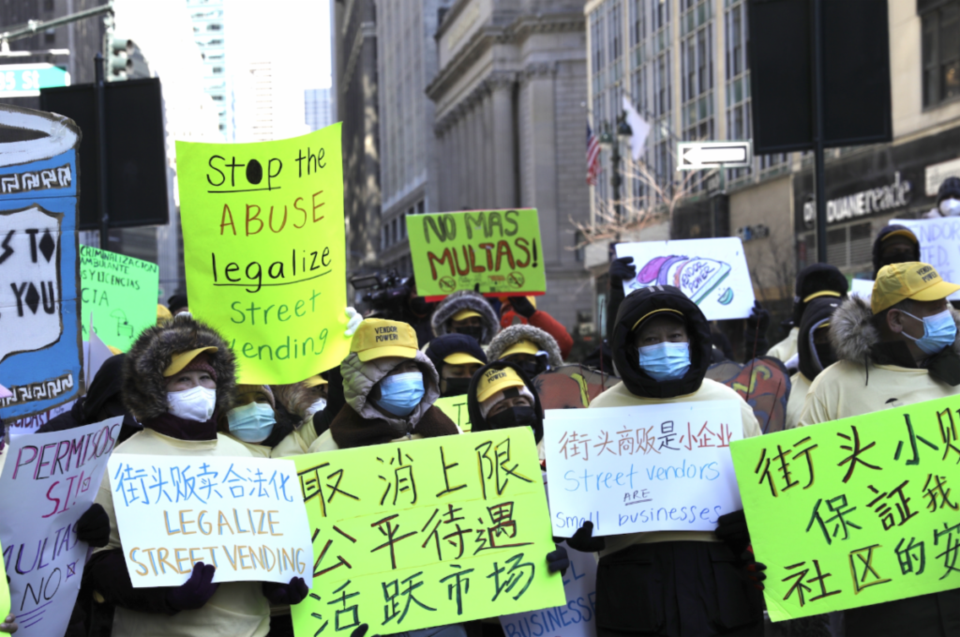 She said after a speech from former Mayor Bill de Blasio, where he shed light on police harassment of street vendors, she saw a decline in such incidents. But she said she felt no guarantee the incidents would not continue with our new administration.
Maria Angelica Najera, a Brooklyn resident and street vendor of more than 14 years, told BK Reader that she and fellow street vendors had even been arrested by police on some occasions for not being licensed, despite the difficulties in obtaining a permit.
"Behind every vendor is a family. A family that is there to contribute back to society," Najera said. "The city needs to recognize that we're a large community and that we wish to receive these permits."
Najera also said she has seen less aggression from police in recent years, thanks to greater support from elected officials and community members. She said she hoped for respect and dignity for all street vendors in New York City, saying that the passage of S1175 would remove the fears that their livelihoods could be destroyed at any moment.
Historic legislation passed, but still no change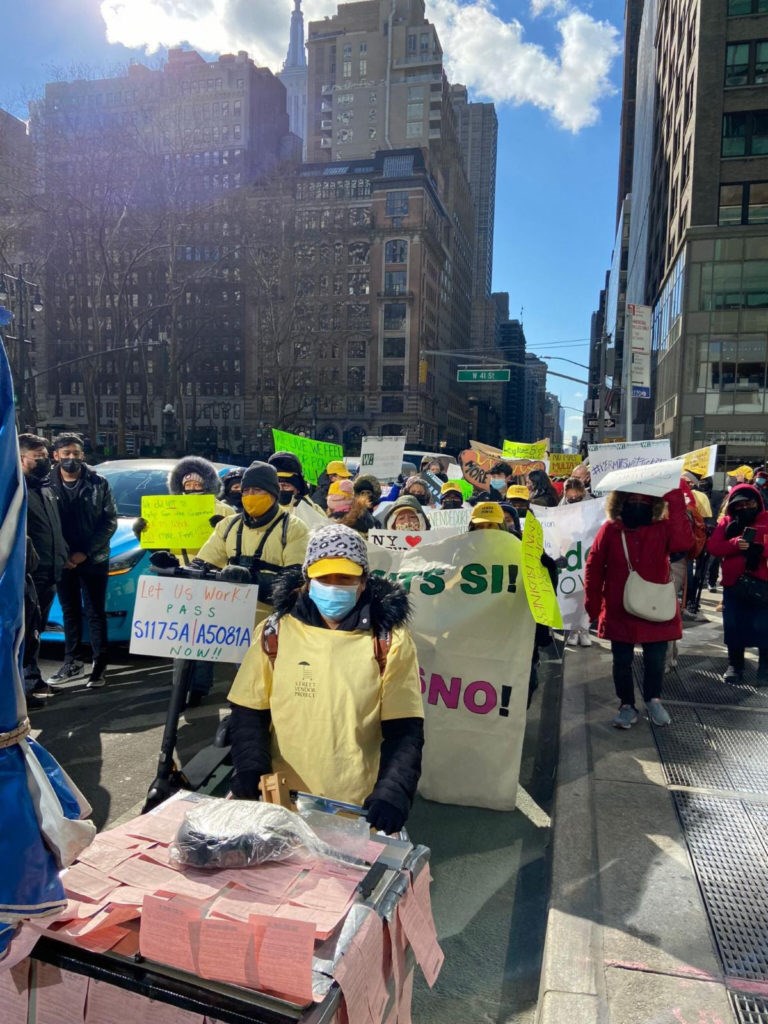 Thursday's march marked the first anniversary of the passage of Intro 1116, a historic legislation that increased the permit cap for street vendors by 4,000 permits­. The bill was the first time the number of permits given to street vendors had increased since the early 1980s. Despite this major win, New York City's street vendors continue to struggle to legalize their businesses, and still face fines up to $1,000.
The march was supported by and featured speeches from elected officials including State Sen. Ramos, NYC Comptroller Brad Lander, and Councilmembers Pierina Sanchez, Shekar Krishnan and Gale Brewer.
Community organizations including the Street Vendor Project, Arab American Association, Workers Justice Project, Transportation Alternatives, Woodside on the Move and Brandworkers were also present at the march.
"S1175 will protect vendors from discriminatory harassment, give New Yorkers the confidence that what is being sold on our streets is up to regulation, all while generating more revenue for the city and state," Ramos said at the march.
"On the one-year anniversary of Intro 1116, we need to go bigger and pass my legislation to protect and formalize the work of tamaleras, halal cart vendors and the many entrepreneurs that make New York's culture so vibrant."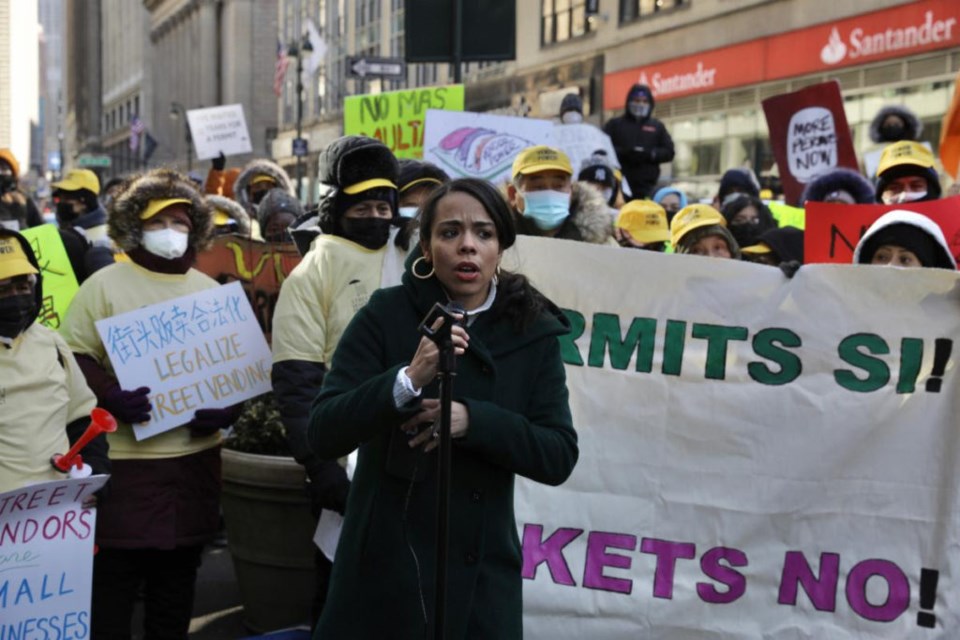 Councilmember Pierina Sanchez said that when her family immigrated to the U.S. in the 1970s some of them worked as street vendors to get by. " It should not be a crime to work to put food on the table or to work to keep a roof over your family's head," said Sanchez.
"I see my family in you. You deserve support for the hard work that you do, many of you as immigrants, and all of you as part of the fabric of our community."
Sofiani Hassimi, a street vendor in Harlem who is originally from Niger, told those at the march that in his 16 years of being a street vendor, he had been arrested and given tickets for selling incense. "Not having a license causes me a lot of mental stress, the government does not allow me to work with dignity," he said.
"I want to make money to take care of my family, like every vendor. I have three daughters that I love and I am proud to work for them every day. We must work together as vendors and the whole community for the bill S1175/ A5081 to pass."