The life expectancy of New Yorkers is steadily rising, yet disparities along racial and economic lines continue to persist, reveals the latest Summary of Vital Statistics released by the NYC Health Department on Monday.
The report is issued annually to highlight trends in the births and deaths that occur in New York City. The new summary shows that the overall life expectancy of New Yorkers was 81.2 years in 2016; it was highest among Hispanics, at 82.4 years, followed by non-Hispanic whites at 81.3 years.
Black New Yorkers still had the shortest life expectancy, at 77.3 years. The disparities are particularly grave in neighborhoods like Brownsville, where the average life expectancy was lowest with 75.6 years, the report found. Also Bedford Stuyvesant, East New York and Bushwick ranked below the city average with 78 years, 79.1 years and 81.1 years, respectively.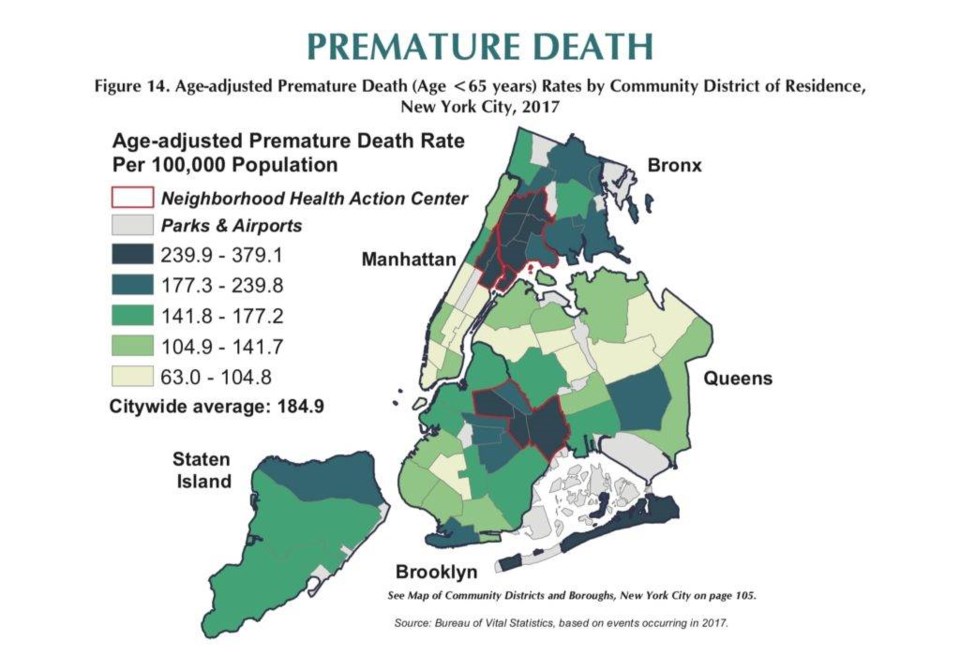 The summary also showed that the rate of premature deaths, defined as deaths among people younger than 65, fell 14.9 percent since 2008. Still, people living in very high-poverty neighborhoods had a premature death rate twice as high as people living in low-poverty neighborhoods. Brownsville residents are more likely than other New Yorkers to suffer a premature death, with 379.1 deaths per 100,000 residents.
The three leading causes of premature death in 2017 were cancer, heart disease and drug-related complications, including chronic substance abuse and unintentional overdoses.
"These data illustrate the persistence of racial/ethnic and neighborhood disparities, which are the long-term result of structural racism," Health Commissioner Dr. Oxiris Barbot wrote in the report. "The NYC Health Department remains committed to identifying the root causes of these disparities and addressing them by sharing data which inform our programmatic priorities."