East New York's waterfront is now home to the Shirley Chisholm State Park, New York City's largest state park and Brooklyn's new top destination for outdoor recreation and wellness.
Governor Andrew M. Cuomo announced Tuesday the opening of the 407-acre park named in honor of trailblazing Brooklyn Congresswoman Shirley Chisholm along the shores of Jamaica Bay. The new state park is a signature project of the governor's Vital Brooklyn Initiative, which calls for 34 new or improved pocket parks, community gardens, playgrounds and recreation centers within a ten-minute walk of every Central Brooklyn resident.
"Today we add another gem to our treasure trove of state parks, transforming what was once a blemish on the South Brooklyn community into exquisite open space," said Governor Cuomo. "Shirley Chisholm fought to improve the health and wellness of underserved communities, a legacy we are carrying on through the Vital Brooklyn Initiative, so we are proud to dedicate this park in memory of her leadership and accomplishments."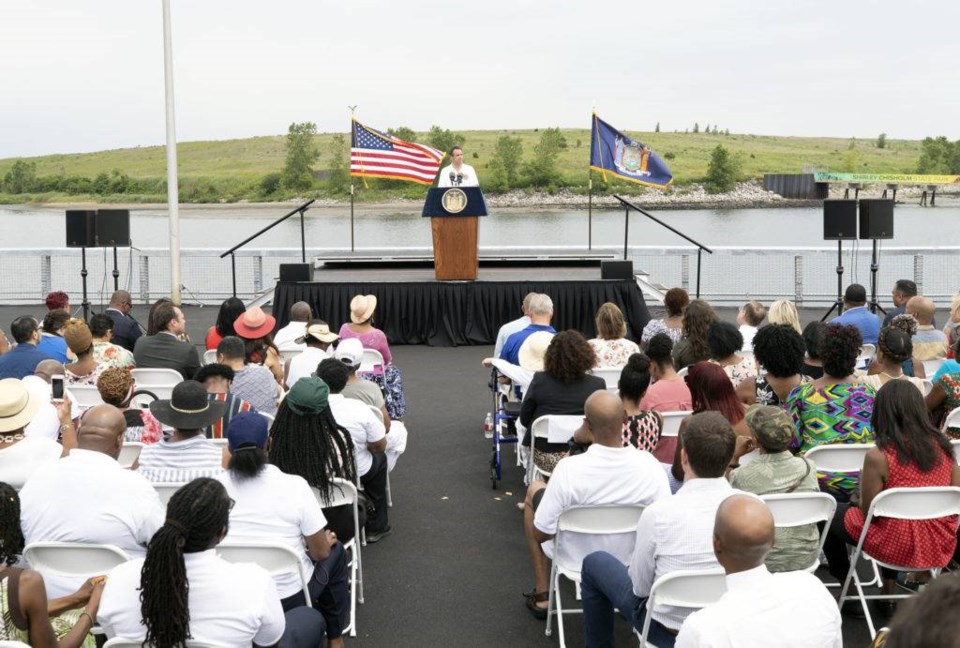 Under the initial $20 million phase, the park was set up with ten miles of biking and hiking trails; a bayside pier for picnicking and fishing along the park's Pennsylvania Avenue side; and water access. Environmental educators and partnerships with groups such as New York City Audubon will offer programs for children who visit the park.
In addition, Bike New York, a nonprofit that promotes bicycling and bicycle safety, will create the Shirley Chisholm State Park Bike Library, offering free loaner bikes to ride the crushed stone trails of the park.
"Today we begin another exciting day in Brooklyn as we open the first phase of the Shirley Chisholm State Park," said State Senator Roxanne Persaud. "Residents of Senate District 19 can look forward to enjoying water sports, hiking, picnicking and other wonderful and healthy activities not far from their homes. No longer will we need to travel miles away to enjoy activities on the water; we now have a state-of-the-art park in our backyard."
The park also features a colorful mural honoring Chisholm by Brooklyn muralist Danielle Mastrion. Chisholm, a Brooklyn native, was the first African-American woman elected to Congress in 1968. Four years later, she became the first African-American woman to run for president.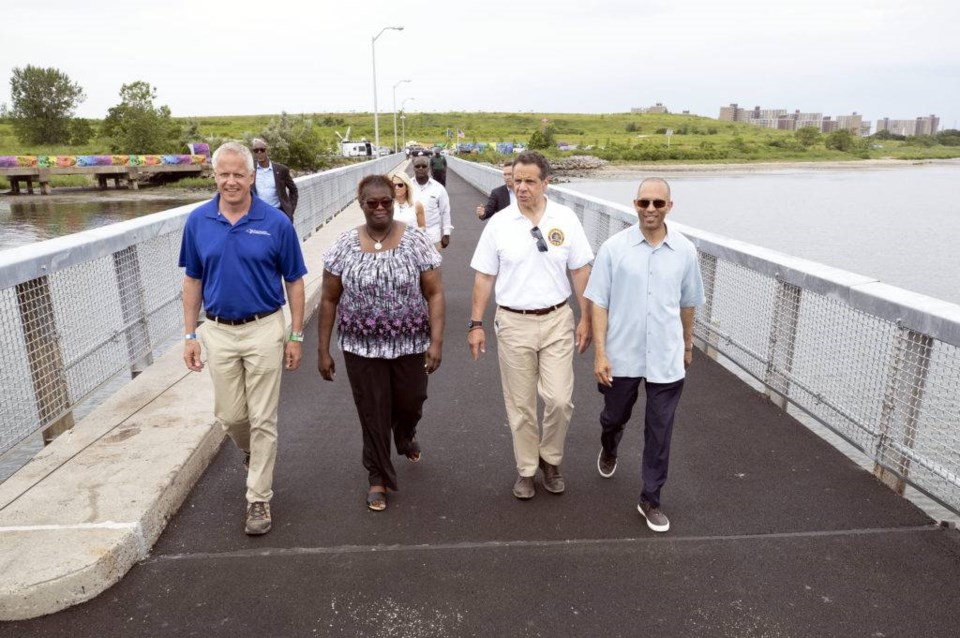 "Shirley Chisholm famously said to bring a folding chair if they don't give you a seat at the table and that's what she did all her life," said Congressman Hakeem Jeffries. "Whether it was her groundbreaking election to Congress in 1968, or her historic run for president, she never stopped fighting to make sure every voice was heard."
Standing up to 130 feet above sea level, the new park occupies some of the highest ground in the city, with panoramic views of the Empire State Building to the northwest, the Verrazano-Narrows Bridge and New York Harbor to the west and Jamaica Bay to the south.
The site rests atop the former Pennsylvania and Fountain Avenue landfills that were operated by New York City Department of Sanitation until 1983. After the landfills were closed, the city deeded the land to the National Park Service as part of Gateway National Recreation Area. The project to reclaim the landfills included installation of impermeable plastic and clay caps and a below-ground barrier to support potential future reuse.
More than 1.2 million cubic yards of clean soil -- or enough to fill nearly 100,000 dump trucks -- was spread up to four feet deep across the site, which was later planted with more than 35,000 trees and shrubs. The addition of prairie grass and native plants has prevented erosion and encouraged a diverse ecosystem of coastal meadows, wetlands and woodlands that has attracted a variety of birds and other local wildlife.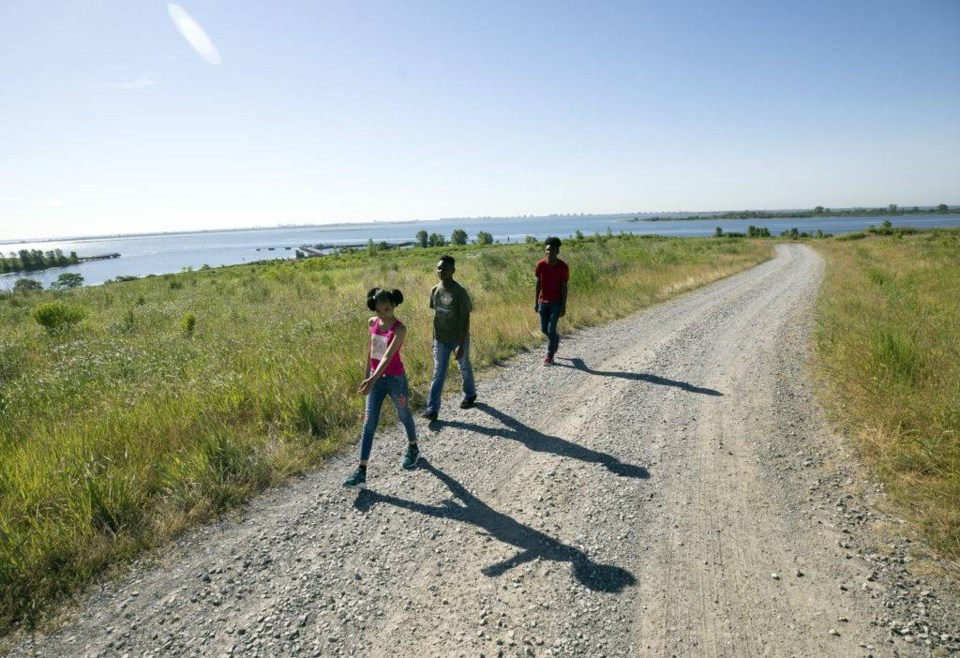 "Shirley Chisolm State Park is just one of the many remarkable transformations of Central Brooklyn under Vital Brooklyn," said Assemblymember Latrice Walker. "Being the largest state park in Brooklyn, I'm confident Chisholm State Park will provide the residents of East New York and all of Central Brooklyn with the green space to benefit our environment and to provide families with the park space they deserve."
A second $20 million phase, which is currently still under design, will include a grand entrance on Fountain Avenue; lawn patios, with one large enough for open-air community gatherings and performances; a patio overlooking Hendrix Creek; and pop-up environmental education facilities in both the Fountain and Pennsylvania Avenue sections of the park.
This second phase is expected to be completed in 2021.