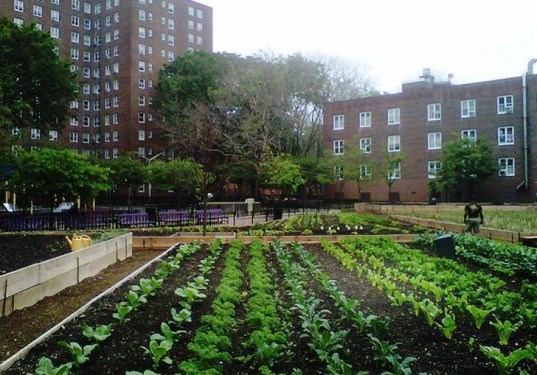 Recently, I read in Valerie Imbruce's From Farm to Canal Street about the difficulty to find bok choy, a common Asian green, outside of Chinatown. Imagine the surprise when I saw baby bok choy growing on the Red Hook Community Farm. "People like Asian greens. They go crazy over them." said Nefratia Coleman, one of Green City Force (GCF) Urban Farm Corp's 2016 graduates and now manager of the NYCHA farm.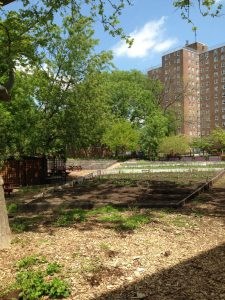 The inspiration for building urban farms near affordable housing units first sprang from Green City Force (GCF), an AmeriCorp program that collaborates with the New York City Housing Authority (NYCHA) and various other local partners. In 2013, with the support from NYCHA and the mayor's office, GCF reached out to Added Value Farm, a youth-­led urban farming and food justice non­-profit organization located in Red Hook, an area considered a food desert with limited access to fresh produce. The joined forces of the two organizations led to the establishment of the pilot NYCHA farm near Red Hook Houses. While NYCHA granted the land for unlimited time, GCF and Added Value Farm are responsible for funding the farm's day-to-day operation.
Currently, there are three NYCHA farms in Brooklyn. Upon the success of Red Hook Community Farm and following Mayor de Blasio's Building Healthy Community (BCH) initiative, a holistic approach to improve issues of health, youth unemployment and crime rates in underserved neighborhoods, GCF subsequently built farms near Howard Houses in Brownsville and Bay View Houses in Canarsie. Prior to the establishment of NYCHA farms, these plots of land were either fenced-off grassland or wasteland of "knee-high weeds that no one wanted to walk across," said Coleman.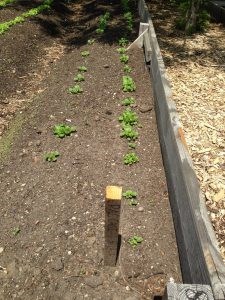 GCF's Urban Farm Corp is a ten-month program and recruits local residents to work on the farms. The program starts every year on May 1 with a cohort of 36 neighborhood residents between the age of 18 and 24. Participants must have high school diplomas or GEDs and be unemployed prior to entering the program. As an effort to prepare participants for a career, the program offers trainings in a variety of fields including culinary arts, nutrition, energy efficiency, eco-literacy, carpentry and horticulture. Besides providing job training, GCF also educates the residents about recycling, composting and household energy saving. In exchange for the time the residents devote as volunteers, or the composts they bring to GCF, they are invited to take fresh produce home every week.
In 2016, the Red Hook Community Farm produced about 5,000 lbs of produce, among which were Swiss chard, cabbage, kale, carrots, radishes, tomatoes, hot peppers, bok choy and strawberries; the residents choose the produce they grow.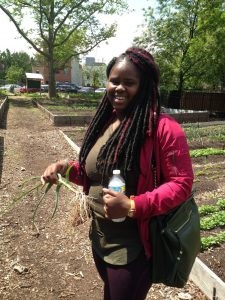 Nefratia Coleman joined GCF's Urban Farm Corp in 2015. It was the apprenticeship with John Ameroso, an urban farming pioneer and the founding member of Added Value Farm, that truly ignited her passion for farming. From him she learned the entire growing process, from seeding to harvesting. After completing the apprenticeship, Coleman became the manager of the Pink Houses NYCHA farm in East New York. After two seasons, she returned to Red Hook where it all started.
For Coleman, the farm embodies peace and inclusiveness. Here, even language barriers don't exist because "farming is our language," she said. When asked about which part of the working on the farm is Coleman's favorite, she answered: "Distribution. To see residents come out is fulfilling." Urban Farm Corp's other effort to engage the community is farm-based learning. Coleman loves to see the excitement of the children from the nearby P.S. 15 Patrick F. Daly School when she tells them about farming.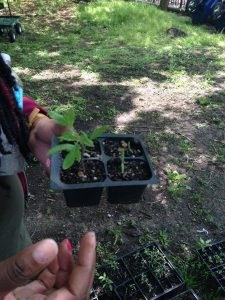 Coleman has a plan of her own. Besides planting vegetables, irrigating and weeding the farm, she wants to grow flowers in the empty bed by the farm's entrance. Hosta, begonia, coleus and astilbe are on her list.
The farm is not fully up and running yet; the vegetables were planted in late April and are still small. Coleman advised: "You should come to the farms in June or July, talk to some the residents and take some produce home. There will be a lot of people, pushing and shoving as they are trying to get their produce, fresh from the farm." I can already feel the bustle in her words.
Correction: May 12 "Upon the success of Red Hook Community Farm and following Mayor de Blasio's Building Healthy Community (BHC) initiative"
should read:
"Upon the success of Red Hook Houses
Farm"