A new report from the Association for Neighborhood and Housing Development (ANHD), a coalition of housing non-profits, shows New York City landlords are pursuing evictions at nearly four times the rate for tenants in neighborhoods hit the hardest by COVID-19. 
The data, compiled from state records, shows that eight of the ten ZIP codes with the highest rate of eviction filings are in the Bronx, with the other two in Queens and Staten Island.
Here in Brooklyn, the ZIP codes facing the most eviction filings are 11213, 11225, 11226, 11203 and 11208, covering parts of Crown Heights, Flatbush and East New York. The neighborhoods most affected by this trend are predominantly home to people of color and essential workers, many of whom lost their jobs as a direct result of the pandemic.
Thousands in danger of homelessness
With the city's eviction moratorium set to expire May 1, thousands of New Yorkers are in danger of being ousted from their homes. Despite the statewide pause on evictions, landlords have still been able to file new cases. 
According to ANHD, NYC landlords have sued over 32,000 households for an average of $8,150 since the beginning of the pandemic. In addition to these new filings, there were over 170,000 existing eviction cases that were put on pause in March 2020, bringing the total number of New York state tenants facing eviction when the moratorium expires to at least 222,135. Countless others are considered at risk of eviction.
"We can expect to see feasibly tens of thousands more cases in the following months," Lucy Block, the research and policy associate at ANHD and author of the report, told BK Reader. "There are many landlords who have been waiting for eviction protections to expire."
It is possible that help could be on the way with the state budget due April 1 (although some believe an on time budget to be unlikely). After the recent passing of the $1.9 trillion federal stimulus package, New York could see as much as $2.3 billion in federal aid for rental assistance.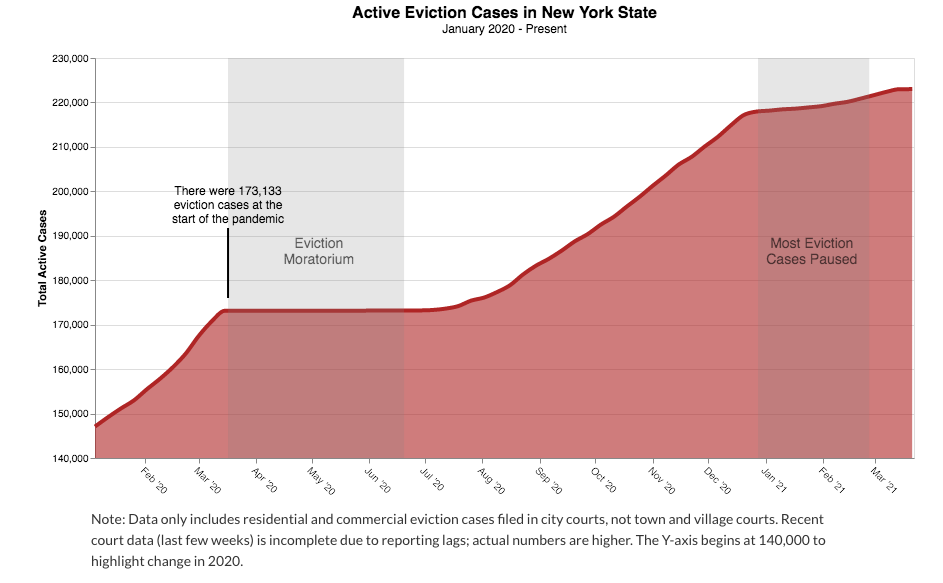 NYC should not 'over-legislate'
An effective plan for the use of these funds is imperative, Block said, as estimates of rent debt in the city are as high as $2 billion.
"That money needs to get to tenants and it will make a huge impact. The question is how it gets to those tenants and what the barriers to access will be -- whether the people who need the relief most will get it."
One concern is whether undocumented New Yorkers, who have missed out on previous stimulus checks and pandemic unemployment assistance, will be able to access rent relief. Conditions to the program that would require certain forms of documentation could exclude this vulnerable population once again.
Tenant advocates have expressed concern after the state's first round of rent relief distributed less than half of the $100 million it had available due to heavy eligibility restrictions.
"It is critical not to over-legislate," Rachel Fee, executive director of the New York Housing Conference, wrote in an op-ed for lohud.com Tuesday. "The reality is that New York has resources right now to protect its most vulnerable residents. It just needs to be smart enough to use them right."
For Block, the rent relief in the incoming state budget isn't enough on its own. "We also need no evictions to happen or even be initiated while that relief is being distributed," she said. "It is impossible that the state would get relief to all tenants who need it by May 1. So if they don't extend eviction protections we're going to see thousands and thousands of more cases being filed."
Without political help, residents help themselves
For the past year, with state and federal assistance lacking, tenant organizations, mutual aid groups and local advocates have been fighting to protect neighbors facing rent insecurity by raising funds for rent relief and fighting for support from local leaders. Notably in July, protesters, supported by Equality for Flatbush, gathered to try to stop an illegal eviction in Crown Heights.
Block said these local efforts underscored the need for leadership at the state level. "That was a really incredible example of people mobilizing and protecting their neighbors, but that is what happens when the government fails," she said.
"We really need our state government to get it right. It's really scary what is going to happen if they don't."
For up-to-date tracking of eviction data, visit Right to Counsel NYC's new Eviction Crisis Monitor.