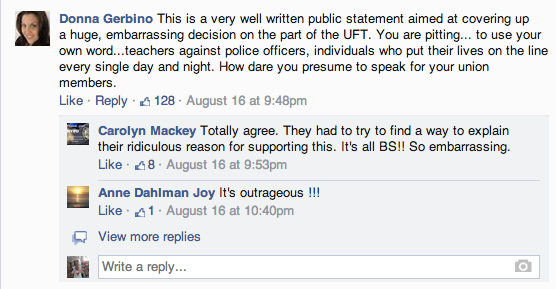 After the United Federation of Teachers announced its support for Rev. Al Sharpton's rally on Staten Island over the chokehold death of Eric Garner, some teachers have vowed to cancel their contributions, reported the New York Post.
Hundreds of teachers have taken to the UFT's Facebook page to complain about the UFT's Committee on Political Education, vowing to cancel their contributions after the UFT contributed to the Rev. Al Sharpton's rally on Staten Island.
"Members of the UFT will be joining the NAACP, Local 1199 and a variety of community and religious groups on Staten Island on August 23 as part of a march for unity and justice," the UFT posted on its Facebook page on August 16.
"The UFT has a long history of activism on behalf of our students, their families and all the communities of our city. UFT members who choose to take part in Saturday's march will be continuing that history. We support the right to due process for all people, especially police officers, who often do difficult jobs under trying circumstances.
"We know that justice in the wake of Eric Garner's tragic death will best be served by a thorough and transparent investigation. Saturday's march will be an opportunity to show the rest of the country that New York City is united in its belief in justice for all. We New Yorkers will not be pitted against each other. We can come together as a community by respecting each other and listening to all voices."
But dozens of commenters expressed disgust at what they viewed as a smear campaign against the NYPD:
"I will be pulling my COPE contributions. How dare you speak on behalf of the teachers in the city when we are NOT unanimous in supporting this disgusting march against our police officers !!! The very police officers who keep the schools we teach in safe!!!!" wrote one poster.
Another added, "[Your] comment is a bunch of BS. You're marching against the NYPD. This isn't a march of unity - this is a march of hate against the NYPD. The UFT should be ashamed of itself for associating itself with the likes of the biggest racist in the country and that's Al Sharpton. You should be ashamed and disgusted in yourselves."
Other posters listed contact information for the COPE office and a form letter to cancel payroll deductions that fund the powerful lobbying organization.