Last week, the New York State Board of Regents announced an extension to its moratorium on using state exam scores to evaluate teachers. The moratorium is a measure the state has enacted to appease the "Opt Out" movement, a collective of parents, teachers and students organized in opposition to state exams and the way exam scores are used to penalize under-performing schools.
The Opt Out movement took off in New York State in 2015, in response to school curriculums becoming more and more dominated by the test preparation for these standardized state exams which leaves less time for social studies, music, art, world languages, physical education and science.
"Testing is now at the epicenter of public schooling," said Katie Lapham, an elementary school teacher who previously taught in Brownsville for nine years and is an active member of NYC Opt Out. "Even reading and writing programs have become test-preppy. It's just too much of the focus."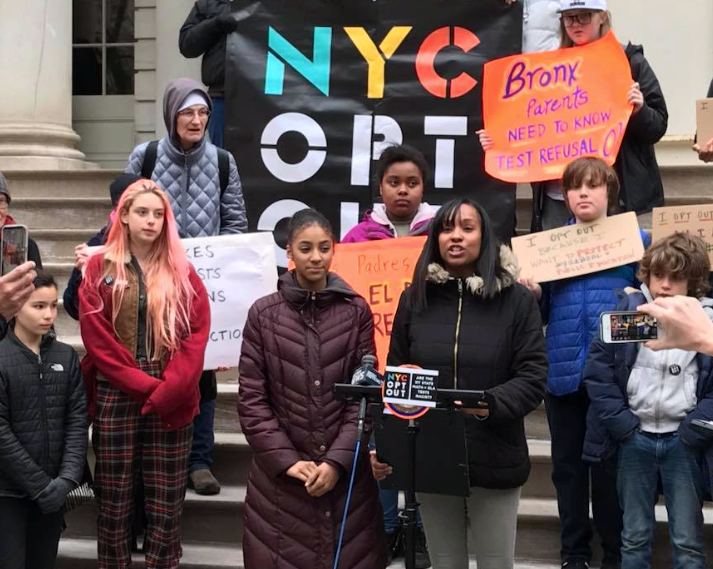 Lapham wants to see less frequent testing beginning at higher grade levels, and greater reliance on project-based assessments to gauge student progress. She thinks the tests are out of touch with reasonable expectations for a child's grade level, and that not enough teachers are involved in creating the tests.
"If state testing does have to exist, it could be improved so much," Lapham said. "You need meaningful teacher input to create tests that are developmentally appropriate."
According to data from the Department of Education (DOE), one in five students across NY State have refused to participate in the exams in the past three years. The Opt Out movement peaked in 2016 with 21 percent of students refusing exams statewide. The DOE has since made some concessions, like shortening the exams from three days to two and doing away with time limits. Since, the opt-out rate has declined slightly, with 18 percent of students refusing the exams this past spring.
Opt-out rates are highest in suburban, predominately white areas, and remain relatively low in the city, particularly in low-income districts like Brownsville. The rate is lowest in NYC, where only around 4 percent of students opt out each year.
NYC Opt Out was launched to inform students and parents of their right to refuse testing. According to their website, many NYC parents falsely believe schools are allowed to use test refusal to hold students back, or as a determining factor in school admission; neither use is allowed under state law.
In May, Brownsville students organized to protest what they see as an information gap about the tests. During their rally, the students visited other Brownsville schools, shouting slogans like, "No stress, no test, when we're doing our best!"
Brian Fritsch, executive director of High Achievement NY, a business-backed nonprofit formed to counter NY Opt Out, said high participation in standardized testing is essential to closing the achievement gap for lower income, black and Latino students.
"If there's a large number of students refusing to take the test, it muddies the waters and makes it more difficult to determine which districts and schools need support, and whether they're making improvements from year to year," Fritsch said.
To encourage schools to aim for high test participation, the Board of Regents recently proposed regulations that would penalize schools with opt-out rates exceeding 5 percent. After an outcry from teachers' groups, the most controversial of the regulations — namely, that schools would be required to redirect federal funds toward "improvement plans" to raise participation rates — was voted down.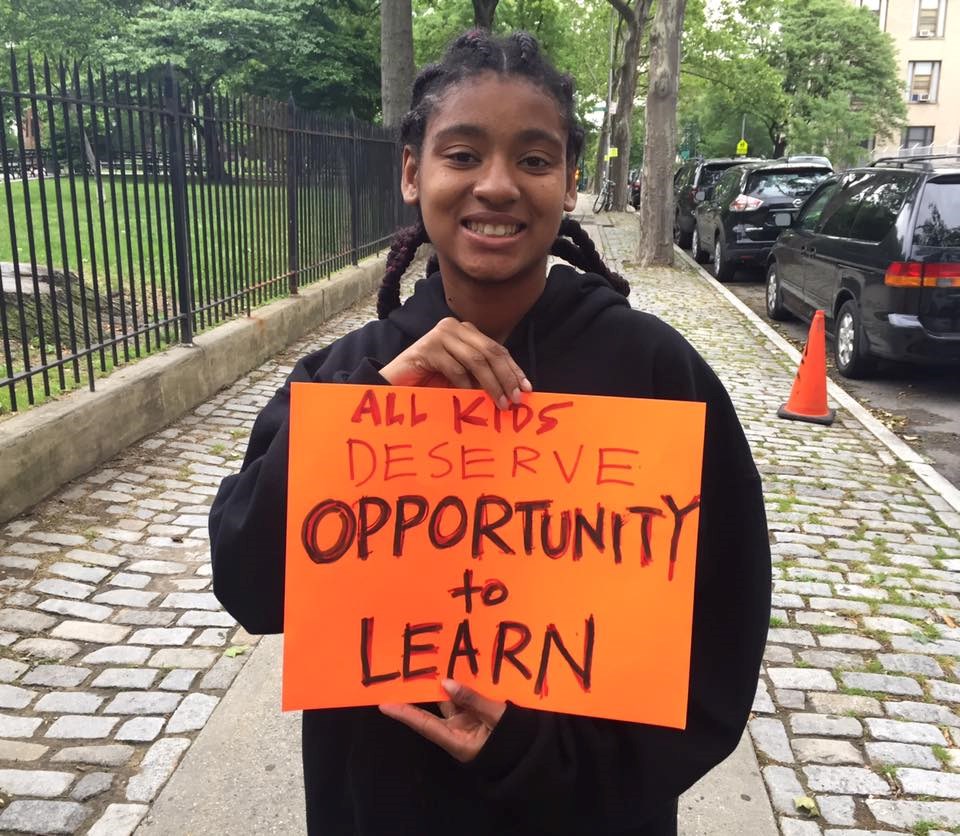 The proposals are once again open for public comment and will most likely be voted on in December.
Lapham fears such regulations would be used as weapons against lower-income schools most in need of help, like the ones in Brownsville, while making exceptions for higher-performing schools.
"Schools like Park Slope's P.S. 321 with high opt-out rates, they're seen by the DOE as exceptions," she said. "I'm not worried about them, because they have a reputation. But schools that traditionally score lower on these tests, and schools with high numbers of English language learners, I'm afraid those schools will be penalized. And that's not fair."