The Department of City Planning Director Dan Garodnick today announced that 30 supermarkets have opened under the City's Food Retail Expansion to Support Health ("FRESH") program.
"Making New York City healthier and more equitable are two central goals of our administration, and the FRESH program is accomplishing both by bringing greener and healthier supermarket options to 1.2 million New Yorkers," said New York City Mayor Eric Adams.
FRESH has incentivized the development of 51 supermarkets, 30 of which have already opened, in neighborhoods from Crown Heights in Brooklyn, to Harlem in Manhattan and to Morrisania in the Bronx.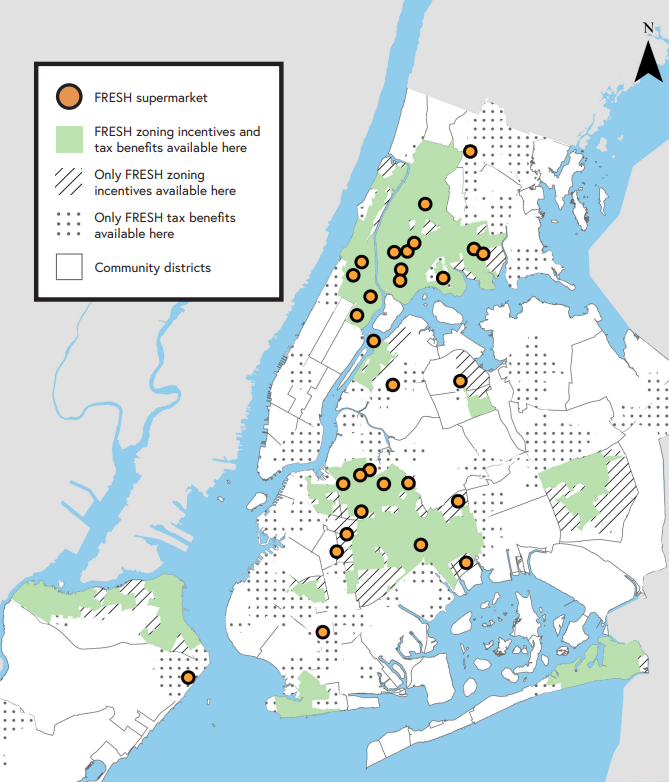 The 12 grocers in Brooklyn are:
Bogopa BTM, 221-251 McKibbin St.
Moisha's Kosher Discount Supermarket, 305-325 Avenue M
Food Bazaar, 17-59 Ridgewood Place
Food Bazaar, 417 Junius St.
Food Bazaar, 21 Manhattan Ave.
ShopRite Associates, 590 Gateway Drive
Union Market, 1535 Bedford Ave.
Lincoln Market, 33 Lincoln Road
Met Fresh, 410 Tompkins Ave.
Associated Marketplace, 605 Hart St.
Hatzlacha Supermarket, 744 Bedford Ave.
Western Beef Retail, 814 Jamaica Ave.
"Healthy food should be available to everyone and supermarkets are key affordable fresh food access points. I am proud of what the FRESH program has accomplished by incentivizing local supermarkets to offer affordable high-quality fresh foods that promote healthy eating and home preparation," said Council Member Gale Brewer.
This citywide program, which launched in 2009, already has an additional 21 FRESH stores in the pipeline, which will serve an additional 300,000 people who currently do not have easy access to fresh food.
With strong support from the City Council, the FRESH zoning incentive has expanded to 11 additional underserved communities. Since the program's expansion, five applications for FRESH supermarkets have been submitted in the newly expanded areas, part of the 21 stores in development.
"Providing additional greengrocer options in underserved areas is a top priority of our members, and the city's support of these efforts through the FRESH program has been very helpful.  We look forward to continued collaboration with the city to provide more full-service grocery store options to more people," said Jay Peltz, General Counsel and Senior Vice President of Government Relations, Food Industry Alliance of New York State.