Former Bedford-Stuyvesant resident Ntozake Shange was propelled into the national literary and dramatic scene in 1974 with the dramatic debut of for colored girls who have considered suicide / when the rainbow is enuf and has since maintained a literary presence, garnering awards and honors for her achievements as a dramatist, poet and novelist.
Ntozake was born Paulette Linda Williams in 1948, the oldest of four children by Eloise Owens Williams, a psychiatric social worker, and Paul Williams, a surgeon.
She adopted a Zulu name in the early 1970s, selecting Ntozake (en-to-ZAH-key), which means "she who comes with her own things," and Shange (SHAHN-gay), meaning "one who walks like a lion," after two South African friends baptized her in the Pacific Ocean.
Ntozake was reared in a middle-class household in Trenton, New Jersey.
She enjoyed a childhood enhanced by material security and intelligent parents who exposed her to cultural influences, including jazz, blues, and soul, and literary artists such as Paul Laurence Dunbar, Langston Hughes, Shakespeare and T. S. Eliot.
She often mentions her family's Sunday afternoon variety shows, which sometimes consisted of her mother offering selections from Shakespeare, her father performing on the congas, and the children dancing or playing instruments. In the introduction to Nappy Edges, she indicates that her family members pursued whichever arts struck their fancy.
These early artistic and cultural influences obviously affected Ntozake's life and art.
She published poetry in the Morristown High School magazine, but after derogatory comments were made concerning her choice of African American subjects, she abandoned her poetry as she had once abandoned short story writing in elementary school because of racist comments. She feels that as a young black girl with an artistic bent she had no adequate role models in school.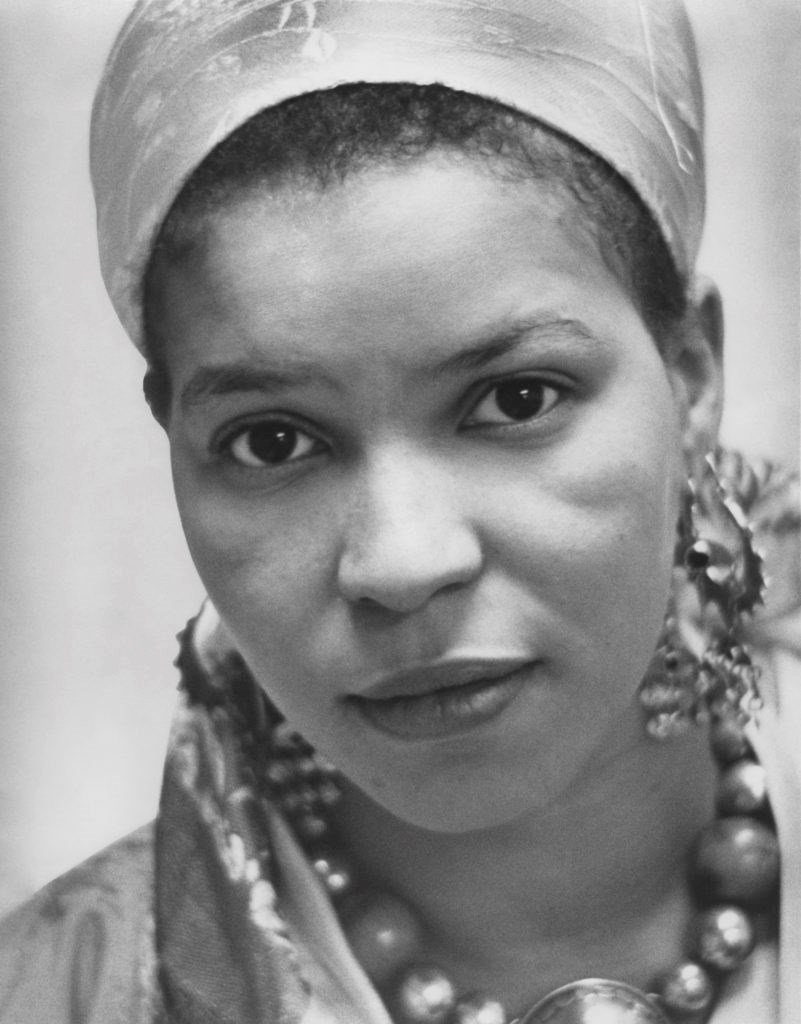 Ntozake entered Barnard College in 1966 but became increasingly despondent over a recent separation from her husband and enraged at a society that she felt was unfair to intelligent women, and she attempted suicide four times.
She managed, however, to graduate with honors in 1970 and pursued a master's degree in American Studies at the University of Southern California, living with other writers, dancers and musicians.
She earned a master's degree in 1973 and moved to the San Francisco Bay Area, teaching humanities and women's studies courses at Mills College in Oakland, the University of California Extension in San Francisco and Sonoma State College.
In 1975, Ntozake wrote what would go on to be her most recognized work, a choreopoem (a name she came up with herself) and experimental stage play entitled For Colored Girls Who Have Considered Suicide When the Rainbow Is Enuf. In a series of 20 poems, Ntozake expresses the many struggles and obstacles that African-American women face throughout their lives.
It is performed by a cast of seven women characters, each of whom is known only by a color: "Lady in Yellow," "Lady in Red," "Lady in Purple," etc. The poems deal with love, abandonment, rape, abortion and domestic violence... embodied by each woman's story.
The end of the play brings together all of the women for "a laying on of hands," in which Ntozake evokes the power of womanhood as the Lady in Red begins the mantra "I found God in myself/and I loved her/I loved her fiercely." For Colored Girls won the 1977 Obie, Outer Critics Circle, Audelco, and Mademoiselle awards, and received Tony, Grammy and Emmy nominations.
During 1994, for its twentieth anniversary, theaters around the country (including the Ensemble in Houston, Texas, where Ntozake once lived and worked), presented the drama, and Ntozake personally directed and served as consultant for the Houston production.
Ntozake describes herself as a poet in the American theater, where she sees mostly shallow, stilted and imitative action taking place on stages.
Although For Colored Girls assured Ntozake's place in the African-American dramatic canon and remains her most celebrated piece, the years from 1977 to 1982 were continually productive. Mother Courage and Her Children won Ntozake a second Obie in 1981; Three Pieces earned the Los Angeles Times Book Review Award in 1981, and that same year she was granted a Guggenheim Fellowship and Columbia University's Medal of Excellence.
Ntozake was appointed to the New York State Council of the Arts and was an artist in residence at Houston's Equinox Theater.
Ntozake is known for her nonconventional use of English—unorthodox capitalization, punctuation, and spelling, and the use of African American idioms, dialect, slang, and rhythms. Her struggle to come to an articulate resolution in her work is acknowledged in articles such as the prefatory essay to Three Pieces, "unrecovered losses/black theater traditions."
A preference for tension and complexity in her themes and characters is also displayed in her fiction. She has a predilection to rework and expand her materials, as demonstrated by the expansion of her novella Sassafras into the novel Sassafras, Cypress and Indigo. Her love of music is clear in the opening sentence of the novel: "Where there is a woman there is music."
The novel tells about three sisters—Sassafras is a weaver, Cypress a dancer, and Indigo a midwife—all seeking to find themselves as creative people with a purpose. By the end of the novel they return home to their mother, but the reader doubts whether they can remain because of their need to pursue their own identities and freedom.
Ntozake's poetry also demonstrates her penchant for complexity. Much of her artistic philosophy and theories can be found in her prefaces, such as the preface to Nappy Edges where she states, "quite simple a poem should fill you up with something / cd make you swoon, stop in yr tracks, change yr mind, or make it up."
Critic Mary Deshazer describes Ntozake as both writer and warrior. In the preface to Three Pieces Ntozake says her writing is fueled by "combat breath," a term borrowed from social observer Frantz Fanon. She tells the reader that the pieces were excruciating to write because they forced her to continually confront moments that had caused fury and homicidal desires.
In 2010, her famous choreopoem was turned into a screenplay, titled, "For Colored Girls," written and directed by Tyler Perry and starring Whoopi Goldberg, Phylicia Rashad, Hill Harper and Michael Ealy.
Until 2012, Ntozake Shange resided in Bed-Stuy, without question, adding to the vibrant, colorful and rich artistic culture of the neighborhood.
In all her works, Ntozake suggests that black women should rely on themselves, and not on black men, for completeness and wholeness. She speaks for women of every race who see themselves as disinherited and dispossessed.
Ntozake Shange died on October 27, 2018 at an assisted-living community in Bowie, Md. She was 70.
Ntozake Shange, we celebrate your talents, gifts and accomplishments, and we honor your literary contributions.
Other Published Works
For Colored Girls Who Have Considered Suicide When the Rainbow Is Enuf (1975)
From Okra to Greens (1978)
A Photograph: Lovers-In-Motion (1979)
Spell #7 (1979)
Boogie Woogie Landscapes (1979)
Three Pieces (1981)
Mother Courage and Her Children (1980)
Daddy Says (1989)
Nappy Edges (1978)
Ridin' the Moon in Texas (1989)
Sassafras: A Novella (1977)
Some Men (1981)
Sassafras, Cypress and Indigo (1982)
A Daughter's Geography (1983)
See No Evil: Prefaces Essays and Accounts, 1976—1983 (1984)
Betsy Brown (1985)
And many more...
*Source, www.answers.com, author Betty Taylor-Thompson