With less than a week to go until the NY State primaries on September 13, the Center of Law and Social Justice, Community Board 9 and Delta Sigma Theta Sorority hosted a candidates forum on Thursday at Medgar Evers College, inviting all primary candidates running for NY State office including governor, lieutenant governor, attorney general, state senate and state assembly.
Gubernatorial candidate Cynthia Nixon and State Senator Jesse Hamilton of the 20th District were among the candidates who followed the invitation and presented their positions to the community.
Hamilton was first up to face questions on criminal justice, immigration, education, housing -- and also on his involvement with the Independent Democratic Conference (IDC), the eight Democratic NYS senators who have come under fire for caucusing with Republicans.
"My first two years in Albany I couldn't get any bills passed and I couldn't get any real funding for my community-based organizations," explained Hamilton. "People have to realize: There are 32 Republicans in the Senate, there are 31 Democrats. You need 32 votes to get a bill passed."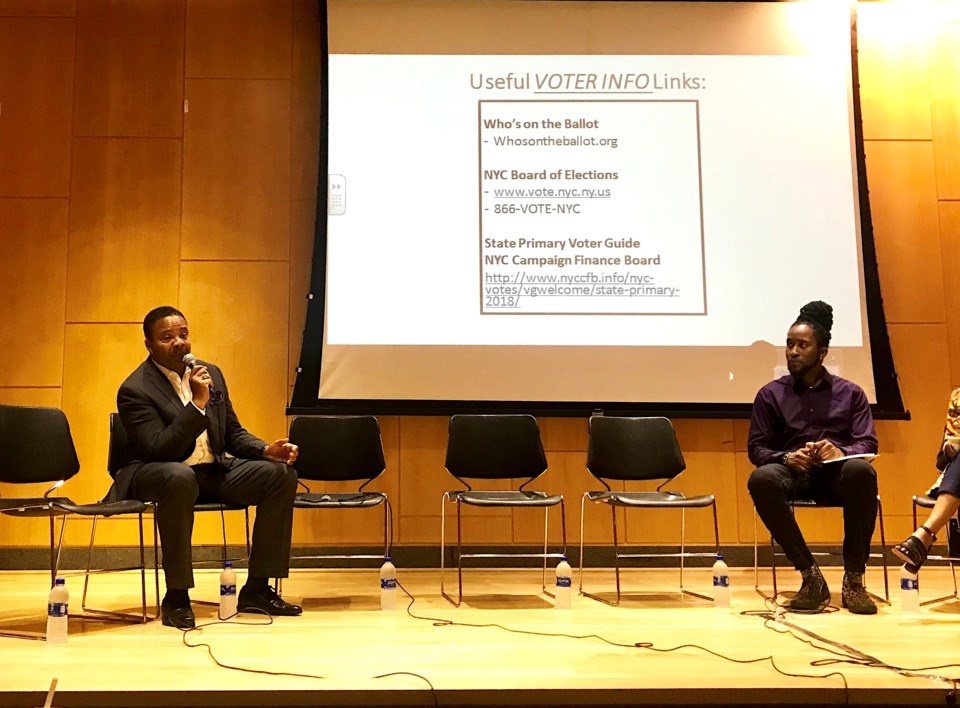 "People have been criticizing me for working with Republicans," he continued. "By joining the IDC, I was still a Democrat, and I always supported the Democrats. But if I needed a Republican to get my bills passed, then that's what I did."
On the topic of criminal justice, Hamilton expressed his support for the legalization of marijuana, bail reform and the appointment of an independent state prosecutor to investigate cases of police brutality; he also mentioned his plan to introduce a "911 bill," a push to make racially biased calls to the police illegal.
"We need to speed up trials and discovery, reform bail and get funding to make criminal lawyers available to our young people," said Hamilton. "A lot of times these kids take a plea even though they don't have to. A lot of people are in jail now, because they can't afford bail; their 'crime' is poverty."
To tackle the housing crisis, Hamilton, who wants to eliminate preferential rent and vacancy decontrols, said that the state needs to find a way to build more affordable housing.
"The problem is that we're giving subsidies to the developers, but they're not building the housing stock that we need," he said.
Governor Cuomo's challenger Cynthia Nixon calls Brooklyn the "ground zero of gentrification" and, if elected, wants to push for legislation that gives greater protection to tenants.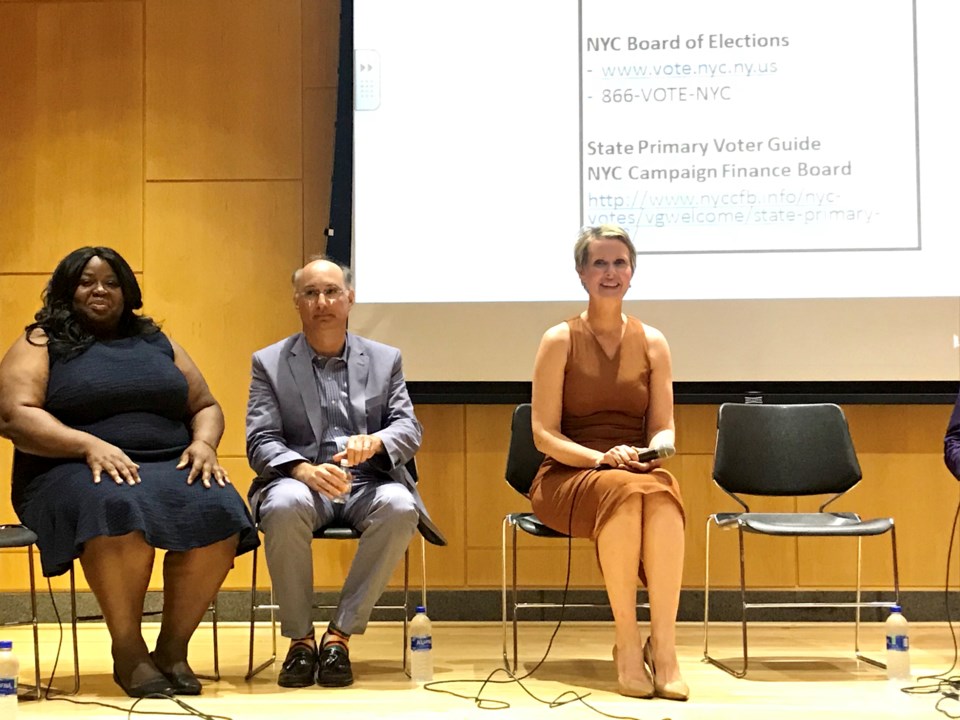 "Yes, we need to build more affordable housing, but we also need vacancy control, get rid of preferential rent and hold corporate landlords, who are using the foreclosure crisis to buy up single-family homes, accountable," she said.
For Nixon the legalization of marijuana is not only a criminal justice issue, it is a racial justice issue.
"Marijuana has been effectively legal for white people in NYC, and it's time we make it legal for everybody else," she said. "We need to get people out of prison who are in for marijuana arrests and expunge their records. And we need to use the tens of millions of dollars in tax revenue, that we will have from this multi-billion dollar industry, to invest in communities, education, job programs and in helping parolees to re-enter society."
Education, getting schools fully funded, has been a top priority for her even before she entered the race for governor.
"We need more counselors and fewer cops in schools. We need to get rid of the metal detectors and stop criminalizing our youth," she said. "We have to stop the skyrocketing suspensions, particularly in our very segregated school system with a majority of black and brown students. We have to mandate culturally relevant education and we need more teachers that look like the kids that they are teaching."
In closing, an audience member asked Nixon, who has never held a political position, why she is vying for the highest office in the state instead of starting with a local position.
"In my 17 years fighting for schools, LGBTQ equality and reproductive health, I got to understand that the governor controls who and how much gets taxed, what the money is spent on and what legislation gets prioritized," said Nixon.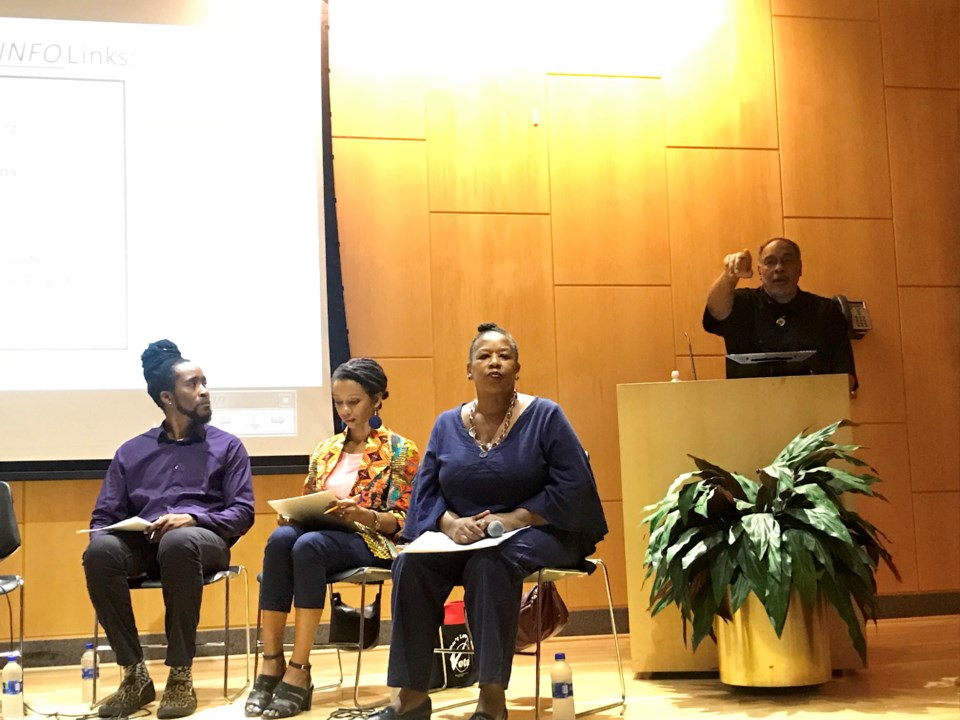 Surprisingly, only a few candidates made it to the candidates forum.
"This is a week before the primary which means it would have to be a priority for the candidates to come here to this public forum rather than fundraisers and other events," explained Dr. Esmeralda Simmons, the forum's co-host and executive director of the Center of Law and Social Justice. "It shows what their priorities will be as legislators. Community forums are about the community. And when people see you in person, it makes all the difference when they go into the voting booth."
New Yorkers will make their way to the voting booths for the primaries this Thursday; the general election follows on Tuesday, November 6. For a quick rundown on who's running, their platforms and challenges, go here.