Nikki Lucas has declared victory in the race for East New York's 60th Assembly District seat.
Unofficial Board of Election's results show Lucas, backed by Brooklyn Democratic Party, with 78.3% of the vote following the special election that took place on Tuesday. That number is significantly more than her main competitor Keron Alleyne, who ran on the Working Families Party line, who has 19.6% of the vote.
Republican Marvin J. King received 2% of the vote, according to the unofficial results.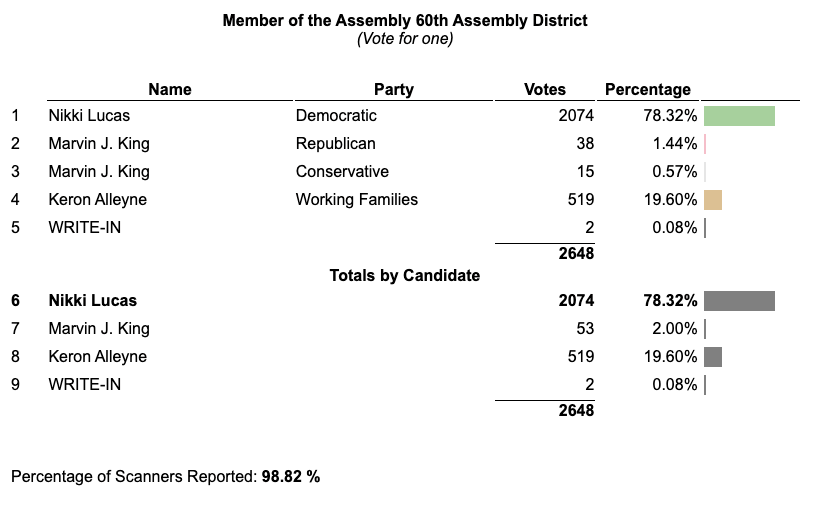 In a statement, Lucas said the community had spoken loud and clear, saying she was "so humbled to now be elected Democratic representative from East New York, Starrett City, Brownsville and Canarsie."
"Tonight is the result of what happens when we center real change, build coalitions, and demand a just future that includes truly affordable housing, quality public schools and accessible health care for all."
Brooklyn Democratic Party Chair Rodneyse Bichotte Hermelyn released a statement Tuesday saying Lucas would continue to "fiercely advocate" for the people of East New York in the state Assembly.
"Nikki achieved more than two-thirds of the popular vote through her grassroots activism and engagement in her district," she said.
"This is not only a win for the Democratic Party, but for the people of New York State, who are fortunate to have Nikki's leadership in Albany."
Alleyne, who was backed by former East New York power couple Charles and Inez Barron — who had held the assembly seat between them for the past 20 years — released a statement saying his commitment to uprooting unjust systems "causing harm to our children, families, and community at-large remains strong as ever."
"Radical change isn't brought about nor defined by one special election — and we knew that from the day we launched," he said.
"As we move toward the primary, we are truly grateful for the support earned over these last few months. And are honored to continue to build on the bold leadership set over the last couple decades."
AD 60 was left vacant last month when former Assemblymember Charles Barron stepped down after winning the City Council District 42 seat, which his wife, Councilmember Inez Barron, held. Inez Barron was expected to succeed Charles Barron in the Assembly, but decided to retire. The move, and election of Lucas — a longtime critic of Charles Barron, marks the end of the couple's political dynasty in the neighborhood.
Lucas will serve as the assembly member for AD 60 until the primary elections later this year, when she will be up for reelection.