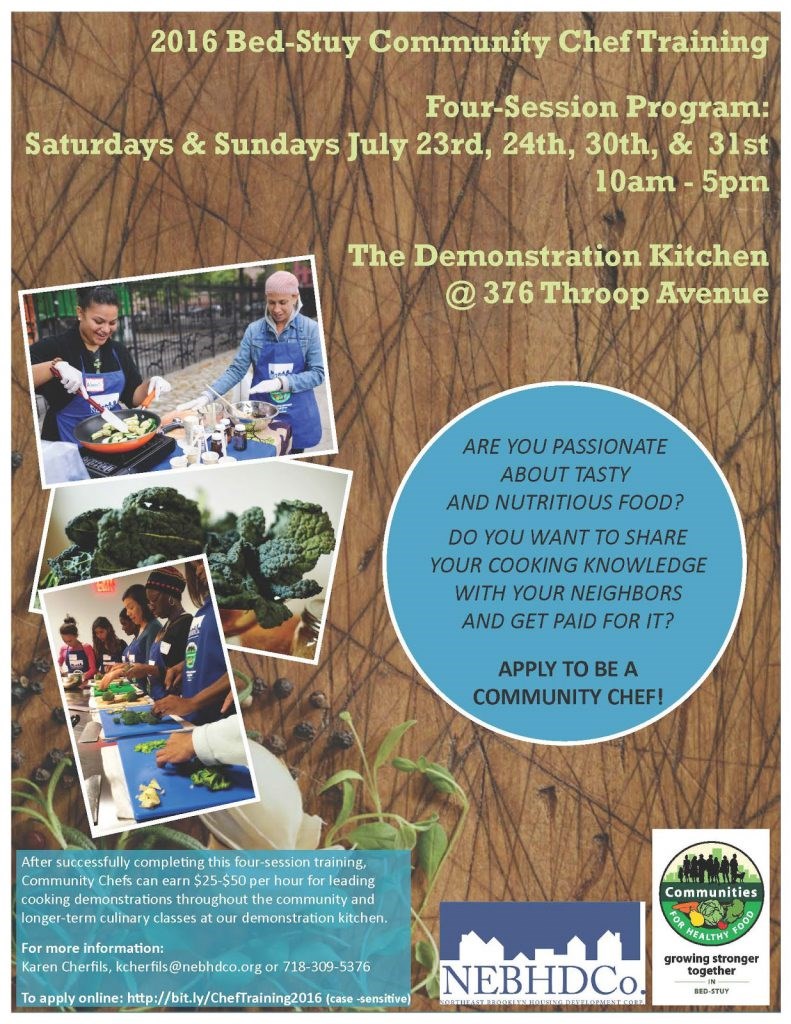 Do you have a passion for food? Do you enjoy community outreach? Ever thought about becoming a Community Chef?
The Northeast Brooklyn Housing Development Corporation is offering Community Chef trainings for residents of the Bedford Stuyvesant neighborhood. This a great opportunity for residents to do something they love while allowing them an opportunity to give back to their community by providing tastier and healthier ways to eat. The best part is you get paid for it!
The community chef trainings teach basic nutrition, recipe selection and creation, knife skills, and so much more. Once trained, community chefs will be able to work throughout Bed-Stuy at various community events. Chefs will receive a $150 stipend per 2-hour cooking demonstration.
NEBHDCo's next round of Community Chef Trainings will take place the last 2 weekends in July from 10 am to 5 pm. See dates below.
Saturday, July 23
Sunday, July 24
Saturday, July 30
Sunday, July 31
All trainings will be conducted at NEBHDCo's Demonstration Kitchen, located at 376 Throop Ave (between Kosciosko & Lafayette Ave).
Please see the link below for additional information regarding scheduled trainings and how to submit your application:
https://drive.google.com/open?id=0B6XeTJ5NTdZmQndWWm9CUnN2aTA.
Applications can also be submitted online at https://bit.ly/ChefTraining2016.
The deadline for all applications is Monday, June 27, by 5 pm.