The MTA and the city have launched a study to possibly revive the idea of the Utica Avenue subway extension, reports NY 1.
Titled, the Utica Avenue Transit Improvement Study, the MTA's subway and bus division are partnering with the New York City Departments of Transportation and City Planning to examine a range of transportation options to better serve commuters on one of Brooklyn's busiest corridors.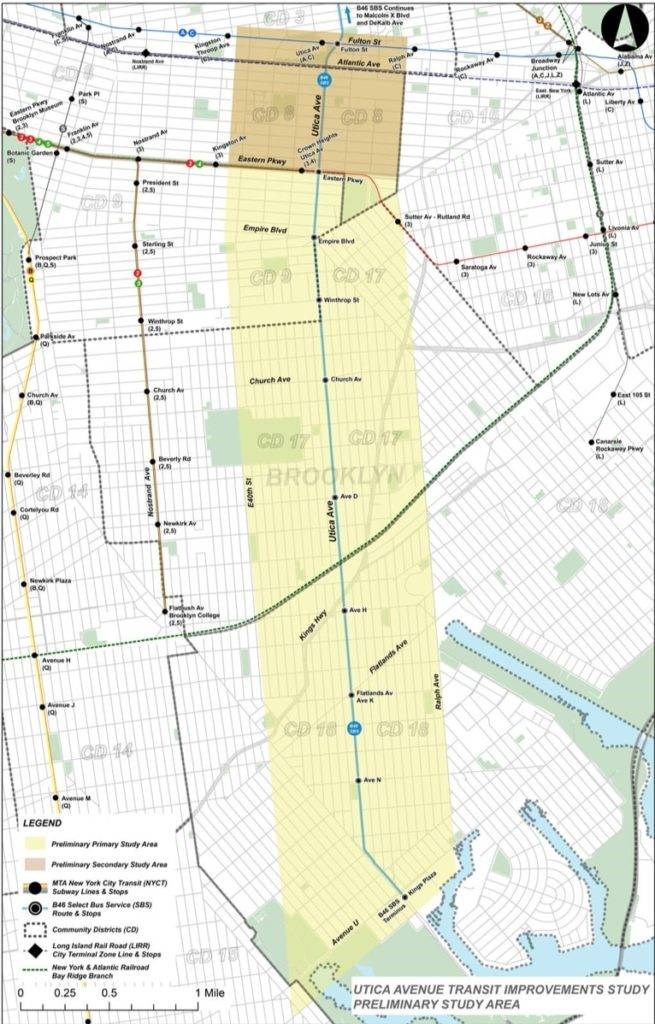 Possible options include adding faster buses, adding a new subway line, extending the existing 4 line and even building a light rail line. The study's primary focus area is bounded by Eastern Parkway to the north, Ralph Avenue to the east, Avenue V to the south and East 40th Street to the west, the MTA announced.
With 44,000 riders daily, Utica Avenue is home to the B46 bus, Brooklyn's busiest bus route. And the Crown Heights-Utica Avenue stop on Eastern Parkway, on the 3 and 4 lines, serves nearly 29,000 people every day, making it one of the borough's busiest subway stations.
"We need to look at how we're going to move commuters as we continue to grow in this part of Brooklyn," Brooklyn Borough President Eric Adams said. "We have not figured that out yet, the MTA needs to take the idea off the drawing board. We need to move forward with it."
In 2015, Mayor Bill de Blasio and Governor Andrew Cuomo agreed on investing $5 million to explore a new subway line along the Utica Avenue corridor or extending the 4 train from Eastern Parkway south along Utica Avenue. However, the funds were never spent. They will now go toward the new study, the city announced.
The MTA began meeting on Monday with local officials and surveying residents to help determine what would be the best way forward.
Meanwhile, Adams announced that he will initiate a separate study in collaboration with New York University.
"As the MTA looks at possibilities along the Utica Avenue corridor, including bus, light rail and subway options, I also look forward to the analysis that'll be undertaken by a group of NYU Wagner students in collaboration with my office and in consultation with the community," the borough president tweeted on Saturday.