The Clinton Hill section of Brooklyn has enjoyed the dynamic classes at Move With Grace for the last decade. This full service health center is much more than meets the eye as owner, Grace Tappin, creates an environment where the community can move together. With classes like yoga, dance, and movement, this studio promotes healthy lifestyles for people of all ages. After years of success, the fitness studio and juice bar have expanded their reach to a second location at "sun studio', positioned on the corner at 431 Myrtle Avenue.
"I opened my first studio at 469 Myrtle Avenue between Washington and Hall Street, at a time when there were no other yoga storefronts anywhere near the vicinity," Tappin explains.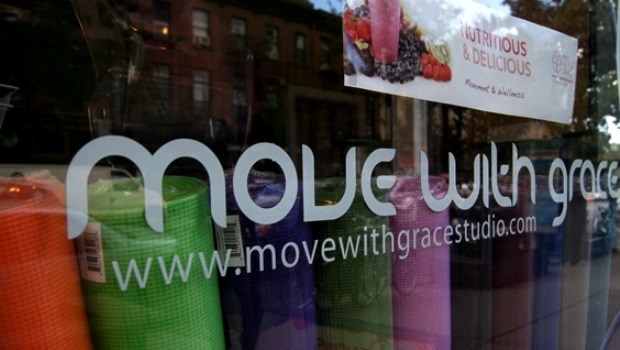 While she worked hard to duplicate the success at Move With Grace, Tappin quickly realized that it would be costly to expand in the fast-changing Brooklyn area. When she looked at the numbers and the plans for expansion, it was evident that she would need a new studio space that was nearly triple the size of her original location. These factors created a hurdle that would require the help of the community in order to move on to bigger and better things.
"Without sufficient funds or room to expand I wasn't sure how I was going to do it."
In an age when technology and social media were bringing new people to her classes, she soon realized that the same vehicle could ask them to contribute to the expansion. After a successful crowdfunding campaign which raised a portion of the funds needed, Move With Grace was set to open a second location two blocks away from the original on April 15, 2016.
While both studios share the Move With Grace name, the new 'sun studio' and the original 'moon studio' compliment each other with vibrant adult and children's classes. It's important to note that the "moon studio" at 469 Myrtle Avenue between Washington Avenue & Hall Street will concentrate on various yoga forms and styles, like Yin Yoga and dynamic Warrior Yoga. It also doubles as an ideal meditation space, a practice that's been strongly linked to decreasing stress.