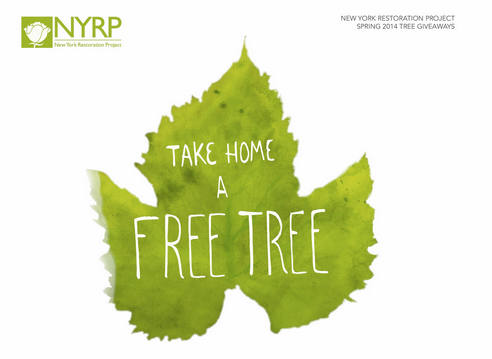 Beginning Saturday, March 14, 2015, and continuing through May 2015, New York Restoration Project (NYRP) is launching the 15th season of the country's largest municipal tree giveaway!
NYRP has partnering with 62 local community organizations to host 65 giveaways throughout all five boroughs to give out 8,750 trees. Eighteen of the giveaways will take place in Brooklyn. The first one in Brooklyn will happen this Saturday, hosted with the Brooklyn Public Library.
WHO: New York Restoration Project (NYRP)
WHAT: Tree Giveaway
WHEN: Saturday, March 14, 11:30pm - 1:30pm
WHERE: The Brooklyn Public Library, 107 Norman Ave., Brooklyn Public Library - Greenpoint, Brooklyn, NY (Map)
WHAT ELSE: To pick up your free tree, you must agree to:
plant in one of the five boroughs.
keep trees properly watered and maintained.
plant your tree in the ground of your yard and NOT along streets, in city parks, in containers, terraces, balconies or on roofs.
Registration will be posted no earlier than three weeks before a giveaway date. If registration is closed, a limited quantity of trees will be available on a first come, first served basis.