The student scholarship fundraiser is hosted by the college's international student community and will feature live music, arts, craft, fashion and food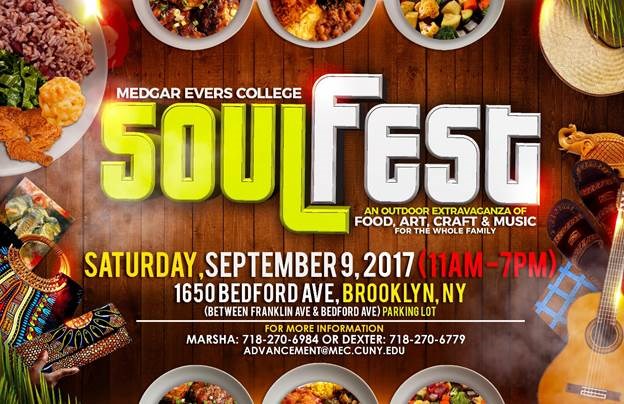 Medgar Evers College presents its first annual SoulFest on Saturday, September 9, with music provided by WBLS' host Dr. Bob Lee.
SoulFest, hosted by the college's international student community, is a benefit event to raise funds for student scholarships. The festival will take over the college's parking lot and neighboring streets with family-friendly fun and activities.
In celebration of the cultures of the diverse student body, the festival will feature arts, crafts and fashion, as well as live performances from a variety of genres including salsa, hip-hop, gospel, funk and reggae.
Local chefs will meet all culinary needs, representing the specialty cuisines from ethnic neighborhood restaurants, highlighting the flavors of the diaspora paired with classic local dishes.
Medgar Evers College, a senior college of the City University of New York, has a sizable international student community consisting of a large population of natives of Jamaica, Haiti, Guyana, and Trinidad and Tobago, of which many are first-generation college students, eligible and in need of financial aid to support their academic careers.
All proceeds from the festival will benefit the Medgar Evers College Educational Foundation which provides scholarship and academic program support.
Medgar Evers College Presents SoulFest
When: Saturday, September 9, 11:00am - 7:00pm
Where: 1650 Bedford Ave Brooklyn, NY 11225 (between Franklin Ave and Bedford Ave)