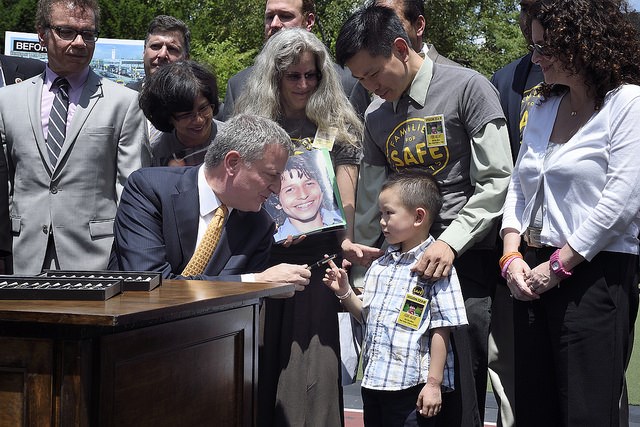 Mayor Bill de Blasio on Monday signed a package of traffic safety bills that effectively updated the city's legal code and enhanced penalties for dangerous driving.
From a newly redesigned intersection in Queens, the mayor-- joined by Department of Transportation Commissioner Polly Trottenberg, NYPD Chief of Transportation Thomas Chan, City Council Speaker Melissa Mark-Viverito, and parents of young children who were killed crossing city streets-- signed 11 bills supporting the City's Vision Zero initiative: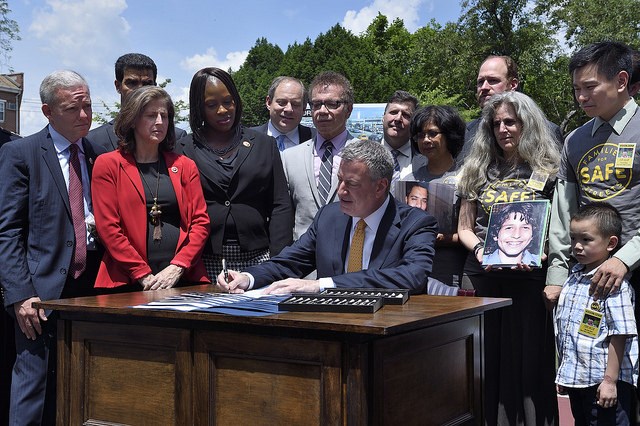 "We have promised the people of this city that we will use every tool we have to make streets safer," said de Blasio. "Today is another step on our path to fulfilling that promise, and sparing more families the pain of losing a son, a daughter, or a parent in a senseless tragedy."
The Mayor also praised legislative leaders in Albany for passing legislation last week that empowers the City to lower its default speed limit from 30 to 25 miles per hour, a measure that will help reduce chronic speeding—a leading factor in fatal traffic crashes in New York City.