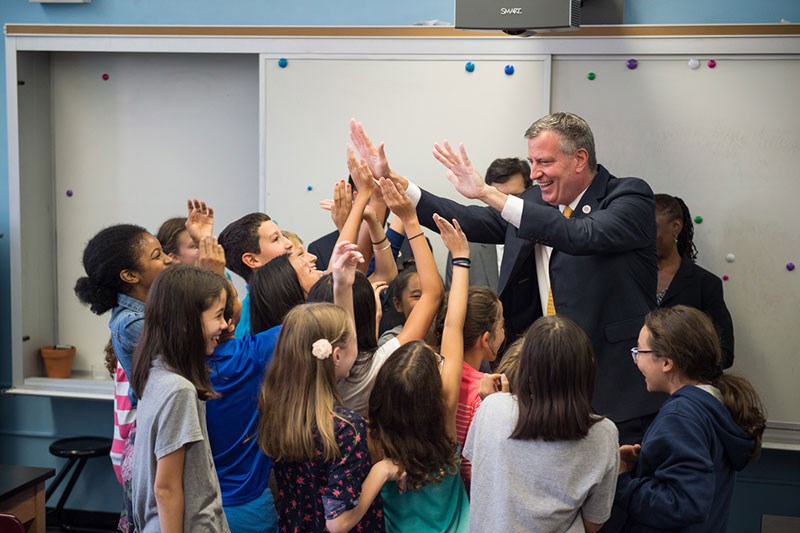 Mayor Bill de Blasio, Schools Chancellor Carmen Fariña, and Department of Youth and Community Development (DYCD) Commissioner Bill Chong on Friday launched School's Out New York City (SONYC), the City's largest-ever expansion of afterschool for middle school students.
The launch of SONYC has nearly doubled the number of students in the program to more than 71,000. With the addition of Department of Education District 75 and non-public school sites over the coming months, the total number will exceed 78,000 during the course of the school year.
"Learning shouldn't stop when the school bell rings," said de Blasio at a press conference held at IS 230 in Jackson Heights, Queens. "With today's transformational expansion of after-school programs to more middle school students than ever in our city's history, we're making headway in providing our young adults with an engaging and supportive environment that will keep our kids off the streets and out of trouble between the hours of 3:00pm and 6:00pm.
"Middle school is often a make-or-break time in an adolescent's life—and we're determined to use all tools at our disposal to expand learning opportunities for the future shapers of our city."
The launch of SONYC, means:
$145 million in new after-school funding (FY15)
More than 34,000 new middle school after-school seats will be available this school year
More than 78,000 seats to be available this school year nearly doubles 44,000 last year
271 new SONYC middle school programs — bringing total to 562 citywide
Enhancements include programs being open five days per week for 36 weeks during the school year
Price-per-participant increase to $3,000 (higher for programs serving students with special needs) will cover additional hours and enable providers to hire and retain qualified staff and provide high-quality programming.
"Afterschool gives us a safe place to be when the streets can seem scary. It feels like a family to me," said Justin, who attends 8th grade at IS 230.
Justin's classmate, Stevan, added, "The after-school program has been my favorite part about school. I couldn't wait for this new year to start with SONYC."
Applications for City-funded middle school and elementary school after-school programs are ongoing and available at nyc.gov/afterschool.