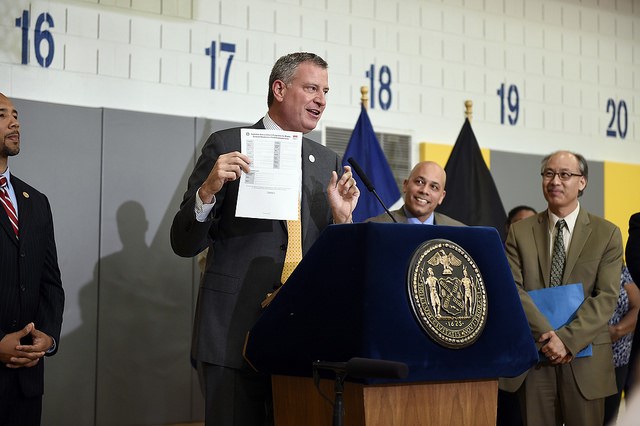 Mayor Bill de Blasio joined Schools Chancellor Carmen Fariña, DYCD Commissioner Bill Chong, students, parents and other elected officials on Tuesday to announce the selection of the 271 providers that will oversee expanded afterschool for middle school students beginning in September.
As a result of a Request for Proposals (RFP) released by DYCD in March, middle school students will have access to after-school programs in 562 schools beginning this fall, a 142 percent increase over the current 231.
Next year, the number of seats citywide will jump 76 percent, to more than 79,300. "Middle school is a tumultuous time for teenagers, and we need to ensure we are giving them the resources to support their development beyond the school day," said Mayor Bill de Blasio.
"Whether it's finding a passion in art, playing sports, or getting extra time to focus on academics our students are struggling with, after-school programs are critical to our young people's educational experience."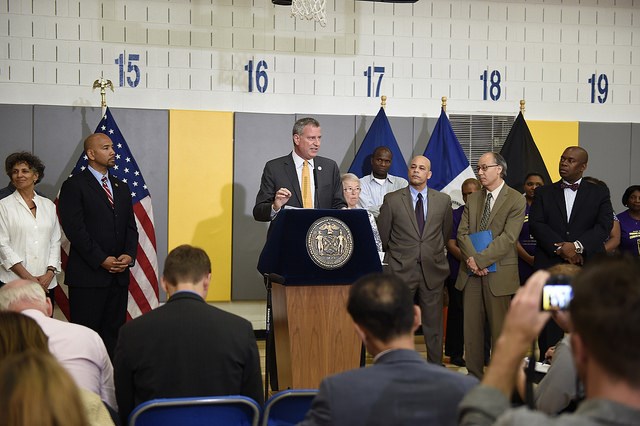 Overseeing the new programs will be 108 eligible community-based organizations, nearly half of which currently do not operate a DYCD-funded after-school program (complete list can be found here).
In addition to expanding afterschool to 85 percent of middle schools in the City, the RFP calls for programs to be open five days per week for 36 weeks during the school year. Providers must offer 540 hours of after-school programming during the school year.
The proposed price per participant was also increased to $3,000 (higher for providers servicing youth with special needs) to cover additional hours and reflect the actual costs providers say will enable them to hire and retain certified staff and offer high-quality programs.
The mayor's office said that a separate RFP for non-public schools and community sites will be issued this fall.