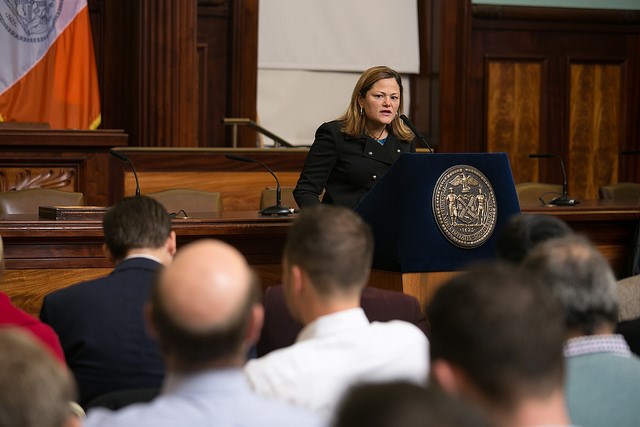 A week after a Staten Island grand jury failed to indict a white police officer in the death of Eric Garner, a black Staten Islander, New York City Council Speaker Melissa Mark-Viverito has requested that the NYPD inspector general investigate how the police force monitors and addresses alleged abusive conduct
An inspector general role was created last year during former Mayor Michael Bloomberg's tenure and when police tensions were high between the public and the NYPD over Stop-and-Frisk policies. The aim was to establish a new oversight arm for the NYPD.
In addition to increased oversight, Mark-Viverito wants to establish Civilian Complaint Review Board locations in the district offices of council members, the Observer reports.
Both the Patrolmen's Benevolent Association and the Sergeants Benevolent Association scoffed at the idea.
"Frankly, I am disgusted with the double talk coming out of this City Council. They praise police with words and then take actions that clearly demonstrate their true lack of support for the very people who protect them and make their communities safe," said Patrick Lynch, PBA president.
Edward Mullins, the president of the SBA, added, "I actually think the City Council is really losing their minds. There are so many major issues facing the City of New York and all they seem to be focusing on is anything that is anti-police."