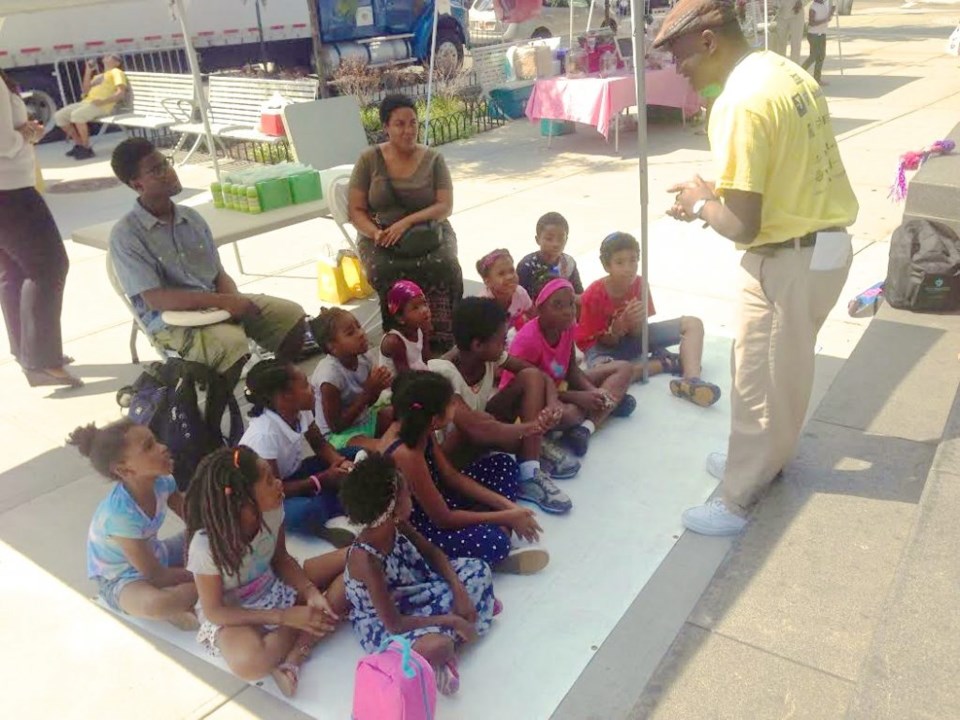 August concludes the first month of Restoration's summer literacy programming at the Marcy Plaza Farmers Market.
In partnership with TD Bank, the series so far has included readings from three Brooklyn-based, award-winning children's book writers and illustrators, including Nina Crews and Zetta Elliott. Books are available for purchase while the first ten children receive free books courtesy of TD Bank.
This week's reading featured NY Times best-selling illustrator Javaka Steptoe. His recent work, Jimi Sounds Like a Rainbow: The Story of the Young Jimi Hendrix, earned him another Coretta Scott King Illustrator Award, as well as an award from the Bookbinder's Guild of New York.
Restoration and TD Bank also hosted two financial literacy workshops geared toward youth. Entitled Money As You Grow. The 30-minute sessions engaged children around financial responsibility and the importance of making smart choices, saving money and giving to others when possible.
"Health is more than eating well and exercising," said Tracey Capers, executive vice president for programs at Bedford Stuyvesant Restoration Corporation. "Restoration looks at health holistically and works to promote healthy, stable families. Early literacy and responsible financial habits go hand-in-hand with fresh fruits and vegetables. We are pleased to be partnering with TD Bank to make this happen."
Next week's farmers market on August 26 will start at 1:00pm under the children's tent and will include fitness and movement, arts and crafts, and board games, with a reading by Diana Lee Santamaria, author of DLee's World preschool learning books. In addition, YMCA will be hosting next week's Kiddie Corner from 12:00pm - 2:00pm.