I could hear that something special was happening inside of the The Marcy Lab School even before I stepped inside.
As I rounded the corner of the hallway where the tech education program is located in the Brooklyn Commons, I could hear the soft laughter of young voices interspersed with what sounded like code language-- "That's what I had ... N minus 1, N minus 1…" I recognized the music of Lil Tjay playing quietly in the background, and I could sense an energy of enthusiasm and productivity, long before I walked in the room…
The small "lab," about 350 sq feet, was buzzing with young adults tethered to computers-- some working solo; others working in pairs. And milling between them, answering questions and offering advice, were the program's two directors, Reuben Ogbonna and Maya Bhattcharjee.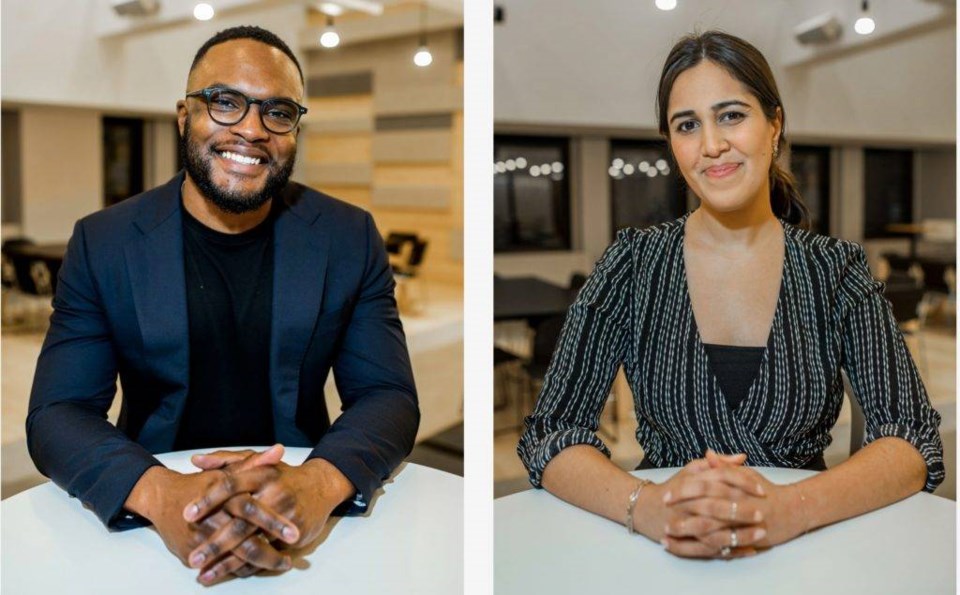 The Marcy Lab School is the dreamchild of Ogbonna, an experimental mission to give Black and Hispanic youth from underserved backgrounds an alternative pathway when college is not the answer; a successful inroads to a career in tech. And so far, the mission is working beyond his wildest dreams.
Mark Griffith, 20, is a part of the first cohort of the program, which started in September 2019. The program teaches computer sciences, java script, React, node express, software engineering.... Although he was already familiar with coding, he said being accepted into Marcy Lab (yes, you have to apply and be accepted) has given him the advanced skills in data programming to succeed in tech, a confidence he admits he didn't have just six months ago.
"I was always tech-minded, but I never really had a path until this program laid it out for me," said Griffith who grew up in Harlem and now lives in Bed-Stuy.
"Sure, you might get the curriculum and the course work someplace else. But If you're not surrounded by like-minded people as driven and as hungry as you and who are willing to push you further, it's hard to know if you're really living up to your potential."
"I was always tech-minded, but I never really had a path until this program laid it out for me."
According to Marcy Lab School Founder and Executive Director Rueben Ogbonna, that was his mission: to imbue the youth with confidence and expertise.
"These are students who have tried college and who felt they weren't being served or that the financial burden wasn't worth it," said Ogbonna.
"We have ten students here who have shown up every single day. One comes from as far as New Jersey. ... Some of our students were classified as ESL during high school; some were classified as special needs. They show up every day."
Griffith confirms, he is there every day, from 9:00am - 3:30pm, five days a week with 10-15 hours of homework each night. Once a week for an hour the students receive one-on-one coaching, as well as weekly visits from working tech engineers of color from places like Microsoft and Google who give them emotional support and professional advice on what to expect once they get out in the real world.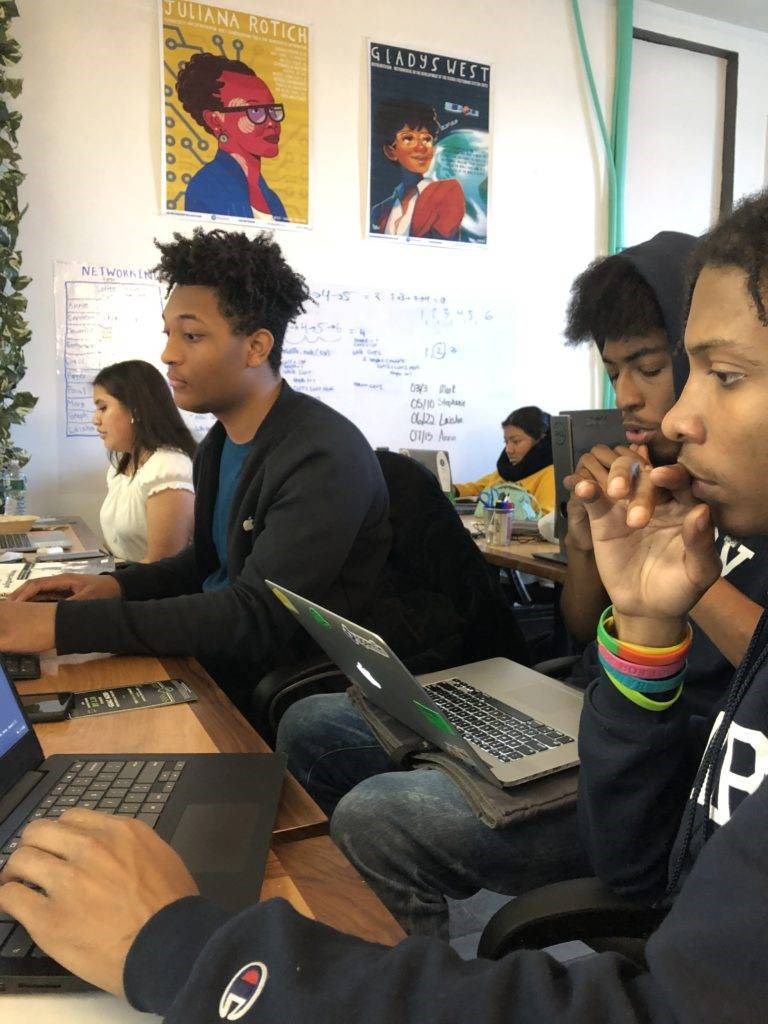 "They know that every single thing we do in this program is connected to a skill or mindset that will lead them to a job or responsibility they will take on in the future," Ogbonna said. "So, to them, it all feels tangible and real."
Along with a very intense tech training regimen and real-world coaching, the students also get what Ogbonna calls "emotional resilience work," modeled off of Elena Aguilar's pioneering approach to building capacity in high-risk youth. For example, each day begins with meditation and journaling. The students write down and then share their personal challenges, their aspirations and also what they're grateful for.
Carmen Sales, 20, a student in the program says the program's affirming approach has played a major role not only in affirming a strong sense of her identity as a Latina, but also in guiding her direction in tech.
"The program has helped me to fully accept who I am and understand why I feel some of the things I feel in society. I've just gained so much confidence, from so much support," said Sales, who has been coding since she was 16 years old, through an afterschool program called Code Nation.
"And obviously, I've gained confidence in my coding abilities too. But I know I'd like to work at a non-profit organization or one that helps marginalized communities. I'd much rather be in an organization that supports social change than at Facebook or Instagram.
"What I've learned [in this program] is how to handle data. Before I was just designing websites, styling… And now I know how to request data from an API, how to manipulate data, I understand computer science concepts that I didn't know before but I use all the time now to develop algorithms.
"Funny thing is, in high school ... math, science, I didn't care about it. I was so bad at math," said Sales, laughing.
"And that is why I love this so much, because it's considered a science, but it's more like puzzle-solving; it makes you think differently. And also the fact that there aren't that many women of color doing this, I get to set an example. I'm going to keep on going for it."
"The fact that there aren't that many women of color doing this, I get to set an example. I'm going to keep on going for it."
The program is intentional about developing community, said Ogbonna. "They love each other; they are family. If they leave this program or don't show, they don't just feel like they're letting themselves down; they feel like they're letting their family down."
"That's a big part of the Marcy Lab experience," said Griffith. "They feel like family and help you to see that if you're willing to work hard, you can go far."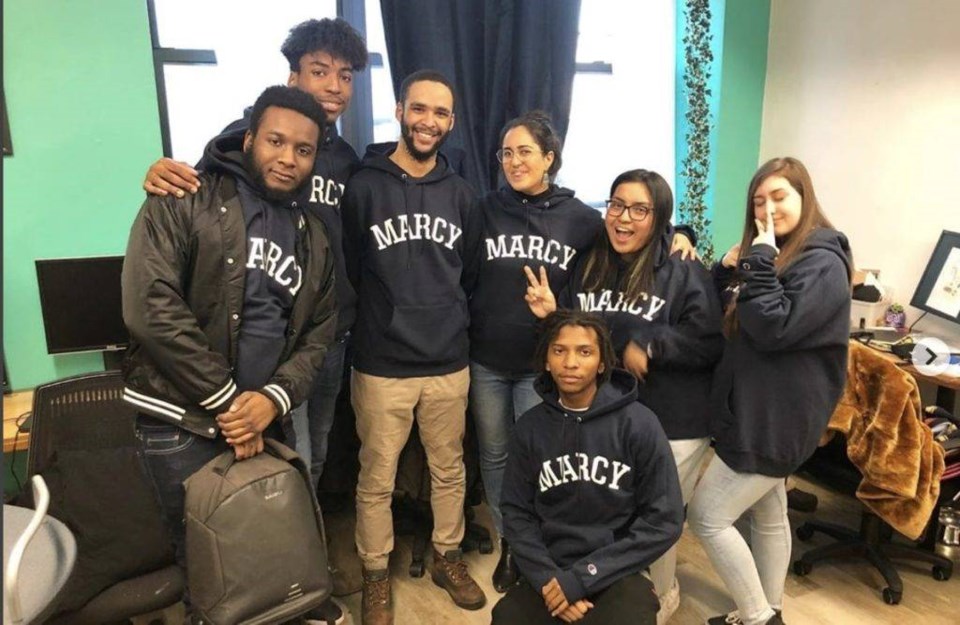 Griffith said the program has helped him build up his portfolio and he is applying now to jobs as a full stack engineer. "So hopefully with any luck, I'll be moving into the field pretty soon," he says wearing a big smile, a mixture of excitement, pride ... and relief.
Applications for the September 2020 cohort of the Marcy Lab School will open in March. For more information and updates on the upcoming application process, go to their website and follow them on Instagram.